College Financial Aid Programs
Find the Money to Pave Your Way to Success
Financial aid is an essential component of any college education. Federal student loans, private loans, scholarships and grants make college possible for many people who would not otherwise have the ready resources to pursue their higher education. But you can only obtain financial aid when you apply for it. You must be diligent and put in the work to find the financial resources that will help you realize your college dreams.
It's Up to You: Make Financial Aid a Reality
Whatever your major; whatever your college of choice; applying for financial aid is one of the first and most important decisions you will make when preparing for your higher education. Millions of college bound students miss out on financial aid because they neglect to apply or fail to apply properly and on time. Don't be one of them.
You may think you won't qualify for financial aid. Perhaps you are feeling too proud to ask for help from Uncle Sam. Under no circumstances should you be shy about applying for aid. Every year billions of dollars in low interest loans and grants are available for students seeking a college education and until you apply you won't know if you're eligible. This is money to help pay for college and that should be motivation enough to get you filling out forms and filing applications.
The Free Application for Federal Student Aid: FAFSA
The FAFSA, or Federal Application for Student Aid is the first stop along your journey to financial aid for your post secondary education. Regardless of your income status you should submit a FAFSA application to find out how much aid you may eligible for. Once your application is reviewed you will receive a formal reply outlining the types and amounts of federal loans or grants for which you qualify.
Financial Aid Due Dates and Deadlines
The FAFSA application is key. Many other grants, scholarships and loan programs require that you have first completed a Free Application for Student Aid. Due dates for these applications are not negotiable. If you miss them you will have to reapply next term. Federal application dates and state application dates are available on the FAFSA website so make a note of them and don't procrastinate.
The earlier you apply for loans and grants the better. Always submit applications before the deadline and be sure to include all information requested on your applications. Some of the most common mistakes made by students is missing the deadline and leaving questions and information fields blank on applications. Improperly submitted applications end up on the bottom of the pile or worse, or in the trash.
Start Your Financial Aid Search
Most college bound students should start their search for scholarships and grants as early as their sophomore year in high school. Begin with the Internet. Motivated students will be able to turn up plenty of scholarships with basic and advanced search tools. You can find plenty of free resources that provide you with targeted scholarships and grants based on your personal and educational goals and interests.
Types of Aid Available for College Students
There are many different types of financial aid available to students looking to further their education. The most common financial aid types are private and federal loans, grants, and scholarships.
Student Loans
There are a number of student loan types, including federal, state and private loans.
Aside from the Federal student loan choices you'll find private student loans from any number of different types of lenders. Banks and other financial institutions offer student loans based on credit scores and they are available at fixed and variable interest rates. Private loans for college usually have higher interest rates and more rigorous repayment schedules. Consider applying with a co-signer as this will greatly improve your chances of securing a private loan and will often help you to secure a lower interest rate.
Scholarships: Free Money
Merit scholarships are awarded annually to students showing particular excellence in any number of academic and athletic fields. These are available to merit worthy freshman as well as undergraduates. The time to start thinking about and applying for these scholarships is while you are still attending high school. Your guidance counselors and teachers can help point you in the right direction to find a suitable scholarship. An internet search will also help you find a full range of scholarships for which you may be eligible. Competition is high for these awards though so the sooner you apply the better your chances.
There are thousands of scholarships available and that adds up to millions of dollars in free money for theosestudents willing to put in the hard work There are minority student scholarships, scholarships for women, athletic scholarships and community service scholarships. Scholarships are also made available from various religious organizations, charity groups and public and private foundations.
GoCollege.com is your free online guide to scholarships, including tips for organizing your scholarship search, writing a winning essay and remaining focused on that all important college education.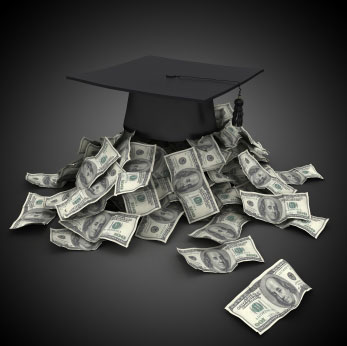 Grants: Merit-Based Free Money
Grants are often awarded to students based on their financial need. Grants are like found money and you aren't required to pay them back. Most grant awards to college students are determined by grade pint average, major field of study and/or income qualifications.
Federal grants, such as the Pell Grant, are awarded to students by virtue of their financial need. Students must meet certain income requirements and must maintain a particular GPA to continue to receive funds.
Most state governments provide need-based grant money to resident students attending in state universities. State-based grant programs can significantly reduce your tuition bill and like all grant money will never need to be repaid.
Alternative Sources for College Cash
Other types of financial aid you may not have considered:
529 Savings Plans are state based government programs that offer families incentives to save for their children's college education. These plans provide locked in fees for prepaid tuition at in state universities as well as investment opportunities for college savings accounts.
Parents may even consider a home equity loan as a way to finance their child's college education. Like a second mortgage this loan is based on the appraised value of .your house and stands as a fixed financial agreement between you and the lending institution using your house as collateral.
Student Loan Consolidation - Once your college education is over, you can also make use of student loan consolidation plans that will make paying back your student loans much more manageable. Consolidation lets you combine multiple student loans into one separate loan and lower your interest rate while lowering your monthly payments. A student consolidation loan is one of the best alternatives to loan default.

Financial Aid
Student Loans
Scholarships
Grants