Finding College Scholarships
Ok. You've decided where you want to go to college. You might even know the focus of study and how you want the years to unfold around you. So now the big question is: how do you intend to pay for it all?
One smart way to get through college is to use scholarship money to handle it. There are academic scholarships as well as a wide variety of unique offers for everything from athletics or social groups to offers extended to students identified by gender, race, religious or ethical beliefs, writing skills, and more.
College scholarships are great, because unlike loans they don't require to be paid back. Better still, qualifying for and receiving one college scholarship does not necessarily bar you from receiving another. That means, if you receive enough non-competing scholarships, you can not only level the tuition and living expenses, you can use scholarships to essentially get paid to go to college.
The purpose of this guide is to walk a student through the process of seeing their own potential. It is designed to inspire you to take these few ideas shared as a starting point, and use them as seeds to grow your own ideas, based on your unique circumstances. In doing so, you will be able to find and apply for more applicable scholarships - and hopefully sidestep many common scholarship pitfalls.
Scholarship opportunities exist for every student willing to find them. That doesn't mean every student gets a scholarship - but it means that if you take extra effort to find everything available to you and apply for everything open to you, chances are pretty good that you can get someone else to pay for at least part of your college education. Maybe more.
Getting Started
While it seems easy enough to simply start searching online for scholarships, if you approach it with a more refined touch, your results will substantially increase. The key is to not find all scholarships available, but to quickly go through them to find the scholarships available to you, as the unique individual you are. Refining the searching destinations and methods and approaching it systematically will help you to leave no scholarship rock un-turned. In applying for a greater number of more realistic opportunities, you'll of course increase your chances for success - no rocket science here!
The Scholarship Success Funnel. This guide will take you from the larger possibilities down through the smallest ones. Think of it like a funnel that narrows your search, and ends up helping you to cover all the bases along the way.
Start from anywhere - approach the funnel from wherever you are. Other than the first two steps (completing your FAFSA and speaking to your financial aid rep), the order in which you seek opportunities is not as important as addressing each idea to make sure you have exhausted your available options.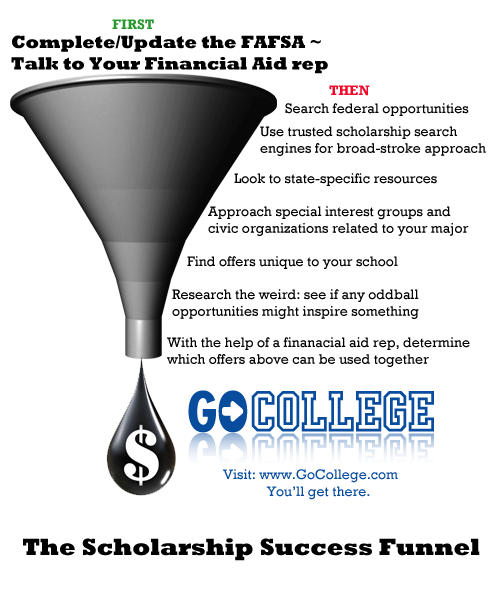 The smaller end of the funnel represents more localized offers, so the level of competition will tend to be lower, thereby increasing your chances. The larger end of the funnel will show national and federal offers - so while the opportunity may increase, so too will the field of competition.
If you do manage to cover all the different points along the funnel as you research opportunities, you can almost guarantee some form of scholarship assistance will be yours to claim. There are well over one million different scholarships being offered every year, offering more than a billion dollars in aid.
STEP ONE: Complete or Update your FAFSA
Go to the Government: It's FAFSA Time. It all starts with the fed: you must complete your annual FAFSA information. This info is used by many schools, and is a prerequisite in too many offers for you to ignore it or delay it in any way. Money depends on it. It needs a refresh every year, so as soon as you (or your parents) finish the tax returns, you should be updating your FAFSA information - starting your pre-freshman year and continuing through graduation. In some schools, this single action will enter you into their financial aid programs, sorting you according to declared/inferred need. If your school doesn't accept outside scholarships, the FAFSA becomes even more important to your annual financial stability-it may be the only way you can receive financial aid. Whether or not you are certain that a specific program requires any FAFSA support, realize this: completing or updating the FAFSA is considered a prerequisite in many financial aid conversations. It is not difficult to complete and uses information already available elsewhere - so do it. Set aside an hour, and have your most recent tax return forms handy - there is data in it you'll need. [http://www.fafsa.ed.gov/]
STEP TWO: Talk to Your Financial Aid Advisor
No matter where you go to college, you will be assigned a specific financial aid advisor. Usually, it is based on your name or the region you live. Find who your specific representative is, and meet them to state your goals. This meeting is a typical part of any incoming freshman's normal registration schedule.
Your school's designated financial aid advisor is there to help you. If you can clearly articulate your intentions, the right advisor will easily be able to offer applicable resources, allowing you to get the most out of every potential offer. But financial aid counselors are not mind readers: it is incumbent on the student to have a path, or a general direction. (If you are undecided, don't worry - there are going to be plenty of offers for you, too.) Once you are heading in a specific direction, your financial aid counselor will be better able to help you try to offset as many of those incurred costs as possible.
Financial aid reps will tell you which scholarship programs are allowed at your school. The reason you make this step among the first in your scholarship search, is you want to have a clear idea of the types of offers you should be pursuing. In some cases, your school might now allow a scholarship offered by a particular provider - so save yourself time, effort, and potential heartbreak by understanding the offers that will be allowed.
Your financial aid office is going to always be a very busy place, so it is best to have your questions well considered before you schedule your meeting. Regarding scholarships, there are some standard questions that will apply to most incoming freshman:
Are there college and departmentally-specific scholarships available?
Are outside scholarships allowed?
Are there any restrictions on the number of scholarships allowed every semester or quarter?
Are there specific resources you can direct me to where I can apply for more opportunities?
What are my calendar deadlines for ensuring smooth disbursement of my financial aid?
In addition to my FAFSA (which has already been filed, of course), are there any specific forms or documents here for me to complete to be able to receive financial aid?
Understanding the allowances and limitations, the paperwork requirements, and the calendar deadlines put forth by your financial aid office will help you tremendously. Eliminate guesswork.
Financial aid counselors will also know of unique state, federal, and private scholarships opportunities allowed by the college, but sometimes not overtly publicized by them. They will also know of alternative methods of financial aid - so if your scholarship quest needs help they can be there to direct you.
Once everything is in place and the semester begins, you may not talk to your financial aid rep as often...but they are crucially important people to help every incoming student start down the right path. They help you to understand the rules, find potential benefits, locate unique offers and then help you to secure everything.
Entering the Scholarship Search Funnel
Once you have completed the FAFSA and discussed options with your financial aid rep, you enter the funnel and your search for college scholarships begins.
Beware of Scholarship Scams: Especially online, there are predators who take advantage of students seeking scholarship help. Luckily there are some simple tips published by the government and concerned private parties to help every student protect themselves from predatory scholarship scams. Here are some trusted resources to study:
Armed with information about scams and how to avoid them, you are now ready to step into the funnel.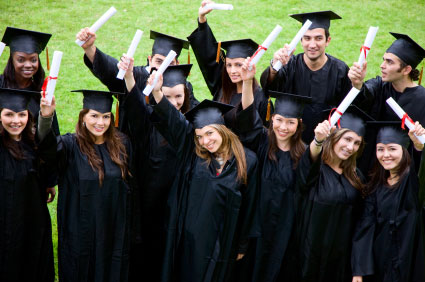 Search for Federally Sponsored Offers
The federal government offers (typically) merit-based scholarships for areas of study that are needed within the governemnt, such as healthcare, technology and oceanic studies. The government also provides aid in the form of low interest loans and grants, notably, the Stafford and the Perkins loans and Pell grants. The loans may be either need or merit-based awards, and the same with Pell grants. Before you commit to a loan, it is a great idea to exhaust all your potential offers for "free" money.
Completing the FAFSA establishes financial need, so the next step might be to see what the government could be offering you.
Federally sponsored opportunities are great, especially when they can be used alongside other methods of financing. Be sure to check the details of each one of the offers to make sure they can be used together.
Past histories - criminal or otherwise - will play a larger role in federally-supported programs than in those sponsored by smaller interest groups. If you have a deeply troubled past, you may find qualification to be difficult with the fed, but don't be discouraged - there is still a lot out there for you.
If you see a good match using this search engine, consult with the financial aid department of your school to see how it aligns with their existing programs. Most of the time, a nationally or federally-sponsored scholarship is going to be respected and welcomed anywhere.
Not seeing enough scholarship opportunity here? Let's continue through the funnel.

Finding Nationwide Scholarships: Web Search for Success
Beyond the federally sponsored scholarship opportunities, there are many national, semi-generic scholarships always waiting for more entries. One easy way to find them is using online search engines.
How to search: Finding the scholarship search sites may be really easy, but how do you find the specific sites and offers that will appeal to you and match your needs? Simple - you refine and filter your searches.
Thinking of the specifics in your situation - sex, race, religious affiliation, GPA, political beliefs, geographic location and more - can offer you search terms that refine your efforts by excluding or including more detail in the results. The things making you unique are often the same things offering you scholarship opportunities. Make a list to help you search.
Searching for college scholarships like this also requires a good search engine - one that cuts through the clutter and brings you to realistic offers, faster. Most resources, as like the one above, share the data offered by Wintergreen Orchard House, so expect to see a lot of overlap as you search. Each truly valuable search engine will offer you something unique in the way they collect, parse, and share information with you.
The following are just three of the most prominent of the many possibilities for conducting online scholarship searches. You are encouraged to keep digging...but more on that later.
But if web searching in a general sense doesn't provide anything immediately, simply continue through the funnel.
Finding State Sponsored Scholarships
Every state offers some form of unique aid or assistance to its native college students. Your financial aid rep is going to be a key player here, as they will know of all the state-based programs that apply.
If you want to help ensure all of the possibilities have been addressed, search on "your state" + "scholarship" in Bing, Google or any other search engine, and you may find some additional unique state-bound possibilities worth exploring. Check with your Governor's website, or the State Treasurer's office as well. The search engines listed above can also help you, as they all offer state filters to their database listings.
These are just three examples of some unique state-wide scholarship assistance being currently offered:
Georgia's HOPE Scholarship: If you live in Georgia and are attending college, the HOPE Scholarship program is definitely something for you to consider. Maintained by a GPA and residency requirements, this program can help you with tuition and books for all 4 years of undergraduate studies. In 2011, some changes were made to the disbursement and requirements of this popular program - discuss this with your financial aid counselor, or visit the official site for more information.
Washington's TheWashboard.org: The state of Washington has created a unique scholarship resource for the students of its state. TheWashboard.org is a site with scholarship offers vetted and compiled for Washington students. Log in, create a profile and see what you can find. While the scholarships listed here might also be listed in other sources, this single resource is deep and specific, and certainly gives Washington students a great head start.
Nevada's Millennium Scholarship - Similar in basic structure to Georgia's HOPE scholarship, since 1999, Nevada has offered the Millennium Scholarship to help cover the costs of tuition. According to the site's FAQ information, "The Millennium Scholarship will pay up to 12 non-remedial credits per semester. The Millennium Scholarship will pay $80 per credit at eligible universities, $60 per credit at NSHE state colleges and upper level community college courses and $40 per credit at NSHE community colleges."
Again, start with your school's appointed financial aid counselor to save time in finding any applicable state-sponsored offers.
Still not enough scholarship options for you yet? Let's continue through the funnel.
Finding Scholarships by Major
Your designated major makes a difference in your scholarship quest. In addition to using all of the options already mentioned to wring-out every potential offer, there are outside organizations of every stripe and color to accommodate a new student's journey through college. Once you declare your major, you should likewise declare a major interest in seeing how this decision opens exclusive doors for your potential scholarship money.
While some degrees will offer more opportunities than others, it is safe to say that any declared path will offer you very specific benefits.
The following examples are outside resources specifically catering to two of the more commonly declared majors:
Nursing: DiscoverNursing.com: Sponsored by Johnson& Johnson, this is a very deep and specific site to help those pursuing a nursing degree. In addition to various nursing-related scholarship opportunities, take the time to read some of the general information offered here - it is one of the better resources available today for health-related occupations.
Teaching: TeachersCount.org This site is specifically sorting teaching scholarships for you based on varying criteria. Check out the various national, regional and school-specific teaching scholarship programs for which you might qualify.

Don't think that your major does not offer a unique opportunity: it does, because they all do. Engineering, architecture, business, and economics are all good examples of majors that offer unique scholarships. So too, for health sciences, history, music, biology, drama and liberal arts.
Start locally yet be willing to look larger. National offers might be the best bet for a majority of major-specific scholarships. Consider professional organizations in the field of study, like a psychiatrist's organization, a teachers union or an actor's guild. If there are not independent websites or organizations you like, consider that many businesses themselves offer scholarships for the students rising-up in the industry. Don't be afraid to look at commercial interests for possibilities.
By this point, you should have a variety of different ways to look at making your scholarship searches more productive. Continuing through the smallest part of the Scholarship Success Funnel brings you back again to where you started: your school's financial aid department.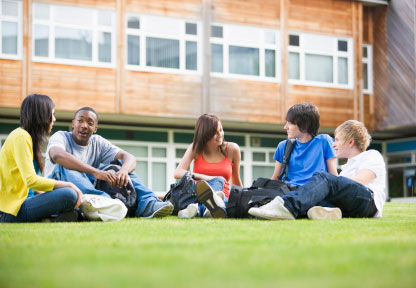 Finding Scholarships Through Your School
One of the best places for you to connect with reachable scholarship opportunities is your own campus. Applicable to a much smaller demographic, a school-based scholarship is going to mean less competition than most state, national or federal offers - increasing your chances.
In many schools, a single application automatically submits you to all applicable programs on campus. Many will require different types of paperwork and support - check with your rep to make sure you understand the procedures and deadlines.
Beyond the standard offers extended through the financial aid department to all students, you should use your own specifics to see what else is available on campus. Here are some things to explore:
Field of Study - Once you have declared a direction, you will be actively involved in the School of Business, School of Health Sciences, School of Nursing or whatever branch is applicable to your studies. The point is, within each of these common, on-campus scholastic divisions there will be unique scholarships offered for the top students. They will be specific to the selected field of study, and can often be a great means to handle or offset some of your costs of tuition and housing.
Clubs and Organizations - From fraternities and sororities to computer clubs, there might be a group to which you already belong that is sponsoring its own scholarship. Many off-campus organizations have a program fused into campus to help its members attending college. Whether you belong to a group that is an extra-curricular organization or one joined due to need, requirement or principle, it pays to check out your options. Literally.
Alumni - At most every college, there is a passionate group of alumni eager to help new students achieve greater things through education. It is very common for members of the alumni to set-up scholarships and grant programs to help offset the costs of college - and these groups are easy to find through your school's directory.
Civic and Community - Community leadership groups will often offer scholarship opportunities in their nearby colleges. There might political or social groups to review in addition to groups like the Kiwanis Club and other common civic organizations. If you attend church, see if they might offer a scholarship.
Hint: Use Bing to perform a search on"your city" + "civic organizations" to open-up more options!

The point here is to completely exhaust your immediate surroundings for opportunities - for many students, this is where the scholarships happen. While you will certainly miss or overlook some of the national offers, you should be well aware of every local offer for which you qualify.
Applying for local opportunities does not always prevent you from applying to larger ones as well, and the most successful students apply for as many scholarships as they can. They know the power of the scholarship funnel and understand that in many ways, scholarship success is a numbers game. Increase your applications, and you are directly increasing the likelihood of success.
Your GPA and College Scholarships
Many scholarship opportunities will tie in some manner to the students' GPA - so if you can't be bothered to maintain your grades, it may be difficult to find offers. But the opposite is also true: if you maintain a solid GPA, your above average marks will open-up better possibilities for you. Think!
Ten Simple Steps for Finding More College Scholarships
Complete your FAFSA - keep your paperwork and deadlines in order every year
Talk to your financial aid counselor - learn the restrictions and the deadlines, ask for help
Look at any applicable federally sponsored scholarships
Look at unique offers in your state
Use trusted scholarship search engines (beware of scams!)
Refine your search by looking for outside options specifically supporting your major
Find any city/regional scholarships
Exhaust all campus-specific offers (field of study, clubs, organizations, alumni, etc.)
Look for "fringe" scholarships: fun contests, unique offers
Never be satisfied that you have received all you could possibly receive. Keep applying!
Scholarships
Application
Career
Creative
Minority
More
Fellowships
Regional