Getting An Online Degree: Is It Right For You?
Pros and Cons of Distance Learning
The advent of the internet has changed the way many people earn a college education. Distance learning, once the province of unwieldy mail order courses, has become a common and effective way for students to access higher education. Online degree courses now allow students to personalize their course schedules, while enjoying a considerable savings over the cost of an 'on campus' education. Over the past two decades many colleges and universities have launched extensive online degree programs offering students a wide range of courses from which to choose. Traditional universities and their cyberspace counterparts now offer students the opportunity to earn professional certification, undergraduate and even graduate degrees from the comfort of their own homes.
While online learning has made education more accessible to students across the country, it is not a perfect fit for every student. When considering an online degree program it is important to look at the pros and cons of distance learning, weigh the advantages against the disadvantages, and make an informed decision as to whether or not an online degree program will meet your goals as a student.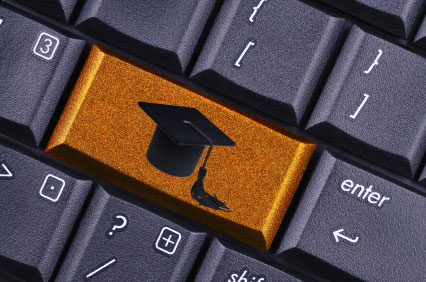 Online Learning – A New Educational Model
Advantages of an Online Degree Program
Online degree programs give participating students the ability to pursue a college course of studies without physically attending the college's campus. Students can work from home, setting their own schedules and fitting their course load around family and employment responsibilities. Distance learning also allows students who would otherwise find it difficult to attend a regular university, due either to location or personal health issues, the opportunity to complete their college education.
Distance learning programs also have the added benefit of significantly reducing education costs. Because it is unnecessary for an online university to maintain a proper campus, the operational costs are much reduced as compared with a standard physical university environment. This allows for significant savings that can be passed on to participating students. At their best, online degree programs provide greater access to education for students who might otherwise be unable to complete their education at a standard four year university.
Disadvantages of an Online Education
While online universities can offer convenience as well as savings, there are some distinct disadvantages that potential students should consider. Online education is still a relatively new phenomenon, and it lacks the reputation of the more traditional educational model. Employers still prefer to hire graduates of brick and mortar universities, and online degrees have yet to earn the same level of recognition as their traditional counterparts. There is bound to be a shift in this perception as distance learning becomes more commonplace, but presently there remains a perceived inequality between online universities and the traditional brick and mortar college.
Online universities reduce costs by eliminating the need for actual classrooms, and by minimizing their faculty and staff. Consequently participating students will need to be able to set and maintain their own class schedules, and will not have the benefit of any direct interaction with professors or other college faculty. While some students may thrive under this open educational model, others will find the lack of structure and physical interaction a detriment to the learning experience. Online degree seekers will also miss out on the social interaction that is so much a part of the university experience.
Online degree seekers must also be comfortable and adept at using modern technology. Computers and the internet are what make modern distance learning a possibility, and students must be able to navigate their way around the technology with ease to gain the full benefits of this new educational model.
Degrees from Online Schools
Online degree programs offer many of the same programs as traditional brick and mortar universities. Students studying through an online university can earn their associates, bachelors and in some cases masters degrees. Returning adult students may benefit most from online education programs however, as many online universities specialize in vocational training and offer a variety of professional certifications for students looking to advance in, or change, their careers. Here are some of the most popular degree programs offered at many online universities:
Business
Criminal Justice
Education
Engineering
Healthcare
Human Services
Information Technology/Computer Science
Law/Paralegal
Human Resources
Accounting
Many of these programs will require some level of hands-on training, and a blended approach of online tuition and on campus lab work will be necessary to fully complete the course. For example, online nursing degree programs require students to augment their home studies with on campus clinical lab work during which they study practical skills and techniques. Other online programs may require students to visit a physical campus to take part in seminars, lectures and monitored exams.
Technological Requirements
Students interested in participating in an online degree program will be relying on home technology for all of their coursework. Basic equipment requirements include an up-to-date computer, high-speed internet access, a television and DVD player and a CD player. Students lacking any of the necessary home technology will find it difficult to participate in an online degree program, and students with substandard computer skills will risk falling behind in an online educational environment.
Accreditation: How Important Is It?
Higher education accreditation is a process through which colleges and universities measure their effectiveness against a set of common educational standards. It is a voluntary process that schools undergo to validate the quality of their educational programs. Accreditation ensures, and certifies, the value of your education. It is a way of codifying, and standardizing, national levels of educational achievement creating a perceived equality between degrees obtained from different universities.
Not all online universities have received accreditation. This does not necessarily mean that they are offering substandard education programs, but it does mean that employers may consider degrees from these institutions as having less value than those from an accredited university. Students attending a non-accredited online university should also remember that their completed classes may not be transferable to an accredited university. In other words, if you have received a degree from a non-accredited university, and you decide to continue your education at an accredited university, your previous course work may not be considered valid by your new school's admissions board.
Online Programs to Consider
The popularity of online degree programs has definitely grown in recent years. More and more universities, including community colleges and elite universities, now offer distance education programs to their students. The following is a small sampling of colleges and universities, some strictly online, others with a traditional brick and mortar campus, that currently offer online degree programs for distance learners: