Link to Us
We hope that our site was useful and resourceful to you. If you manage a website or blog and feel others can benefit from our material, feel free to link to us using any text link of your choice. You can also copy any of the following code snippets and insert them into your website. We really appreciate your support.
Text Link
GoCollege - get ready for admissions, find finacial aid, become a better student, and survive college.
Full Size Logo

Button / Micro Banner

Small Banners



Medium Banners



Large Banners



Check Out Our NEW Financial Aid Tool!!!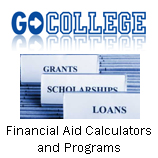 College Admissions
Education Options
Scholarships
College Grants
Student Loans
College Survival
About Us