Consolidate Your Student Loans
Save Money, Avoid Default
Consolidating student loans can help make what feels like a mountain of college debt much more manageable. The National Postsecondary Student Aid Survey reports that a majority of four year college graduates are carrying close to $20,000 in student loan debt. Graduate students, medical students and law students are carrying much more.
Consolidation loans have become common practice for both Federal and private student loan holders. A consolidation loan does more than just combine your existing loans. With a consolidation loan your existing lender or a new lender will pay off you're student loans and write a new loan to cover that total. This new loan will allow you to have one manageable monthly payment.
Time to Consider Consolidation
How do you know when it's time to talk to your lender about loan consolidation? If you find yourself in any of the following situations a consolidation loan might be for you:
You have multiple federal and/or private student loans
You have been delinquent on any monthly student loan payments
You foresee large financial obligations that could put your monthly payments at risk.
Student loan consolidation offers students and graduates the opportunity to more successfully manage their debt obligations. With a consolidated loan you can relive the stress of having a mountain of debt on your shoulders. Lenders have a stake in your financial health and they would rather rewrite your loans than see you default.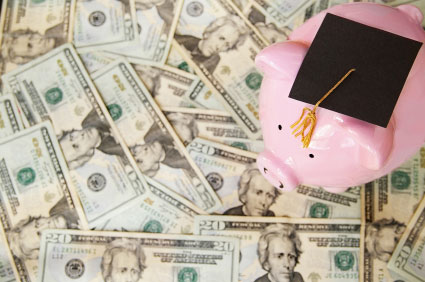 Federal Loan Consolidation
The Federal government offers students the Direct Consolidation Loan to help them manage their Federal college loans. Students who have received a Stafford, Perkins or FFEL loan are eligible for the Federal Direct Consolidation Loan only after they have graduated from college. These loans allow students to combine existing loans into one manageable loan with a single payment schedule. Benefits of federal loan consolidation include:
Interest rates are fixed
Monthly payments are made more manageable
Repayment period can be extended from 10 to 30 months
Protects your credit rating
Private Student Loan Consolidation
Students who have private lender loans can also take advantage of loan consolidation programs. Many private lenders offer attractive loan packages to make it easier for students to pay off their loans and avoid default. As these loans are underwritten by private lenders they will have higher interest rates and stricter time limits than Federal loans. Having said that, they are still a good way to reduce your monthly obligations to one manageable payments.
Private lenders approve all loans on the basis of credit history and consolidation loans are no different. You may need a co-signor to qualify for a consolidation loan and you will have to be able to prove a regular income that meets the lenders requirements.
Keep in mind that if you have received both private lender loans and Federal student loans you will not be able to consolidate both into one new loan. You will have to negotiate one consolidation loan for your private lender loans and one for your Federal loans.
Applying for Student Loan Consolidation
The application process for student loan consolidation will depend on what type of loans need to consolidate.
If you have Federal Direct Loans you can apply for a Direct Consolidation Loan through the U.S. Department of Education.
Students who are carrying Federal Family Education Loans (FFEL) can apply to their primary lender for the FFEL Consolidation Loan program.
Private student loans must be consolidation through the original lender or through another private lender who is prepared to underwrite your consolidation loan. Remember, private consolidation loans are credit-based and there is no guarantee that all students carrying student debt will qualify.
Consolidation programs can make all the difference to a graduate struggling to repay their student loans. If, after graduation, you find you are having difficulty making your monthly payments or are facing a shortage of finances for the immediate future a student loan consolidation program can help you avoid default and keep your credit history on the right track.