About GoCollege.com
GoCollege.com offers helpful information for current and soon to be college students. The site was formed in 1997 to guide students on the complexity of the admissions and financial-aid process. GoCollege is also an early adopter of harnessing the power of the Internet. The site offered one of the first online search engines for scholarships and grants.
Site History
In 1999, ABC Network's 20/20 program featured GoCollege as a reliable website for information on finding financial aid.
Our goal is to continue bringing useful, unbiased and up-to-date college related information to students, parents and education professionals. We have been mentioned and praised in thosands of websites and referenced in dozens of books.
Partial list of books referencing GoCollege:
Dan Miller and Dave Ramsey. 48 Days To The Work You Love. B&H Publishing Group, (January 2005).
Hundreds Of Heads and Rachel Korn. How to Survive Getting Into College: By Hundreds of Students Who Did (Hundreds of Heads Survival Guides) Hundreds of Heads Books, (August 13, 2006).
Jill Von Gruben. College Countdown: The Parent's and Student's Survival Kit for the College Admissions Process. McGraw-Hill, (October 14, 1999).
Margaret Riley Dikel and Frances E. Roehm. Guide to Internet Job Searching 2006-2007 (Guide to Internet Job Searching). McGraw-Hill, (March 23, 2006).
Peter L. Benson, Pamela Espeland, and Judy Galbraith. What Teens Need to Succeed: Proven, Practical Ways to Shape Your Own Future. Free Spirit Publishing, (January 1998).
Linda Dobson. The Homeschooling Book of Answers: The 101 Most Important Questions Answered by Homeschooling's Most Respected Voices (Prima Home Learning Library). Three Rivers Press, (February 26, 2002).
Ed.D. Rene Carew and The American Writers and Artists Institute. The Complete Idiot's Guide to Discovering Your Perfect Career (The Complete Idiot's Guide). Alpha, (September 6, 2005).
Stephen Jones. Seven Secrets Of How To Study: Teaching Yourself How To Earn An A+ In 12 Hours. Saj Pub, (April 30, 2004).
Ken Leebow. 1001 Incredible Things to Do on the Internet. Grand Central Publishing, (October 1, 2001).
Gen Tanabe, Kelly Tanabe, and Terry Smith. 501 Ways for Adult Students to Pay for College: Going Back to School Without Going Broke. Supercollege, Llc., (April 1, 2004).
Geraldine Garner. Careers in Engineering, 2nd Ed. McGraw-Hill, (September 17, 2002).
Kathleen Sindell. Managing Your Money Online For Dummies. For Dummies, (December 31, 2004).
Barry Beckham. Beckham's Guide to Scholarships: For Black and Minority Students. Beckham Publications Group, (August 15, 2005).
Eric Leebow. You Are Here High School Internet Guide (You Are Here). Yahbooks Publishing, (December, 2001).
Kimberly A. Griffiths. One Paycheck at a Time. Booklocker.com, (June, 2003).
Gen Tanabe and Kelly Tanabe. 1001 Ways to Pay for College: Practical Strategies to Make College Affordable. Supercollege, Llc., (September 1, 2003).
Christina Edwards. Gardner's Guide to Finding Money for School Online. Garth Gardner Company, (June 13, 2003).
Joyce A. Ladner and Theresa Foy DiGeronimo. Launching Our Black Children for Success: A Guide for Parents of Kids from Three to Eighteen. Jossey-Bass, (June 10, 2003).
LearningExpress Editors. Teacher Career Starter 2e. LearningExpress, Llc., (May 25, 2002),
Pat Criscito. Guide to Distance Learning: The Practical Alternative to Standard Classroom Education. Barron's Educational Series, (April 30, 2002).
Kandias Conda. For Teens Who Think They Know Everything. GSW Publishing, (May 1, 2006).
Shannon R. Turlington. How to Find a Scholarship Online. McGraw-Hill, (October 24, 2000).
John Perry and Kathy Perry. The Complete Guide to Home Schooling. McGraw-Hill, (November 1, 2000).
Kaplan. Kaplan/Newsweek College Catalog 2002 (Unofficial, Unbiased Insider's Guide to the Most Interesting Colleges). Kaplan, 2002 Ed edition (July 3, 2001).
Eric Leebow. You Are Here College Internet Guide (You Are Here). Yahbooks Publishing, (December 2001).
Margaret Riley Dikel and Frances E. Roehm. Guide to Internet Job Searching, 2002-2003. McGraw-Hill, (March 25, 2002)
Press and General Inquiries
As one of the earliest and best references for college bound students, GoCollege has been well referenced in the press and media. We've also received hundreds of "thank you" emails from parents and students. If you have any questions, comments or suggestions about the site please contact us at lisa@gocollege.com.
Student Advocate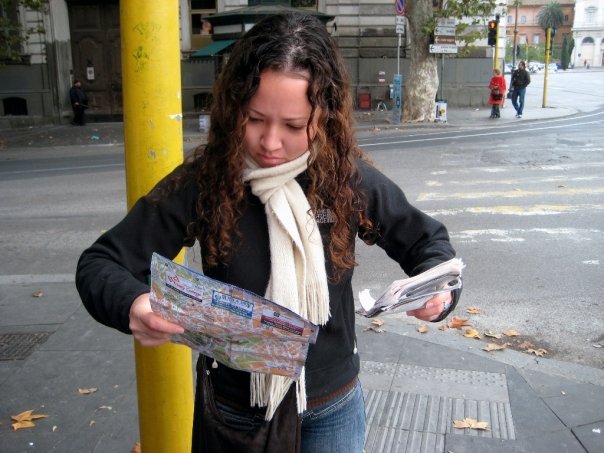 Lisa Shoreland (pictured right) was born and raised in Hiroshima, Japan, where she became fluent in English and Japanese but never appreciated her culture until she came to America to attend St. Andrews Presbyterian College. Although she studied creative writing there, her favorite classes were about history, politics, and humanities. She loved studying abroad in Italy and Vietnam and will never tire of traveling. For the moment, though, she's adjusting to non-nomadic, post-grad life and finding things to care about outside of college: local farmers, being green, and fair trade. She's currently working on several writing projects, including a study of WWII in the Pacific, and stays sane by practicing martial arts, hogging her boyfriend's PlayStation3, and bringing home abandoned animals.
She helps maintain the site and does outreach with other students to help collect feedback so we can keep evolving the site to fit the needs of students today.
Link to Us
If you find the material on our site useful, help us spread the word. We would appreciate a link to our site.
Privacy Policy for www.gocollege.com
If you require any more information or have any questions about our privacy policy, please feel free to contact us by email at lisa@gocollege.com.
At www.gocollege.com, the privacy of our visitors is of extreme importance to us. This privacy policy document outlines the types of personal information is received and collected by www.gocollege.com and how it is used.
Log Files
Like many other Web sites, www.gocollege.com makes use of log files. The information inside the log files includes internet protocol ( IP ) addresses, type of browser, Internet Service Provider ( ISP ), date/time stamp, referring/exit pages, and number of clicks to analyze trends, administer the site, track user's movement around the site, and gather demographic information. IP addresses, and other such information are not linked to any information that is personally identifiable.
Cookies and Web Beacons
www.gocollege.com does use cookies to store information about visitors preferences, record user-specific information on which pages the user access or visit, customize Web page content based on visitors browser type or other information that the visitor sends via their browser.
Media.net Cookie
.:: Media.net, as a third party vendor, uses cookies to serve ads on gocollege.com.
.:: Media.net's use of cookies enables it to serve ads to users based on their visit to www.gocollege.com and other sites on the Internet.
.:: Users may read the Media.net privacy policy at https://www.media.net/privacy-policy
Some of our advertising partners may use cookies and web beacons on our site. Our advertising partners include ....
Media.net
These third-party ad servers or ad networks use technology to the advertisements and links that appear on www.gocollege.com send directly to your browsers. They automatically receive your IP address when this occurs. Other technologies ( such as cookies, JavaScript, or Web Beacons ) may also be used by the third-party ad networks to measure the effectiveness of their advertisements and / or to personalize the advertising content that you see.
www.gocollege.com has no access to or control over these cookies that are used by third-party advertisers.
You should consult the respective privacy policies of these third-party ad servers for more detailed information on their practices as well as for instructions about how to opt-out of certain practices. www.gocollege.com's privacy policy does not apply to, and we cannot control the activities of, such other advertisers or web sites.
If you wish to disable cookies, you may do so through your individual browser options. More detailed information about cookie management with specific web browsers can be found at the browsers' respective websites.