Consider Home Equity Loans To Pay For College
If you or your parents own a house, one option you may want to explore is a home equity loan to fund your education. Like a mortgage, the amount of this loan is based on the appraised price of your house. The equity in your home, meaning the value of that portion of your home which is paid for, becomes a form of collateral against which you can borrow cash to finance your education. The older name for this type of loan is "second mortgage."
This is a concrete example of how owning a home can be a beneficial investment for your future. Because these types of loans are consumer loans, you are not subject to the same types of restrictions based on higher income, as with federal student loans.
How Home Equity Credit Works
The home equity loan amount is taken from a percentage of your home's appraised value, subtracting any outstanding balance left from the sale of the house or a mortgage. Your ability to repay this loan will be considered when you apply, and your credit history is also an important factor. There are two types of home equity loan, the fixed rate loan (closed end home equity loan) and the variable rate or open end home equity line of credit (HELOC). Fixed rate loans have the advantage of complete predictability, which makes them quite appealing. The borrower receives loan proceeds as a lump sum and will repay an equal amount in each installment over a known period of time.
To help you manage loan costs, you may want to explore taking out a line of credit rather than appropriating the entire amount available at once. The HELOC acts more like a credit card account, letting you borrow smaller amounts of money at various times against your loan limit. That same amount you would have received had you taken out a home equity loan now becomes the total of your available credit.
The HELOC might be a good way to meet your tuition balance remaining after you have used smaller scholarships, grants, or subsidized federal loans as offsets. It would also accrue a smaller amount of interest, because there is no interest charged on the amount of credit you have not yet withdrawn.
With either of these loans, keep in mind that whatever interest you pay is usually tax deductible. The interest rate on these loans is based on the borrower's credit history; they work like any other credit line or loan in that regard.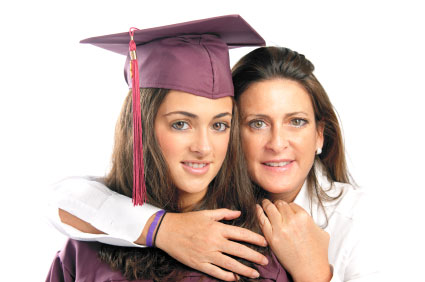 What Sets Home Equity Loans Apart?
Unlike other loans, including the Federal Direct Loans and private lender student loans, this sort of collateralized or secured loan is considered a "fixed" agreement, meaning that they will not simply sue you or your parents if this loan is defaulted upon. Since your house is put up as collateral, meaning pledged as security for repayment, you can lose your house if you do not keep up with the loan payments. However, it's easier to comply with the minimum payment schedule during the long terms (usually between 10 and 30 years) granted to complete repayment.
Some Sound Financial Advice
You must make sure not to overload yourself with needless debt simply because credit is available to you. Like a signature loan, home equity loans are good backup plans when your scholarships, grants, and smaller federal loans will not suffice to cover tuition costs and fees. If you are given the opportunity to use college loans, do so.
Student loans are designed to help students through college. Home equity loans, because of the very serious consequences of default, should used only when all other sources of funding have been exhausted. Always keep close account of your loans, which require repayment, and your financial aid awards, so you can maximize those awards to minimize your borrowing. Be conservative when you decide how much money to take out in equity credit.
An Opportunity for You to Learn Financial Responsibility
If your parents decide to take out a home equity loan, make sure that you are party to their plan. It is, after all, your education, and their loan proceeds will make a major contribution thereto. Although they are being generous and helpful in finding you funds to get you through college, you should get into the habit of having a financial stake in the matter.
Searching for college funds on your own, or working out a budget with your parents' help, is excellent training for when you take up independent existence and are not just permitted but consistently required to make your own good decisions.
Get involved in your financial responsibilities as early as possible. It may, probably will, be difficult at first, but you will definitely benefit from the experience; when you acquire skill in managing your money, the confidence that you feel in relying on your own judgment will bring you a great deal of satisfaction.