Submitting Your Student Application for College
Checklist of Materials
Submitting a college application involves much more than simply putting it in the mail. Your college application will be the first contact the school has with you, and an improper application will go straight into the trash. While the process of filling out forms and submitting your test scores and transcripts may seem straight forward, it is worth reiterating a few fundamentals to help you create a successful college application.
Forms and Application
It pays to be prepared when it comes time to apply to colleges. Gather all of the necessary forms and information you will need for your college submissions, and keep them organized and on hand. Request copies of your test scores and high school transcripts, gather letters of recommendation and polish any cover letters you will need for your application. If you are required to submit an essay with your application, write it once – proofread it – write it again – proofread it – and write it a third time. Accuracy is a key component to any successful college application.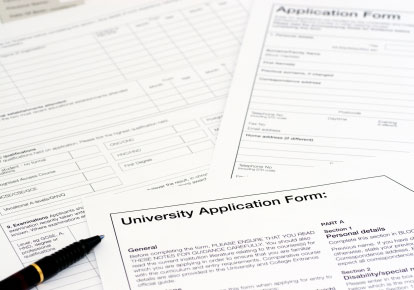 Double Check School Requirements
Familiarize yourself with the colleges submission requirements before you fill out any application forms. Know and understand what is required on the application, and be sure you have all the information you need to fill out the application, and that all of your information is accurate.
Many colleges allow students to fill out their applications on line. This can be an easy, and time saving, way to apply for college. If your college accepts online applications, print out a copy of the applications forms and fill them in with rough draft answers. This will give you a hard copy to review, and make alterations on, before submitting your final completed application.
Stay Organized
Organization is the key when you are submitting multiple college applications. Begin by noting any application deadlines on a calendar. Keep a checklist of all application requirements and attachments, and check each one off as they are completed or accounted for. Give yourself plenty of time to write any required essays, and be sure that each is original and unique to it's accompanying application. Also be sure to allow plenty of time for any personal letters of recommendation to reach you in time for the application deadline. Be aware of any application fees that are required, and have the funds available when your application is finished and ready to be submitted.
Proofread the Application Packet
Before you begin to fill out any part of your college application, be sure to read the entire application packet your college has provided. Understanding precisely what is required on your college admissions board is the key to creating a successful application. If you find any part of the application process confusing, consult a guidance counselor, parent or trusted to teacher for advice.
Online college applications are convenient, but they also make it easier for students to rush the application process and make mistakes. If your college accepts applications online, print out a hard copy of the application forms and read them through thoroughly before filling out anything.
Submit Applications Early
While it is important not to rush through the college application process, it is also a very good idea to get your application submitted as early as possible. Application deadlines are strictly enforced, and college admissions boards make no consideration for late entries. An application that is received after the established deadline will not be considered, and you will not be able to attend the college of your choice.
If you keep these tips in mind when approaching the college application process, you should be able to present a clean, accurate and thoughtful application to your chosen college.