Understanding College Admissions Prep Exams
I know, I know. What else do you possibly need to do to get into college? Well, besides doing well in school, taking the right classes, filling out applications, writing essays and saving money, you also need to take college entrance exams. The exams you need to take differ based on the school you will be going to, however, there are a few standard tests used that we'll talk about here to give you an idea of what you may need to do.
The two major college entrance tests are the SAT and the ACT. These tests give college admissions judges the opportunity to evaluate your general knowledge and whether or not you are a good fit for their particular institution. These exams will not necessarily make or break your application. A combination of factors are taken into consideration such as your grades, GPA, extracurricular activities, leadership roles, jobs held, community service completed, clubs participated in and your admission essay. However, a good score on the SAT or the ACT can help push your application over the edge of "maybe" to a definite "yes!"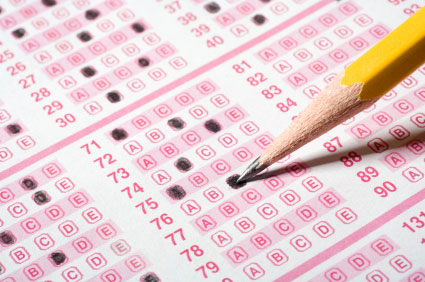 SAT Information
The most commonly used and accepted test taken by potential college students is the SAT Reasoning Test, which is distributed by the College Board. This test helps admissions officers to analyze a student's ability to think critically and logically and to reason out the answers to problems. There are three major sections on the test, the writing section, the critical reading section and the mathematics section.
This is notably different from the SAT of years prior which only contained a math and a verbal section. Even so, the SAT is merely a way for admissions officers to understand a little bit more about you, your current knowledge and how well rounded your learning has been. The new writing section is especially beneficial because it can dramatically improve your score if you are a sufficient writer. These scores are also being used to determine what English class you will be placed in your freshman year of college, so it is vitally important you brush up on your essay writing skills before taking this test.
There are also the SAT Subject Tests which help to show your knowledge of any one or several specific areas such as Chemistry or U.S. History.
ACT Information
The ACT is another form of test that many colleges use to determine your knowledge of the subject areas you have covered while in high school. The ACT is actually quite different from the SAT because it measures knowledge while the latter measures your ability to reason.
Essentially, the ACT is a bit more focused on your individual knowledge of specific subjects. It is also interesting because you don't necessarily have to send all of the scores you receive on the ACT to the colleges you apply for. You can get a math, English, reading, science and writing score, though you don't need to send them all to your choice colleges. You only have to send in the scores that they request. This can actually help you if you excel in certain areas over others. Also, the writing portion on the ACT is not mandatory and you only need to take it if the school you're applying to requires it. This can save you some time.
In general, both the SAT and the ACT are pretty much the same when it comes to weight on your college application. That is, neither will influence your admissions status too drastically. Even so, high scores on these tests are impressive and can help boost your chances of being accepted so it pays to take them seriously. While you can't study for these tests persay, you can prepare for them. For instance, you can take the PSAT, which is a preparatory version of the SAT to help get you acquainted with the test's structure. You can also visit the SAT and ACT websites, which have free questions online that can help you prepare. You can visit them at www.collegeboard.com and www.actstudent.org.