Student Loans that Put More North Carolina Students in College
Apply for Federal and Private Programs
The definitive place to start gathering information about state-sponsored financial aid in North Carolina is the North Carolina State Education Assistance Authority (NCSEAA), which is a valuable resource for any student who wants to attend college in that state. It offers information for borrowers and a handy guide to particular loan funds and programs North Carolina provides.
The state of North Carolina is known as a home to thousands of employers in the technology sector, where higher education is absolutely essential to the work force. Consequently, the state devotes extra attention to encouraging its students to move on to its colleges and universities.
The College Foundation of North Carolina (CFNC) is one of the most proactive state-sanctioned agencies for making federal and private student loans a reality for in-state students and parents. But if you're in the process of planning for college, CFNC offers a variety of products, services and information, including:
College planning tips and tools
Student loan calculators
Student loan applications
How-to tips for claiming student loans on your taxes
How-to tips for managing your post-college debt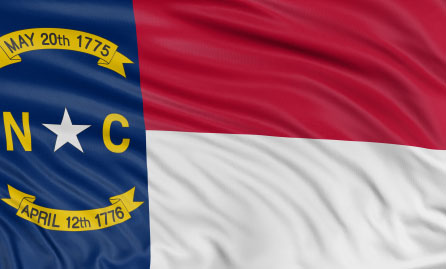 North Carolina Federal Loan Programs
In general, there are three types of student loans available to you: federal student loan programs, state-funded student loans, and private loans through banks and other lenders, which are not affiliated with any government or educational entities.
The first step is always to apply for federal student loans by filing the FAFSA, or Free Application for Federal Student Aid. You can complete FAFSA to start the application process for your federal loans via the CFNC website. There is also a CFNC page with links to other loan applications.
The Federal Direct Stafford Loan is widely disbursed. Most undergraduate and graduate students who apply for federal aid are approved for some amount of Stafford funds, which are borrowed directly from the government although students may deal with a third party lender.
The Grad PLUS Loan gives graduate and professional students extra loan leverage, but only once they've met their Stafford Loan borrowing limit. This is a credit-based loan, but does offer borrowers the option to apply for funds to meet the outstanding balance on their tuition bills. If you have poor credit, consider applying with a creditworthy co-signer.
Parent PLUS Loans assist parents of dependent undergraduates with meeting the total cost of their child's education, once all federal loans and gift aid have been used. Dependents must be less than 24 years old, have no dependents of their own, remain unmarried, and not fall into certain other categories (veteran, graduate or professional degree student, or ward of the court).
You can learn much more about the federal student loan programs on this page.
Alternative Student Loans for North Carolinians
The CFNC used to offer an affordable alternative student loan, called the Extra Education Loan. Unfortunately, CFNC has announced that changes in federal rules, combined with unfavorable credit markets due to the recession, caused the Extra Education Loan's suspension as of February 1, 2010. The good news is that CFNC plans to reinstate this loan program if improving conditions permit them to do so.
Paying Back Your Student Loans
Managing student loan debt following graduation is one of the most challenging tasks for new North Carolina graduates. CFNC has collected some links that will help you manage repayments and explore your personal repayment options. You can make payments online through your CFNC account or find helpful information on topics like how to meet your payments, what happens if you're having trouble repaying a loan, and how to make sure your financial aid travels with you when you change schools.
A couple of repayment options to keep in mind include:
The Federal Consolidation Loan, which belongs to the federal student loan program, is not always offered by lenders due to market volatility. This loan allows you to bundle multiple federal loans into one, which means you pay less each month over a longer repayment period.
To help you pay in full and on time, you can seek special repayment terms. Two examples are graduated repayment plans, which start with a low payment, which increases over time, and income-sensitive plans, which let you pay a percentage of monthly income.
Customized repayment terms are excellent debt management tools.
For more information on North Carolina's student loan programs, visit the CFNC website.