Getting your Funds Quickly
Student loans can seem complicated at first, but choosing the right type of loan for your needs and circumstances just requires a little thought and planning. There are two major types of student loan to consider – Federal and Private. Federal loans are typically decided on need and are either funded directly by the Federal government or are guaranteed by the government. Private loans are made by independent private lenders and are decided on the status of the applicants credit history.
Few students can make it through college without some form of student loan. Luckily for college bound students across the country, student loans are one of the easiest and most common loans to secure. The important thing to remember is that you must not wait until the last minute to start thinking about your student loans. Get your applications in early and give yourself plenty of time to review and consider your options before signing any loan agreement. Any loan is a serious matter and the successful borrower is the one who takes the time to understand their loan program fully.
What are the Steps for me to Take Advantage of this Offer?
You can secure a student loan only if you have taken the appropriate steps beforehand. Be proactive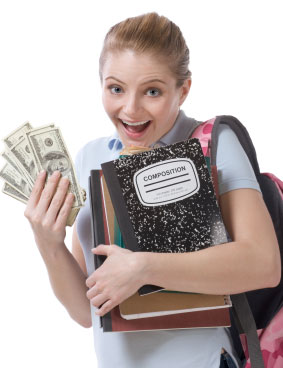 and get to work early. For example: If you are looking to secure a Federal loan you must submit your FAFSA before the deadline for the school term for which you are applying. You can check the applicable deadlines for your state and college at the FAFSA Deadline website. If you fail to submit your Free Application for Federal Student Aid before the deadline you will miss out on any Federal loans for the school term you desire and will have to reapply next term.
Once your FAFSA has been reviewed and you have received your Student Aid Report you will be able to apply for a Federal student loan quickly and with relative ease. These applications can be made online from the comfort of your own home.
Federal Direct Loans are sponsored by the Federal government and you will be dealing directly with the U.S. Department of Education for all aspects of your student loan. Many Federal loans like the Stafford and the Direct PLUS are made in conjunction with participating external lenders. While these loans are guaranteed by the Federal government the external lender will handle all application, disbursement and repayment aspects of your loan.
Nelnet and ACS are also available as resources to help students secure a Federal student loan. What's particularly convenient with these services is you can apply for a loan online and find out whether or not you are pre-approved within minutes. Most lending organizations offer this service and it saves you from having to physically go to the bank to submit each application.
When applying for credit based loans don't let bad credit or no credit be an obstacle to your higher education. Bad credit student loans can be found from a number of private lenders, you will just need to do some searching. Bare in mind that these loans will have stricter terms and higher interest rates. If you can handle the interest rates and applicable fees you can still find a loan to make your college dream a reality.
Once You're Accepted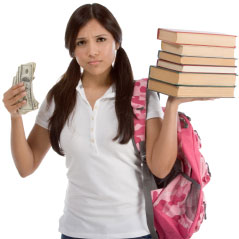 After you've completed the application process and are accepted into the loan program, you will need to clarify the specifics of the loan. If you are getting a Federal loan the money will be sent directly to your school of choice to be set against the tuition balance. Anything that is left over can be used for your other college expenses like books and dorm fees.
If you have secured a private loan pay strict attention to the fine print. Some private lenders send your loan money straight the your college, much like a Federal loan, and you are restricted to borrowing only the amount you will need for each school term. Other private lenders disburse the money directly to you and you are responsible for paying and managing your education related expenses. With many private loans you can borrow more than the total tuition and expenses for your college education, but always keep in mind you are required to pay this money back in a timely fashion. Never agree to a loan that you do not believe you can handle financially.
Student loans can be found and secured with the right information and a little determination. Remember, for Federal loans get your FAFSA submitted well before the applicable deadlines or you will be caught out for the term and your only alternative will be a private lender loan. Private loans may be available to you at the last minute, but you will be faced with higher fees and interest rates. By planning ahead you increase your opportunities to make your college dream a reality.