Should You Consider Applying for a Private Student Loan?
How to Use Alternative Financial Aid
When Federal and State loans are not enough to cover the outstanding costs of college many students will turn to private lender student loans. Private student loans are often referred to as alternative student loans though we at Go College use the term "private student loans" to differentiate from other alternative sources of financial aid like graduate student loans and Direct PLUS Parent loans.
You'll find private loans to suit a variety of students including:
Undergraduate private loans
Graduate private loans
Med school loans
Law school loans
Bar exam loans
Before you pursue any private student loan however, there are a few things you need to take into consideration.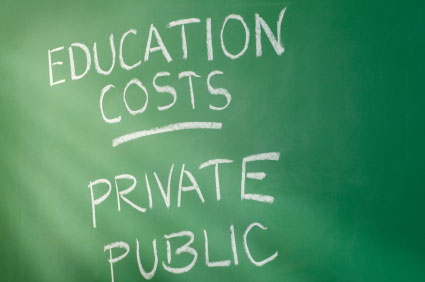 Exhaust All Other Options
There are many private lenders offering student loans and at reasonable market terms. However, none can compare with the benefits of a Federal student loan. Federal loans offer the lowest interest rates, are often subsidized and provide a six month grace period following graduation before repayment must begin. Private lenders can not offer any of these much needed benefits.
Before considering a private loan:
Your first step should be to apply for Federal student aid from the Department of Education. File a Free Application for Federal Student Aid or FAFSA to learn what financial aid you may qualify to receive from the Federal government. Unfortunately too many students turn to private loans first, before they even try to get approval for Federal aid.
When you file the FAFSA you are also considered for Federal grants such as the Pell grant as well as Federal loan programs like the Stafford.
Investigate any state funded financial aid programs in your home state. Many states make monies from state lottery coffers available as grants and scholarships to low income students.
Search and apply for scholarships that are relevant to your educational goals and personal interests. Many organizations and corporations offer scholarships for students pursuing studies in specific fields science and technology.
Millions of dollars in scholarship money goes unclaimed each year because students thought they wouldn't qualify or simply didn't do the research to find them. Don't miss out on some much need college funds. Put in the time and effort and your search will likely be rewarded.
The Ins and Outs of Private Student Loans
Unlike Federal student loans which are more often than not based on a students level of financial need, private loans are based on a student's credit score. In this way private student loans are just like any other loan from a private lending institution. In some instances private lenders may offer more competitive interest rates because the money is intended for college tuition but otherwise the terms and conditions of the loan will be like any other private sector loan.
The most common financial institutions offering private student loans include large banks like Citibank and Chase as well as specialized lenders like Sallie Mae and Act Education Loans.
Private Loan terms:
Payment options may vary but you should expect to be making some manner or payments while you're attending school. Some lenders require you begin full repayment immediately while others may offer you an interest-only option. A few private lenders may allow you to defer payments while you're in school though this is rare outside of Federal loan programs.
Borrower Incentives are designed to attract borrowers and include interest rate and fee deductions for such things as making electronic payments and consecutive on-time payments.
Origination fees are common loan fees added on to the loan principal.
Using a Co-Signor
Private lender loans are based on a students credit score. For many college bound students this presents a problem as they are likely to have little or no credit to their name. If you have no credit or poor credit you will only qualify for a private loan with the help of a co-signor. If you can use a parent or guardian as co-signor that would be preferred. If not, find someone you trust who knows you and who has good credit. Remember, the better your co-signor's credit report the better your loan terms will be.
One benefit of having a co-signor on your student loan is you are able build up good credit of your own when you make your payments on time. Many lending institutions will agree to release a co-signor from the loan once you have made a certain number of consecutive on time payments.
Repaying Private Loans
Students considering private loans must keep in mind many lenders will expect that repayment commence as soon as all monies are disbursed. This means you will be paying on your loan while you are enrolled in college. You need to make a note of just how much you will be expected to pay each month. If the payments exceed what you think you can afford put on the brakes. Try to renegotiate but whatever you do never sign a loan agreement that you can not reasonably afford.
Tips when shopping for a private student loan:
Avoid loans packaged with high interest rates.
Beware of "introductory" offers and interest rates—these often skyrocket after a certain period of time.
Shop around and compare lenders before you sign any papers.
Remember, private student loans have their place, but your best strategy is to pursue all other financial aid forms, first: federal student loans, grants, and scholarships.