How to Find Student Loan Discounts
Student loan discounts are one of the ways in which you can save a little extra money while financing your college education. Student loans are an expensive proposition, and any savings you can find is a bonus. Banks and other private lenders like to offer these student loan discounts as a way of attracting business, and to stand out from their competition. When you are considering an education loan it is easy to be tempted by the offer of low interest rates, but there are other factors you need to look at when deciding on the right loan for you.
GoCollege has a handy guide on how to get, keep, and make the most of student loan discounts. But right now, let's look at what kind of discounts are available, and what they can do for you.
All About Student Loan Discounts
The Higher Education Opportunity Act, first passed in 1965, regulated the way in which student financial aid programs are administered. Reauthorized every 5 years, this piece of legislation is designed to encourage fair access to higher education for all American citizens. One of the provisions of the HEOA was to limit the maximum interest rates allowable on student loans. This forced banks and student lending organizations into competition with each other, ultimately causing them to offer competing interest rates, as well as other perks and discounts in order to attract customers.
This direct competition between lending companies makes for a greater availability of discounts and fee reductions to students shopping for an education loan. These discounts can take the form of fee waivers, interest reductions for on-time payments or reduced payments for direct debit agreements. With lenders vying for your business, it is to their advantage to make their loans as attractive as possible. And it is certainly in your best interest to take advantage of any and all discounts being offered. So when considering a private lender loan, look at more than just the interest rates. Consider any and all available discount options and weigh them against the bottom line. These discounts can add up, and save you considerable money in the long run.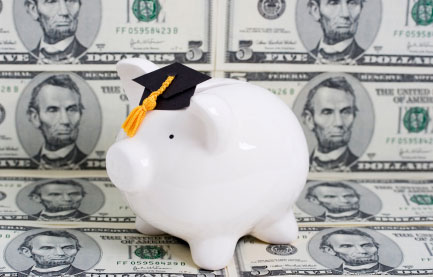 Types of Student Loan Discounts
Lending companies can discount your student loan in a number of different ways, and each loan company will have their own programs and preferences. There are several methods, however, that are common to most lending institutions and we can take some time to look at them now.
The Direct Debit Discount
This is perhaps the most popular, and common, type of loan discount. When you agree to have your lender automatically deduct your monthly loan payments from your checking account, your lender agrees to discount your loan's interest rate. The average discount is around 0.25%, which may look small at first but definitely adds up over the life of your loan.
Banks and lending companies like to offer this form of discount as it helps them save money on paperwork and administration. It can also help you save money on your regularly accruing interest, and is certainly worth considering if offered by your lender.
The Waived Origination Fee Discount
It is common for banks and lending companies to charge borrowers a 'loan origination fee'. This is meant to cover the administrative costs associated with loan applications of any kind. In an effort to attract customers, however, many student loan companies will agree to waive this fee entirely. If you shop around, you will find a number of private lenders offer this waiver on all of their student loans.
Students considering a college loan should remember that origination fee waivers are standard for all Federal loans including the Stafford, the Perkins and the Direct PLUS Loan for Parents.
The On-Time Payment Discount
Making your monthly loan payments on time seems obvious, but you might be surprised at the number of borrowers who fail to do just that. Lending organizations expect payments to be made on time, and penalize the chronically late. They also like to reward the diligent customer who consistently makes their payments on time. So, many banks and student loan companies offer discount programs for borrowers who have a history of on-time payments.
For example, when it comes to a Stafford loan, you can receive up to a 2% reduction in your interest rate after making complete and timely payments for four consecutive years. Many lenders offer similar reductions on other Federal and private loans. These may look like small amounts at first glance, but on a loan with a 10, 15 or even 20 year lifespan it definitely adds up.
The key to these kinds of discounts is to stay consistent. It may seem like an easy proposition to make your loan payments on time, but it can easily get away from you. Stay focused, be disciplined, and you will be rewarded in real financial savings.
Read the Fine Print
When you begin looking for a student loan, you will find many lenders competing for your attention. Rule number 1 – always read the fine print. For example, if you decide to repay your loan in full ahead of schedule you may be responsible for fees and penalties that negate any earlier discounts you have received. Also, if you choose to consolidate your student loan through a different lender you may have to pay back any rebates or reductions you have previously received. It is important to know what the life of your student loan will be from day one to final payment, so as not to be surprised by any hidden fees or penalties.
Keep in mind that if your loan balance is below a certain amount, you may not qualify for any of these discount offers. Typically the most substantial discounts are reserved for those individuals who are borrowing larger sums of money. Lenders like to keep, and reward, larger borrowers.
Student loan discounts can be a great way to save money while funding your college education. But remember rule number 1, and always read and understand any loan agreement before you sign on the dotted line.