Overview of Chase Student Loan Products

As with most student lending companies, or banks with divisions devoted to student loans, Chase offers both Federal and private student loan programs. Each has it's own benefits and disadvantages, and it will be helpful to take some time to look at all the options available to you. An education loan is a serious matter, and an understanding of your loan responsibilities and requirements will allow you to make an informed decision when considering a college loan.
Federal Chase Student Loans
The Federal government offers a number of loans for students looking to finance their college education. Chase can act as your primary lender for any of these Federal loans. While the loan is still underwritten and guaranteed by the government, Chase manages all of your day to day loan activities. By managing your Federal loans through Chase you can take advantage of their personalized service, while still reaping the benefits of a government secured student loan.
Chase can help you manage any and all of your Federal loans, including the Stafford Loan, the Perkins Loanand the Federal PLUS Loan for Parents. Chase can also help you manage your Federal Direct Loan Consolidation after you have graduated, combining any outstanding loans into one manageable monthly payment.
Managing your Federal loans through Chase allows you easy access to support staff and advice, while still taking advantage of the low fixed interest rates, payment deferment options and subsidies offered by the Federal government. While Chase acts as the primary lender on your government loan, all Federal requirements and conditions must still be met in order to qualify for any particular Federal student loan program.
Private Chase Student Loans
Any college-bound student searching for financial aid should first look to the available Federal grant and loan programs before considering a private lender loan. However, even if you have qualified for a Federal grant, or a Federal loan, you will likely find yourself with a sizable amount of unmet need. When this happens it is time to think about a private lender loan to help cover your outstanding college costs. Chase offers private student loans at competitive rates that may be answer to your college financial needs.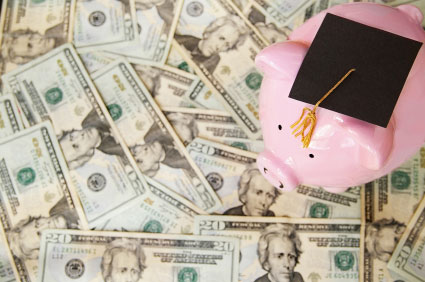 Chase Select Private Student Loans
The Chase Select Private Student Loan can help students bridge the gap between their Federal financial aid and the total cost of their college attendance. These loans allow students to borrow up to the cost of their yearly tuition, less any financial aid already received. The Chase Select Private Student Loan has no origination fees or penalties for early repayment, and applicants can take advantage of the in-school deferment plan which requires no payments until after graduation. It is important to remember that deferment plans only delays your payment schedule, and you will b e responsible for all interest that accrues on your loan while you are in school.
Like all private lender loans, Chase Select Student Loans are determined by the applicants credit score. In many cases a cosigner will be necessary for students to secure a loan, and to be eligible for the best available interest rates.
Chase Graduate Student Loans
Chase also offers a Graduate Student Loan specifically designed to help graduate students cover the sizable costs of their continuing education. These loans are predicated on your credit score, and graduate students can borrow up to the limit of the total college costs as certified by the university. Deferred payment plans are available to eligible students though, as with all private lender loans, interest will continue to accrue while you are attending school. The Chase Graduate Student Loan has no origination fees or early repayment penalties, and interest rates are set by the lender.
When the time comes for you to make your way to college, you will need to look for financial aid from a number of different sources. University grants, Federal loans and scholarships may only take you part of the way there. When you need to augment your college fund with a private lender loan, Chase can help you find the money to cover the remainder of your college costs.