College Grant Money for Military Personnel
College Grants for Military Personnel and their Families
If you are currently serving in one of the branches of the U.S. Military, or if you are a veteran or a reservist, you can find valuable financial assistance for yourself and your family when it comes time to think about college. Many branches of the military offer substantial scholarship and grant opportunities to active, retired and reservist personnel. These programs provide valuable financial assistance, particularly to students whose studies include fields vital to the military.
Servicemembers Opportunity Colleges
In addition to providing much needed financial assistance, the military offers programs that directly address the challenges facing military personnel and their families. When it comes to regular station changes and deployments, college courses can be interrupted and become a challenge to finish.
Through a series of Servicemembers Opportunity Colleges, the military makes it possible for you and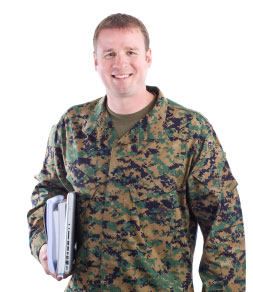 your family to seamlessly complete your college education even when you're constantly on the move.
Servicemembers Opportunity Colleges, or SOC, work in cooperation with 15 State Colleges and Universities to provide opportunities for servicemen and their families to complete a college education while on the move. The SOC program, with its affiliated branches - SOCNAV for the Navy, SOCMAR for the Marines, and SOCCOAST for the Coast Guard - works in cooperation with localized accredited colleges to offer servicemembers, as well as their children and spouses a way to earn an Associates and Bachelors degree despite constantly changing stations or assignments.
The SOC also administers the Concurrent Admissions Program for Army Enlistees, or ConAP, which helps to enroll Army veterans, soldiers and reservists in more than 1900 partnering colleges and universities. ConAP also administers the GI Bill, which has a long history of assisting Army personnel with the cost of their college education.
Army Student Grant Programs
The Army offers two Spouse Assistance Programs through its Family Education Program: one for spouses stateside and the other for those stationed in Japan, Korea, Europe, or Okinawa. The Stateside Spouse Education Assistance Program provides up to $2,500 per academic year; and the overseas version of the program, provides up to $300 per academic semester.
While the G.I. Bill is the most widely recognized of the Army's financial assistance programs, they also offer other forms of grant and scholarship programs designed to assist soldiers and their families find the money for college. These programs are intended to help servicemembers spouses and dependents with their college ambitions. A few of the most notable financial assistance programs include:
The Spouse Education Assistance Program, or SEAP, provides grant money to eligible stateside spouses of active and/or retired Army servicemembers to who are enrolled in classes at an accredited 4 year university.
The Overseas Spouse Education Assistance Program, or OSEAP, provides financial assistance to military spouses stationed in Japan, Korea and Europe. The aid is available to spouses of active duty personnel who are currently enrolled as full or part-time students.
The U.S. Army also provides for the children of active, retired or fallen soldiers with their Survivors & Dependents Assistance Program. Eligible family members have access to grant money for their college careers, with preference being given to the children of fallen or disabled soldiers.
College Grants from the Air Force
The Air Force maintains one of the more competitive and valuable grant programs open to servicemembers and their dependents. The U.S. Air Force offers a number of grants and scholarships to active and retired personnel looking to continue their higher education, as well as providing financial assistance to the spouses and children of active and retired servicemembers.
The Air Force Tuition Assistance Program, offers grant money to active personnel who wish to complete their college education in either an on-base or off-base institution. Financial aid is available in varying amounts, up to full coverage of yearly tuition costs.
The Montgomery G.I. Bill provides up to 35 months of education benefits to eligible Air Force servicemembers. Benefits are payable up to 10 years following the end of active duty.
The Air Force Aid Society administers the General Henry Arnold Education Grant, which provides up to $2000 in educational financial aid to the children of serving Air Force personnel. This is a need based program with awards going to those students who can demonstrate the requisite financial need.
Coast Guard Grant Aid
The Coast Guard Foundation administers a number of grants and scholarships for active and retired personnel and their dependents. The RADM Arnold I. Sobel Scholarship, and the Coast Guard Foundation Scholarship , both provide financial aid benefits to the children of active duty and retired enlisted personnel. While the Fallen Heroes Scholarship provides for financial aid assistance to the children of coast guard servicemembers who have died in the line of duty.
These, and other scholarship programs , are designed to encourage and enable the children of Coast Guard service personnel in their pursuit of a college education.
Marine Corps Student Grant Options
The Navy-Marine Corps Relief Society is the premier charitable support organization for Marines and their families. The society regularly administers a number of interest free loan and grant programs for Marines on active duty as well as reservists. The MNCRS currently offers two grant programs for college bound students:
The Boorda Seaman-to-Admiral Educational Assistance Program is designed for active, retired and reservist Marines and Navy personnel. Grants and loans, up to $2000 per applicant, are available annually.
The NMCRS Gold Star Scholarship Program, is open to college aged children and unmarried widows and widowers of deceased Marines or Sailors.
Navy Student Grants
The U.S. Navy also offers a number of valuable education grant programs. The largest program is the Navy College Fund, which provides financial assistance to active duty Navy personnel who meet the required standards of service and need. Part of the Navy's G.I. Bill, the NCF provides much needed college funding to sailors looking to complete a college education.
The U.S. Navy also offers the Survivors' and Dependents' Education Assistance Program, which provides up to 45 months of financial assistance to the children and spouses of Navy personnel who have been killed or disabled while serving. Benefits are applicable to undergraduate, graduate and post-graduate students.
Serving in the military, regardless of branch, is an honorable American tradition. It is also one of the most well trodden pathways to a higher education. Between the G.I. Bill and the myriad other scholarship, grant and loan programs offered by the differing branches of the military, you will find that a college education becomes accessible to nearly everyone who chooses to serve.