/ Grants
/ Physical Therapy Students
Physical Therapy Students: Get Grant Money for Education
A degree in Physical Therapy can lead to a rewarding and lucrative career. Physical therapists help athletes rehabilitate following an injury, assist hospital patients to regain physical mobility and work in extended care or rehabilitation facilities helping patients with pain management and mobility issues. Whether you pursue a career in sports medicine or public healthcare, as a licensed physical therapist you will be in high demand.
There are two career levels to consider when studying physical therapy. The licensed physical therapist must have a masters or PhD, and this will require a four year stay at university. Physical therapy assistants require a two year degree which can often be obtained at a community college. Whether you opt for the full four year degree or a two year degree you will likely need to find some form of financial aid to help cover your tuition costs.
Popular Sources for Free Tuition Aid
Faced with an aging population, there is an ever increasing demand for licensed physical therapists. This demand has caused an upswing in available grants for students with an interest in this field. Because these grants are specialty specific, most grants will be from colleges and universities, or from corporations specializing in healthcare related services. However, don't dismiss the possibility of Federal student aid.
As with any search for college grant money however, the Federal government is a prime source for financial aid. Your first stop on the road to college should be to fill out and submit the Free Application for Federal Student Aid, or FAFSA. This will open the door to a number of grants and loans made available by the U.S. Department of Education, most notably the Pell grant. These Federal programs can go a long way to offsetting some of your tuition costs.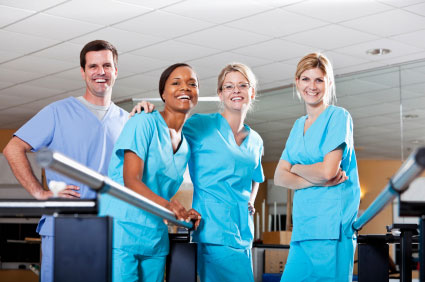 Physical Therapy Grants from Colleges and Universities
After you have investigated any Federal financial aid for which you may qualify, your next step is to check out what is being offered by your college of choice. Most colleges and universities offer various levels of student aid, and your college likely sponsors any number of grants or scholarships for which you may be suited. Colleges and universities with a large athletics program are the most likely to offer grants for physical therapy students. Talk to the financial aid advisor at your college to find out if there are any grants available for students enrolled in physical therapy courses.
The department head of your physical therapy program will also be able to point you in the direction of any grants specific to your course of studies. As a degree holder and a teacher they will be able to give you insight into where to find the most accessible grants suited to your career path, whether they be college funded or sponsored by private organizations.
PT Grant Money from Professional Associations
Your eventual field of study could put you in a public or private healthcare job or in a private business. Depending upon your job you could have access to a variety of professional associations that cater to Physical Therapists and related professionals.
The successful completion of your physical therapy degree is likely to put you in a public or private healthcare job. Depending on that job, you may have access to a variety of professional associations that sponsor grants for physical therapy students.
The mission behind many such organizations is to provide support to students while nurturing the next wave of working professionals that will ultimately join their field. As a student you are best advised to find a good national or regional association related to your career goals. Check out their student membership benefits: Do they offer scholarships or tuition grants? Are there travel or research grants available for graduate or post-graduate students?
Some examples of professional associations offer physical therapy specific grants include:
A degree in physical therapy can open doors to a wide variety of professional careers. From the sports field to rehabilitation center, physical therapists are in constant demand. With a little due diligence you too can find the grant money to help put you on the track to the career of your choice.