Scholarship Essay Writing Tips
Many scholarship competitions will require the applicant to submit a finished essay in order to be considered for any awards. The scholarship essay is often the deciding factor for the review board, and a well written submission can be the difference between winning and losing a much needed scholarship award. Many students may find the idea of writing and submitting an essay to the scholarship review board to be a daunting prospect, but put away your fear. A few judicious tips can help you produce a well written, and successful, scholarship essay.
Follow the Directions
First and foremost, students must follow all of the directions on the scholarship application. A misunderstanding of the application can lead to a faulty submission, and you will be immediately out of the running for the desired scholarship award. If the scholarship for which you are applying has a prompt for an essay, read the instructions and the essay question carefully. It may be helpful to rewrite the essay question in your own words to help you better understand it. The review board is looking for someone who can follow instructions, is attentive to the task at hand, and can produce a solid essay that is on point and adheres to the criteria set by the original essay question.
Make An Outline
Whenever you approach an essay, either for a scholarship submission or for you college admissions application, you should always prepare an outline before beginning to write. An outline will help you focus your thoughts, and will help you plan the overall structure of your essay. A detailed outline will allow you to produce a coherent, well thought out essay that expresses your main points cogently and in an orderly manner. The scholarship review board is looking for students who can support their arguments with clear and concise points that relate directly to the topic being addresses.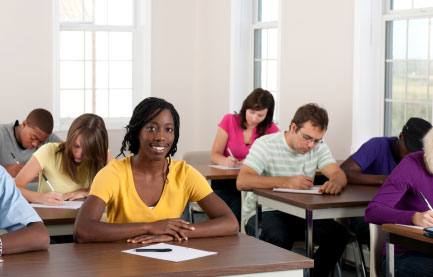 The Essay
Many scholarship applications will give you a choice of essay topics. Select the one you find the most interesting. Many students make the mistake of choosing the topic they think will appeal most to the review board, but if you are bored by the topic of your essay it will be reflected in your finished submission. By choosing a subject for which you are passionate, you will be able to complete an engaging essay that will grab the review boards attention.
When writing your essay be sure to develop your ideas along a clear and logical path. Make certain the salient points are connected, and that the transitions flow naturally from one idea to the next. If you are asked to write about your college goals, avoid the cloying or obvious sob story. Scholarship review boards are immune to sob stories, so only attempt to tug at their heartstrings if you have a legitimate reason to do so.
A Few "Polishing" Tips
As Mark Twain once said, "The devil is in the details," and it is the finishing touches that sets a great essay above a merely good one. Use the following tips to help you polish your essay, and to help you produce a solid and successful submission.
Be Thorough
When approaching your scholarship essay, be sure to give yourself enough time write and rewrite your submission. Take time to review your finished essay, and make any appropriate changes you think are needed. Rushing through the process will only result in a less than satisfactory essay.
Be Precise
Expand the ideas you present in your essay with specific, on point, examples. Do not be vague, and avoid generalizations. The review board wants to see that you have solid ideas, and can elaborate on them in a cogent manner. Your attention to detail will produce a more substantial final essay.
Be Honest
While you should always try to present yourself in a positive light, dishonesty in your essay will not help you. By all means talk up your positive points, but do avoid any fabrications. Your initial application and essay, if successful, will lead to a personal interview. If you have included information that is untrue in your essay submission, your interview will consist of trying to remember what lies you told, and to whom. Be truthful and forthright, and your essay will be all the better for it.
Be Neat
Neatness counts in all essay submissions. Gone are the days of handwritten essays, but it is still important to format you pages properly, to double check your spelling and grammar, and to present a finished product that is as easy to read as it is to understand.
Be Read
Nothing is more helpful when writing a scholarship essay than a second opinion. Have someone you trust and respect, a parent or a teacher, proofread your essay and give you feedback. Often they will be able to catch mistakes or inconsistencies that you have missed, and suggest improvements to the structure and substance of your finished essay. Do not be precious about our work, and take on all constructive criticism. Your goal is to produce the best possible scholarship essay you can.