Art Scholarships
Art scholarships, like all merit-based scholarships, are awarded on the basis of excellence in a chosen art form. For the college-bound student who is pursuing a degree in the arts, a scholarship can mean more than just funds to help cover tuition. The right art scholarship can open doors when you begin to ply your trade professionally, and can make for an impressive addition to any resume.
Art scholarships are highly competitive, and can come from a variety of sources. Art colleges and music schools often offer substantial scholarships in an attempt to attract the best students to their campuses. Further sources of financial aid for art majors can be found in scholarships sponsored by both private and public endowments, as well as corporations and businesses with direct ties to the artistic community. Art scholarships may seem harder to find, but they are definitely out there and with some research and a little diligence they can be had by the right college-bound student.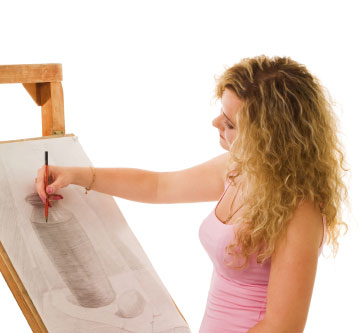 What Are Art Scholarships?
Art scholarships are awards given to qualified students based on their proven artistic skills in a given art form. Many types of art scholarships exist, and no two will be wholly identical. Requirements and awards will vary depending on the source of the scholarship, as well as the specific art form under consideration.
Art scholarships come from a variety of sources, both public and private. The most obvious source for scholarship money is the college or university of your choice, and students should check with their financial aid adviser to discover what programs may available from their school. Other sources for art scholarships include corporations and businesses who wish to encourage and promote art education generally, or in a particular field. In many cases these businesses will have direct ties to a particular art form, as in the case of Fender Guitars which offers a Guitar and Electric Bass Scholarship, or Winsor & Newton which offers the Start Your Own Studio Scholarship which awards $1000 for art supplies to the winning student applicant.
Students pursuing an art education can certainly take advantage of a number of scholarship opportunities. Though many of these scholarships are small, and full tuition art scholarships are very rare indeed, the supplemental money can help college students reduce their out of pocket college costs. As an art student, before you resort to a private lender loan, investigate any scholarship opportunities for your creative field of interest.
What Makes these Scholarships Unique?
Art scholarships differ from the more traditional scholarship programs, in that students must demonstrate a proficiency in a particular art form, over and above their history of academic achievement. All art scholarships require a portfolio submission, and students should be prepared to submit samples of their art work with their applications. For visual artists this will mean submitting samples of their painting, drawing, photography or sculpture. Those students applying for dance or music scholarships will need to have a demonstration reel of their best performances, and in some instances may be expected to audition live before a panel of judges. Every student pursuing an art scholarship should give special attention to preparing the best possible portfolio or demo reel for presentation to the scholarship board. Every scholarship will have different requirements as to portfolio submissions, and it is important to follow their specifications down to the finest detail.
Art scholarships are also differ from the majority of awards in that they place an emphasis on talent and skill rather than on academic performance alone. Having said that, all scholarship award boards take into consideration a student's academic history, and applicants will need to demonstrate a minimum GPA in order qualify for any art scholarship. While the emphasis is on artistic ability and potential, academic history is still a part of the process and applicants will need to demonstrate a solid academic history.
How Can I Find Them?
Finding and applying for art scholarships may be easier than you think. The first tool in your arsenal is the internet. Try searching for specific scholarship programs based on your field of interest. For instance, a web search of the terms ' trumpet scholarship' brings the following result: Indiana University of Pennsylvania's National Trumpet Competition Award which offers $30,000 in scholarship funds to the winning student. Be specific in your search, include your field of study, your college of choice and even the name of a business or corporation that has ties to the art world. IN this way you will find a number of different scholarship opportunities devoted to your specific field of interest.
You should also speak with your guidance counselors and your favorite teachers. They can help point you in the direction of scholarship programs that best suit your interests and your achievements. Art and music teachers in particular may be able to suggest schools and scholarships that they benefited from when they were students. If you have selected your college destination, be sure to check with the school's financial aid adviser, and any department heads, regarding scholarship programs supported by your college of choice.
College is an expensive proposition, and few students can approach it without some form of financial aid. For students studying the creative arts, grants and scholarships can help pay a significant part of their tuition costs. With some research, a little hard work and a bit of luck you too can find an art scholarship that will help you pay for college.