Study to Become an Architect: Pay for School with Scholarship "Green"
All college students are faced with the ever rising cost of tuition, and Architecture majors are no different. While the best schools, with the finest architecture programs, add a definite boost to your professional resume, they also carry the highest tuition costs. Many architecture majors are forced to consider sizable student loans in order to complete their education. But there are a number of scholarship opportunities for architecture students that can help them avoid becoming mired in student loan debt.
The most common sources of scholarships for students pursuing a degree in architecture and it's related fields are:
Colleges and universities
Private and professional organizations
Colleges and Universities
The first stop on your search for scholarship funding should be your college or university. Most colleges offer general merit and need-based scholarship that are available to all students, but many career specific scholarships can also be found. Consult your university's financial aid department about any and all scholarships that may be applicable to your current status as an enrolled student. Also visit the head of your schools architecture department for any career specific scholarship programs for which you may qualify.
The following examples will give you an idea of the kinds of programs that are available at colleges and universities across the country.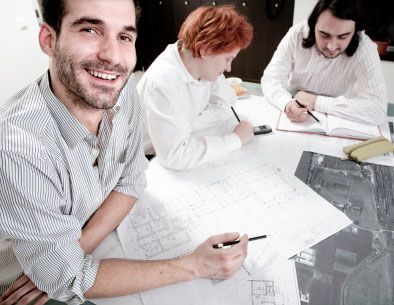 California Polytechnic's College of Architecture and Environmental Design maintains a wide array of scholarships available to it's students. Each program targets a distinctive brand of student, and a particular field of study. For example, scholarships are available for students in their final year of architectural studies, for students pursuing careers in construction management, and for those students studying technical drawing and land management. Awards range from $300 to $5,000, depending on course of study and status of applicant.
Iowa State University's College of design offers a number of scholarships through it's Architecture department. The Henningson, Durham and Richardson Awards, as well as the HLM Design Scholarships are available to students in their final year of architectural studies. Awards are based on merit, with $1000 going to qualifying applicants.
Syracuse University offers it's architecture majors the CIB Foundation Inc. Scholarship. This award is open to outstanding students who have completed an internship with an architectural firm. Awards are $1500.
Private and Professional Sources for Architecture Scholarships
Some of the best sources for Architecture scholarships can be found in the private sector. Professional organizations and associations routinely provide financial aid for their student members as a way to encourage and support the next generation of professional architects and designers. These associations also often offer fellowships for advanced degree seeking students in the field, as well as paid internships for students at all levels of their education.
Women and minority students should also consider what professional architectural associations may have to offer. Many associations are working hard to expand and diversify the professional workplace, and have put in place various financial aid programs designed to assist women and ethnic minorities with an interest in pursuing architecture and design as a career.
Some notable examples of private organizations supporting architecture scholarships include:
The American Architectural Foundation. The AAF is one of the leading national organization of professional architects, and they provide two cash awards programs for architecture students. The Minority/Disadvantaged Scholarship rewards an outstanding new architecture student from a financially disadvantaged and/or ethnic background with up to $2,500 for help in defraying tuition costs. The AAF also sponsors an annual $25,000 fellowship aimed at graduate and post-graduate architecture students pursuing studies in 'architectural heritage.'
The American Institute of Architects sponsors the Jason Pettigrew Memorial Scholarship. This annual award is open to outstanding student members of the AIA.
The Association for Women in Architecture offers cash scholarships to student members pursuing a career in the fields of architecture, landscape architecture and civil engineering. Award amounts vary depending upon funding.
The Foundation for Enhancing Communities sponsors the Joseph L. and Vivian E. Steele Architecture Scholarship. This program provides funding for undergraduate and graduate students pursing degrees in architecture and community planning.
For students pursuing a degree, and an ultimate career in architecture and it's related fields the costs of tuition can seem daunting. But before you resort to private student loans investigate all of the scholarship possibilities. Through colleges and private associations, you may be able to secure the financial aid you need to make your career goals a reality.