Pharmacy Students: Scholarships and Loan Repayment Strategies
Consider this: the Baby Boomer generation began to reach the traditional retirement age of 65 in 2011, and they constitute about 13% of our country's population. Much has been made of this shift in terms of the worsening nursing crisis and healthcare reform. The vast numbers of aging Americans could also overstrain the resources of the pharmacy industry, should the country lack pharmacists to help all these new seniors maintain independent lives with medication.
Pharmacy professionals are needed not just in community pharmacies, although that particular segment of employment is currently very active. There is also a dire need for pharmacists in many areas: hospitals, clinics, nursing homes, academics, research, military service, institutions, and so on. More and more people are living longer with the assistance of the medicines pharmacists dispense, so the demand for their services continues to grow.
Since the healthcare business has a continuing, even strengthening, demand for new pharmacy professionals, you can expect to find generous scholarships available to you as a pharmacy student. Here are the best places to start your search for some of the funding that will put you through school.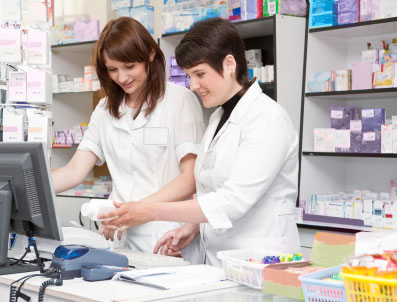 Scholarships from State Governments
Every state in the U.S. is presently concerned with providing enough personnel to maintain its own healthcare system while remaining within its budget. Since younger people often opt to keep living where they were born, the obvious place for a state to seek new pharmacy professionals is in the student bodies of its own universities. In order to encourage students to pursue the more expensive degree programs that are required in medical education, most states have established scholarship programs to support any type of medical study, including pharmacy training.
There's always one simple step you must complete before looking for scholarship aid, and that is to fill out the Free Application for Federal Student Aid (FAFSA). When you have finished that task, you are eligible to apply for any scholarships your state offers that could apply to you and your future career in pharmacy work.
You'll easily find many scholarship-for-service programs that seek to attract healthcare practitioners and pharmacy professionals to underserved medical facilities or to rural and remote communities in various parts of America. Here are some good examples of this type of aid:
Minnesota's Rural Pharmacist Loan Forgiveness Program is administered by the Office of Rural Health and aimed at pharmacy professionals willing to exchange service in a rural community for repayment of their student loans. Qualified candidates may receive up to $16,000 for every year they commit to rural service, up to a maximum of four years.
The Kentucky Higher Education Assistance Authority (KHEAA) offers the Coal County Scholarship for Pharmacy Students, which is designed to help Kentucky students who will agree to work in a coal-producing county in state after graduation. One year of service is requested in exchange for each year of tuition payment.
Scholarships from Colleges and Universities
You should always make a thorough exploration of the scholarships your school provides. There are usually at least two or three for which you could credibly compete, and one of them could be a pharmacy scholarship. Here are a few examples of the hundreds of possibilities:
Private and Professional Sources
Professional and private sources with a connection to the role of pharmacist, pharmacy technician, or advocate for pharmacists, as well as those that employ and otherwise support the work of pharmacists, are all potential sources for scholarship money. An example appears below: