Scope Out Excellent Scholarship Sources for Biology Majors
Students pursuing a degree in biology are opening a gateway to a wide array of career possibilities. The professional fields open to Biology majors are many and varied, and the current push to encourage and support students in higher level science and technology disciplines has led to a new abundance of scholarship opportunities.
Biology STEM Scholarships
Currently there is a national drive to increase and diversify the student body in the critical need fields of Science, Technology, Engineering and Mathematics. Historically, ethnic minorities, including African-Americans, Latino-Americans and Native Americans, have been underrepresented in these fields. Women as well have been traditionally shut out of these scientific disciplines. In an effort to redress this long standing imbalance, many scholarship programs are being sponsored by Federal and state governments, as well as by the private sector.
Government Sources
The Federal government has designated many of the sciences as critical need disciplines. In an effort to make American students and graduates more competitive in an ever changing global marketplace, the government has initiated a number of scholarship programs to encourage and develop new talent in these highly competitive fields of science. Biology majors will find many lucrative scholarship opportunities sponsored by both Federal and state governments. Begin your search by narrowing your focus to the specific biological field of study that interests you, and look to government sources of scholarship awards that will help you cover the costs of your college education.
Some notable examples of government sponsored scholarships for biology students include:
The National Oceanic and Atmospheric Administration (NOAA) sponsors the annual Dr. Nancy Foster Scholarship. This award is designed to provide assistance and encouragement to minorities and women studying in NOAA-related fields, including oceanography,marine biology and marine archaeology. Eligible candidates must be pursuing their studies at the graduate level.
If you're specializing in studies that could be important to the Department of Homeland Security's efforts in Biological Threats, you could be positioned to receive exceptionally well-funded scholarships. Undergraduate and graduate students engaged in studies directly related to the DHS's initiatives win one full year of paid tuition, a paid summer internship and monthly cash stipends between $1,000 and $2,300. This is a scholarship for service program, which means you must commit to working in DHS for a minimum of one year following your graduation.
The Department of Homeland Security offers scholarships for undergraduates and graduates engaged in studies directly related to DHS initiatives. These are service for scholarship programs, and recipients must agree to work in Homeland Security for a minimum of one year following graduation. Awards include one year full tuition, paid internships and cash stipends.
NASA sponsors the annual Astrobiology Program Research Scholarships. This program offers research related financial support to undergraduates and graduates pursuing their degrees in astrobiology.
Biology Scholarships from Private Sources
Private business, industry and professional associations closely related to the scientific community often sponsor lucrative scholarship programs for both graduate and undergraduate students. In addition to these scholarships students will also find a large number of paid internships that will allow them to earn money for college, while increasing their knowledge and laying the foundation for their future careers.
These private sector entities are well aware of the high value of the next generation of scientists and technicians, and understand it is in their best interest to support and encourage the development of students majoring in all the scientific disciplines. Biology majors will find the following examples of privately sponsored scholarships indicative of what to expect in their search for college funding.
The UNCF/Merck Science Initiative sponsors a number of scholarships designed to promote diversity in the sciences. These cash awards are given to outstanding African American students pursuing their studies in Biology at the undergraduate, graduate and doctoral level.. Scholarships range from $25,000 to $85,000, and include paid summer internships and Merck mentoring.
The Gates Millennium Scholars Program provides scholarship opportunities for students pursuing their degree in any of the STEM disciplines, including biology. Recipients must demonstrate the requisite level of financial need, as well as a sound academic history. Awards range from partial to full tuition scholarships.
The American Council of Independent Laboratories sponsors annual scholarship awards designed to encourage and develop the nest generation of scientists and technicians. A $4000 scholarship is awarded to students demonstrating a high level of academic excellence, who are pursuing their degrees in biology and the related sciences.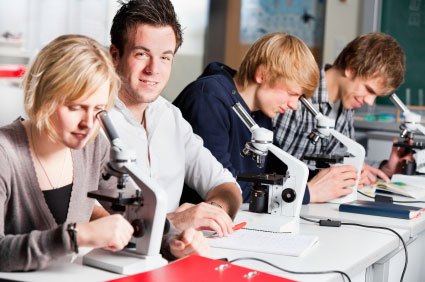 Biology Scholarships from Colleges and Universities
Biology majors will find a wealth of scholarship opportunities at their own college or university. These scholarships may be sponsored by the school itself, or may be funded by generous endowments from former graduates. Consult your the head of your department, and the university's financial aid adviser, for details of scholarships for which you may be eligible. Some general examples will give you a better idea of the kind of awards that may be offered at your college.
The York County Conservation District Scholarship is awarded to students attending a Pennsylvania college or university pursuing studies in agriculture, conservation and natural resource management. Tow $1000 scholarships are awarded annually.
The Central Florida Orchid Society awards an annual $3000 scholarship to students studying agricultural and life sciences. Eligible students must be enrolled at a central Florida University.
The Ripon College Knop Science Scholars Program awards a full tuition scholarship to qualifying students pursuing a degree in natural science. This award is made possible by a generous endowment from Harry Knop Jr., a former graduate of Ripon college.
For students pursuing their degrees in Biology, and all of it's related disciplines, the scholarship opportunities are varied and lucrative. With the right degree of diligence, you too can find a scholarship program that suits your academic status, financial needs and ultimate career goal.