Scholarship Money Sources for Occupational Therapy Students
To launch a successful career in occupational therapy, you should earn at least a masters degree, which will set you apart from the field in a favorable way when it comes to finding a job. You should be aware that degree will be expensive, though, as all medical training is. However, there are lucrative sources for scholarship funds available to you, and it will repay you tenfold to research them carefully, starting with the material below.
Do not be discouraged, because occupational therapists as professionals are now in ever-increasing demand. Occupational therapists work with patients of all ages, from disabled children who need help navigating in school to seniors who have to adjust to new age-related physical limitations on their daily activities. As you know, the numbers of government classifications for disability are growing and the population is aging, driving demand for occupational therapy (OT) professionals able to address daily disability issues.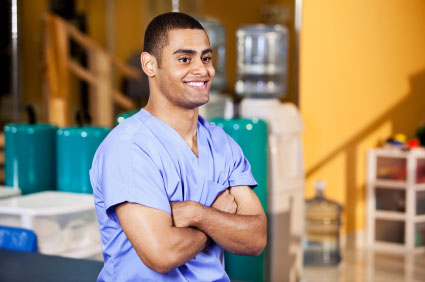 Government Scholarship Sources for OT Students
Various government agencies and sources provide scholarships directly to students pursuing health sciences or health care service careers, including occupational therapy. Often these are aimed at minority students.
If you're a Native American or Alaskan Native who is studying occupational therapy, why not take a look at the Indian Health Service (IHS) Scholarships? Each year, this very competitive scholarship-for-service program selects deserving undergraduate and graduate students who wish to work with Native American communities.
Criteria for eligibility include U.S. citizenship and either membership in a federally recognized community or ability to prove your status as a descendant. IHS has prepared a handbook that contains the specific requirements for each scholarship, so check a current copy of that to discover which are open to occupational therapy students in any given school year.
Both the Health Professions Preparatory Scholarship and the armed forces' Health Professions Scholarship Program (HPSP) accept applications from undergraduate and graduate OT students.
The U.S. Department of Health and Human Services has a division called the Health Resources and Services Administration, which offers scholarships for disadvantaged students seeking degrees in health care occupations, including occupational therapy. You must attend school full-time and be able to show financial need.
Check with your state government for current scholarships available to OT students. Be aware that most of these are scholarship-for-service agreements, meaning you must make a commitment to work in a designated facility for a few years after graduation.
Professional and Private Sources for OT Scholarships
Professional associations like those given as examples below are excellent sources of scholarship funding. They typically support and encourage the work of students by providing a number of scholarships, often in partnership with deep-pocketed company sponsors. Every member once faced the challenges you, as a student, face in paying for your education, so they understand what sort of help you will need.
The American Occupational Therapy Association (AOTA) extends to student members, through its foundation, a group of fifty OT scholarships of various kinds. Depending upon your needs and the scholarship, you could receive up to $5,000. Eligibility requirements include high academic achievement and enrollment in an accredited OT college program.
AMBUCS, a nationwide organization dedicated to bringing together professionals who work with individuals having mobility issues and other disabilities, offers a number of scholarships to four types of therapy students, including OT. The maximum award is $6,000. Students in the last two years of bachelors study or in any year of graduate work may apply.
The Daughters of the American Revolution (DAR) bestows a variety of well-funded scholarships for an array of different majors. OT students who are financially needy are welcome to apply for the annual Occupational/Physical Therapy Scholarship.