Applying for Scholarships for Students With Disabilities
With the passing of the Americans With Disabilities Act of 1990, colleges and universities across the country have been required to accommodate the needs of students with disabilities. This has meant breaking down the barriers, both physical and educational, that for so long had been an impediment to disabled students. Equal access under the law has paved the way for easier access to higher education for students struggling with all levels of physical and learning disabilities.
Today, many organizations, associations and universities make provisions for scholarships and grants that encourage and promote higher education for the disabled. These scholarships are often funded by charitable contributions and corporations, as well as by Federal and State treasuries. Having a disability is no longer an impediment to any student pursuing their college and career goals.
How Do I Know If I Qualify for a Scholarship?
The purpose of any scholarship is to help deserving students pursue their goals of a higher education. Disability scholarships help students who have already overcome a host of difficulties find the necessary funds to pursue their college degree.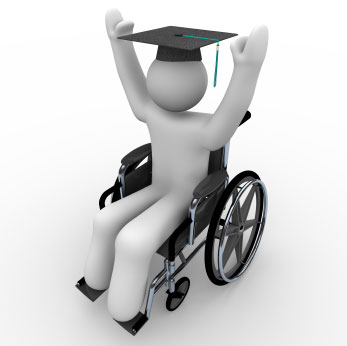 All scholarships have different requirements for qualification, depending on the sponsor, and not every scholarship will fit every student. Disability scholarships are particularly strict as to their requirements, and are usually targeted towards specific disabilities. Some may be linked to particular colleges, such as schools for the blind, while others may be geared towards providing access to public universities for students with varying levels of physical or mental handicaps. Many disability scholarships give special attention to applicants who also face other barriers to higher education, such as income, minority status and gender.
To find out if you qualify for a disability scholarship, it will be necessary to determine your type and level of disability, match it to an existing scholarship program, and make direct inquiries as to the requirements for application specific to that program. Students applying for disability scholarships should also be prepared to present a doctor's certification detailing their level of physical or mental disability. It may seem a long process, but no scholarship is given lightly and every student, regardless of disability, must be prepared to see the process through to completion.
Where Can I Find Scholarships for Students With Disabilities?
Finding disability scholarships will take some time, but it is not as difficult as you may at first suppose. Begin by speaking with a guidance counselor, they can help point you in the direction of scholarship programs that are most suitable for your academic level, and your degree of disability. Also contact local support groups devoted to people with your disability, as they are often in touch with organizations that provide aid to students in your position.
The next step in your search for disability scholarships is the internet. A search of the web can provide a large number of results, and the more specific your search terms the more likely it is you will find a scholarship program that fits your situation. For instance, a general search of 'scholarships for people with disabilities' brings this result: The Courage Center's Scholarship for People with Disabilities, an annual award of up to $1000 for sensory or physically disabled students who are attending an accredited Minnesota university.
The more specific your search criteria, the more specific your results will be. Here are a few examples of the disability scholarship opportunities that can be found through an internet search:
The Spina Bifida Association sponsors the annual SBA Scholarship. Up to six $2000 scholarships are awarded yearly to undergraduate students with spina bifida currently enrolled, or accepted, to an accredited four year university.
Sertoma, a national charitable organization, sponsors the annual Sertoma Hard of Hearing or Deaf Scholarship, which awards up to $1000 to undergraduate students with significant bilateral hearing loss.
The National Multiple Sclerosis Society sponsors the annual National MS Society Scholarship Program which in 2011 alone, awarded more than $1 million in scholarship money to more than 600 college-bound students.
Disability scholarships can be found from many different sources, both national and local. Some disability scholarship may be linked to a specific state or university, while others may be available for use at the college of your choice. There are scholarship opportunities available for students with all degrees and types of disability, the key is to do your research to find the program that best suits your needs.
How Can I Apply to These Scholarships?
Application requirements for any disability scholarship will largely depend on the individual program, and no two scholarship programs are likely to be exactly the same. There are some common requirements to be prepared for however. Students applying for a disability scholarship will need to have a doctor's certification confirming the type and degree of disability. Many scholarships for the disabled require a letter of recommendation, usually from a high school authority or local support group. Some scholarships will require that applicants submit an essay in response to a specific topic, and this will need to be submitted with the students school records and test scores.
The most important thing to remember when applying for any scholarship, is to read and understand the application forms before submitting anything. A good rule of thumb is to read the application form, read it again, and only then begin to fill it out. An improperly submitted application nearly always goes to the bottom of the pile when it comes time for an awards board to make their selection. Take the time to understand and fill out all of your applications properly.
Students with disabilities can find a large number of scholarship opportunities to help make college more affordable. Whether it is a full tuition scholarship, or a smaller award that can defray the cost of specialized books and equipment necessary to compete in a public university, funds are available to students who are prepared to do the research and to apply themselves.