Study to Become a Physical Therapist with Scholarship Funds
A career in physical therapy can be both lucrative, and rewarding. The current demand for licensed physical therapists is strong, and that demand is only going to get stronger. An aging populace, and a longer life expectancy mean that many healthcare services will be growing in demand and physical therapy will definitely be one of them.
As a physical therapist, or physical therapist assistant, you will be working with aging adults, patients rehabilitating following a traumatic injury, or patients in need of pain management and body strength training. Many physical therapists also find abundant career opportunities in the field of sports medicine, working with athletes and sports teams.
Yes, as a physical therapist you can expect to earn a fine living while taking part in a much needed healthcare profession. But becoming a licensed physical therapist, or PT assistant, takes years of college. Whether you study at the undergraduate, graduate or doctorate level, you will need to find enough financial aid to help make your career goal a reality. Federal grants, like the Pell grant, government loans like the Stafford are a good start. However, the right scholarship can make all the difference when going for a degree in physical therapy. Some general sources for educational scholarships applicable to Physical Therapy students:
Professional associations
Private organizations
Colleges and universities
Federal and State governments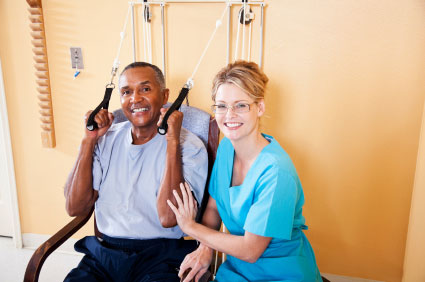 Private and Professional Sources for PT Scholarships
Many professional associations, as well as private organizations, provide annual scholarship awards to qualifying students in an effort to expand and diversify the physical therapist workforce. These scholarships may be company sponsored or, more likely, may be sponsored by affiliations of professional physical therapists.
Here are a few examples of the types of physical therapy scholarships available from private and professional organizations. These are not, by any means, the only associations to offer physical therapy specific scholarships, but they do provide a good idea of the kind of scholarships and organizations you will be looking for during your search for college funding.
The American Physical Therapy Association plays a key roll in promoting and advocating for Physical Therapists and PT Assistants. The APTA annually awards numerous scholarships and grants for qualifying student members. Many of these scholarships target minority and women students in an attempt to increase their presence in the ranks of licensed physical therapists.
The Foundation for Physical Therapy sponsors the popular Promotion of Doctoral Studies, or PODS, scholarships. These scholarships are highly competitive and awards can range from $7,500 to $15,000. The awards are targeted to doctoral students working in neurology and cardiovascular research, as well as students pursuing a career in the fields of physical therapy education, leadership and administration.
The National Association of American Business Clubs, or AMBUCS, is a charitable organization dedicated to helping people with disabilities and mobility issues. The organization sponsors a number of annual scholarships available to undergraduate, graduate and doctoral students.

Government Sources for PT Scholarships
Physical Therapists play a key role in the delivery of healthcare and health services, and as such may find scholarships and grants available from the Federal, or their local state, government. Government grant and scholarship programs are designed to aid students with great financial need, or students from typically under-represented minority groups. Oftentimes these grants will require that the student take a position in an under-served community after graduation in order to qualify for the financial aid. Some examples of government scholarships and grants for physical therapy students include:
The Indian Health Service sponsors annual scholarships for for qualifying Native American students looking to pursue a career in healthcare. These are scholarships by service contract, and require that recipients agree to work in a designated tribal health care facility that is currently under-served. Undergraduate students are eligible for the Health Professions Preparatory Scholarship, while students pursuing their masters degree are eligible for the Health Professionals Scholarship.
The U.S. Army , and the U.S. Navy both offer substantial scholarships to students willing to serve in the military. Physical therapists play a large role in the rehabilitation of injured servicemen, and the current shortage of licensed therapists has pushed physical therapists to the forefront of Army and Navy career opportunities.
Your state government is likely to have a number of scholarships or grants designed to aid students pursuing a career in a wide range of healthcare professions. These can be prime sources for much needed college financial aid. Be aware that many of these grants and scholarships will be scholarship for service contracts, meaning you will have to agree to take a position at an under-served facility in your state for a determinate period of time.
Colleges and Universities
Finally, no search for financial aid is complete without considering your college of choice. Many colleges and universities sponsor substantial scholarship and grant programs designed to attract exceptional students to their campus. Check with the financial aid administer at your college, as well as the head of the physical therapy department to learn of any scholarships specifically designed to benefit students in your field. The right scholarship or grant can mean a much needed boost to your college fund.