Cultivating More Scholarships in Horticulture Studies
The fields of specialty for Horticulture students are quite broad. This is both good and bad for scholarship hunters. Why? The broadness of specialties is good – it gives you many different sources for scholarships. But this massive number of scholarship sources is also a mixed blessing: it forces you to be very focused in your search, no hitting the broad side of a barn.
For instance, is your specialty biotechnology, sustainable agriculture, plant breeding, soil/crop science, consumer horticulture, viticulture…? While learning your particular field of specialty requires its own education you may well need another degree simply to find the funding assistance to pay for it all. One of the best chances for success is to look at broader, more general scholarships but also be sure to look very specifically for scholarships best suited to your career and educational goals as well.
Popular sources for Horticulture scholarships:
Government Sources
Colleges and universities
Private and professional sources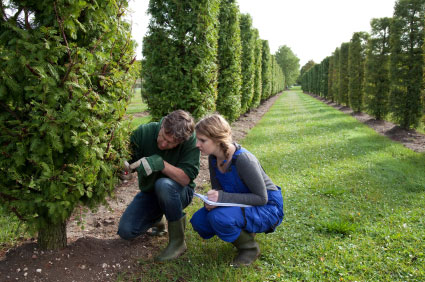 Government Sources for Horticulture Students
Federal government sources for Horticulture students:
The United States Department of Agriculture (USDA) sponsors a number of scholarships. Undergraduates and graduate students may explore current USDA scholarships, fellowships and paid internships. Hispanic students studying a related degree in a Hispanic-serving school may also qualify for special internships designed to give them a leg-up in a traditionally unwelcoming industry. And check out these additional funding options from the USDA:
The USDA/1890 National Scholars Program offers an excellent scholarship opportunity for student's pursuing a Bachelor's Degree in agriculture, food or natural resource sciences, botany, etc. at one of the 1890 Historically Black Land-Grant Universities. This incredibly generous award includes annual tuition as well as employment with the USDA, employee benefits, and even your own laptop and printer. To be considered, the applicant must be a US citizen with a GPA of 3.0 and the plan to attend one of the 1890 Historically Black Land-Grant Universities. Applicants must also demonstrate community leadership responsibilities and must also agree to work for the USDA for each year you're offered financial support.
The Public Service Leaders Scholarship () is an interesting opportunity that provides full tuition, as well as a paid internship that leads to a permanent job with numerous employee benefits. This award also provides recipients with a personal computer and access to mentoring opportunities. To be considered applicants must be a US citizen with a minimum 2.75 GPA at an accredited US college or university. Applicants must also demonstrate a strong desire to pursue a career in public service with the USDA and must be willing to relocate, if necessary.
The William F Helms Student Scholarship provides up to $5,000 in financial assistance each year to the winning applicant who is pursuing a degree in agriculture or biological sciences. In addition to financial assistance recipients will also be in line for paid work during the summer and holiday seasons, have access to mentoring opportunities and may also be eligible for permanent employment after graduation.
The Tribal Scholars Program applies to students studying agriculture or some related field in Natural Resource Sciences. This award includes full tuition as well as a stipend for related school fees such as covering the cost of books. Recipients will also be offered summer employment and intern opportunities with a USDA agency and also be in line for permanent work with the USDA upon graduation.

Private and Professional Sources
In addition to government assistance there are also professional industry associations like the ones listed below that can offer fertile ground for funds. Note that most organizations do expect you to be a student member to qualify.
The Association of Zoological Horticulture provides students with links to current internships in this very specialized field.
Very good scholarships come from The Garden Club of America. A number of Environmental Studies scholarships make it possible for students to explore ecological horticulture during intensive summer programs. Also popular, the Rome Fellowship in Landscape Architecture and the scholarships in tropical, wetlands, and medicinal botany programs.
The American Society for Enology and Viticulture sponsors undergraduate and graduate students scholarships. These specialized awards are designed for students pursing this very elite field of study—horticulture of vineyards and grapes. Winners must maintain a top GPA. Awards are open to student members of the Society and payable in semester cash stipends. Funding may vary.

College and University Sources
Don't forget that one of your best educational advocates—your college or university—should be tops on your list of scholarship sources. Examples:
One of the most prestigious and large scholarships is the UC-Davis Rossi Prize. Napa Valley high school students enrolling the Enology and Viticulture program may compete for this $20,000 scholarship.
From the University of Missouri's Whitney R. Harris World Ecology Center come a list of current scholarships in specialties more akin to tropical botany and plant conservation.
Washington State University Department of Horticulture and Landscape Architecture administers a long list of scholarships. This area of Washington has become a rich winemaking region and as such the school offers both traditional horticulture as well as enology and viticulture studies. Scholarships are divided into both specialties and are abundant.
In summary, the opportunities for financial assistance to fund your degree in horticulture are just as vast and varied as the niche avenues of study you may choose to pursue. When looking at available options don't forget to think broad and general in terms of funding but also look closely at specialized scholarships that may be available to you. The field of horticultural studies is ripe for growth and potential; the fact that there are many organizations willing to help fund your education spells good news for you.