College Scholarships Reward Student Entrepreneurship
The growth in entrepreneurship has led to major changes in academics. Colleges and universities have expanded their range of business courses and have recognized the viability of the entrepreneurial path as a distinct study path. Consequently, there has been a marked increase in the number of available scholarships for students pursuing careers as business entrepreneurs. Most of the scholarship opportunities for young business entrepreneurs are provided by industry, private corporations and professional associations. Colleges and universities with with strong business schools are also sources of valuable scholarship money for students pursuing the path of the entrepreneur.
How To Find Entrepreneur Scholarships
When searching for Entrepreneurial Scholarships, it is necessary to focus on your personal educational and professional goals. Consider the business pathway you wish to explore after graduation, and concentrate on programs that are dedicated to students pursuing a similar life goal.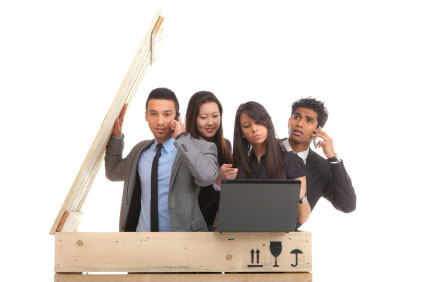 Decide the specific business field you are interested in, be it technology, commerce (both retail and e-commerce), healthcare, science or industry. Use these factors to help narrow your scholarship search to those programs that are most in line with your specific interests. Along the way you will be able to eliminate those scholarship programs for which you are unsuitable, and can spend your time and energy working towards winning those awards that are more in step with your educational and career goals.
As with all scholarship programs, your best tools are the internet, your college financial aid advisers and your school counselors. Local business administrations can also be a solid source of information for scholarships and grants that may applicable to young entrepreneurs.
Private Sources for Entrepreneur Scholarships
Private businesses and industries were once founded by adventuresome entrepreneurs, and they often offer scholarships designed to encourage and develop new entrepreneurial talent. Professional associations, whose membership is made up of these successful businessmen and women, also sponsor scholarship programs dedicated to helping young entrepreneurs realize their ultimate potential. These scholarships vary in both requirements and financial rewards, but all have one common trait: the desire to see the next generation of entrepreneurs succeed and flourish.
When searching private sources for Entrepreneurial Scholarships investigate those companies and business associations that are closely linked to your fields of interest. Consider those associations and businesses whose success has been defined by innovation and new technologies.
A few examples will help you see the potential scholarship opportunities that are available to students with the right level of entrepreneurial spirit:
The National Federation of Independent Business (NFIB) sponsors the highly competitive Young Entrepreneur Awards for graduating high school seniors.$1000 and $2000 scholarships are awarded annually to deserving students who are currently running their own small business, and are enrolled at an accredited U.S. University.
The McKelvey Foundation's Entrepreneurial Scholarship is awarded to over 100 students annually. Eligible candidates must have launched a viable business, and must have the goal of pursuing a college degree in business. Awards are up to $10,000 annually, and the number of awards varies from year to year.
Marriott International, in association with the International Franchise Association, sponsors the Marriott Minority Entrepreneurship Scholarship. This award is designed to encourage and support minority business students at the undergraduate level. Five awards of $3000 dollars awarded annually.
Business Entrepreneur Scholarships from Colleges and Universities
Colleges and universities with large schools of business have a long history of shaping and developing young entrepreneurs. It is in these schools that students hone their business skills and develop their entrepreneurial acumen. These schools are also a primary source for scholarships that can help young business students pay their mounting college tuition.
When making your choice of college, consider the size of the university's business school and investigate what financial aid programs they are currently offering. Your final college choice may be heavily influenced by the university's scholarship programs. Some notable examples of scholarships being offered by universities and business colleges will give you a feel for what to look for when making your choice of college:
Monroe Community College in Rochester, New York, offers the Emerging Entrepreneur Scholarship. Students enrolled in entrepreneurial studies at Monroe Community College are eligible for scholarship awards to cover the costs of tuition.
The University of Iowa and the Pappajohn Entrepreneurial Center sponsors the John & Mary Pappajohn Entrepreneurial Scholarship. The JPEC awards four annual scholarships of $2500 each to business students who have demonstrated exceptional entrepreneurial spirit. Special consideration is given for female and minority applicants.
The University of North Dakota's Center for Innovation sponsors both the Michael Marcil Entrepreneur Scholarship and the Jack Wright Entrepreneur Award to working students who are currently enrolled in entrepreneurial studies at UND. Awards range from $500 to $1000.
When searching for scholarships and financial aid programs sponsored or administered by a college or university, don't discount what may be offered by local community colleges and technical schools. These institutions play a large part in the development of young business owners and often can provide scholarships to deserving students who are just setting out on the path to a successful business career.
Entrepreneurship is defined by the independent thinking, risk taking business professional. But every successful entrepreneur has had a helping hand somewhere along the way. For young business students setting out on their own career paths, entrepreneurial scholarship are the boost they need to reach their fullest potential.