Chemistry Scholarships
The prevailing image of a successful chemist is of a white coated technician sequestered in a sterile laboratory. But a degree in chemistry has many real life applications. Chemistry students may continue their educational path and pursue a degree in medicine, or they may find themselves working as pharmacists or educators. Many chemistry majors ultimately enter the corporate world and find positions with large multinational corporations. Chemistry may look like a niche field at first glance, but it is often a stepping stone to a wider career path.
Chemistry falls under the larger umbrella classification of STEM subjects: Science, Technology, Engineering and Mathematics. These are currently designated as 'critical need' subjects, and a nationwide push is on to expand and diversify the number of students and professionals entering these fields. Many students with an interest in chemistry can now find a greater number of scholarship opportunities than ever before. Women and minority students in particular will find a vast array of scholarship opportunities designed to help them follow a career path that includes a degree in chemistry.
The most popular sources for Chemistry Scholarships include:
Federal and State governments
Colleges and universities
Private endowments and professional organizations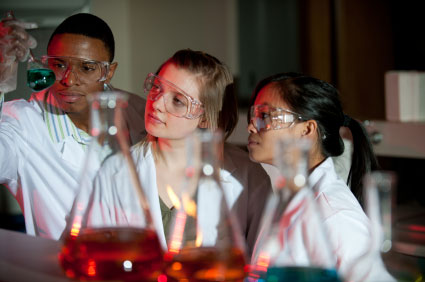 Government Scholarships for Chemistry Students
Both Federal and State governments provide regular scholarship opportunities for students pursuing degrees in any of the STEM fields. The current national drive to diversify and expand the student population, as well as the professional workforce, in these much needed disciplines has led to a number of lucrative scholarship and grant programs targeting college-bound science majors. Students pursuing degrees in chemistry will find these programs particularly beneficial.
The following examples will provide an idea of the types of government sponsored scholarship programs available to college chemistry majors:
College and University Scholarships for Chemistry Majors
Many colleges and universities across the country offer substantial scholarship opportunities for students engaged in studies across all of the major STEM fields. Chemistry students in particular will find a number of scholarships designed specifically for their needs. Students should investigate any and all scholarship programs offered by their school of choice by contacting the college's financial aid adviser, and by visiting the dedicated website of the university they are planning to attend.
Some examples of the kind of scholarships being offered to chemistry students by universities around the country include:
The Grote Chemistry Scholarship from the University of Tennessee at Chattanooga provides $3500 per year to qualifying chemistry majors. Students must have a 3.5 GPA or better, have a composite ACT score of 26 or better and must have passed their high school chemistry courses with a grade of B or better.
Furman University offers the Dreyfus Scholarship to eligible students pursuing a degree in chemistry. Awards range from $2000 - $4000 annually.
Earlham College, a private university, sponsors the Carleton B. Edwards Chemistry Scholarship which awards up to $2500 per year to exceptional students who are majoring in chemistry.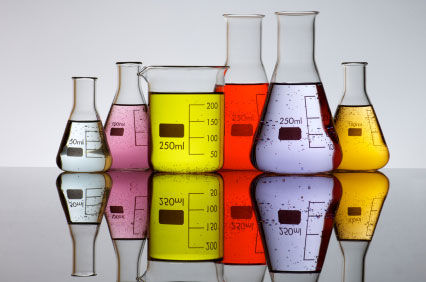 Private and Professional Sources
Corporations and professional associations offer a wealth of scholarship opportunities to students who are pursuing their studies in one of the natural sciences. Chemistry majors in particular can benefit from many programs being sponsored by the private sector. Many of these scholarships target graduate students, and offer internships and research grants for qualifying applicants.
A few of the more notable scholarship programs subsidized by the private sector include:
The Gallagher Koster Health Careers Scholarship Program which provides annual scholarship awards to students currently in their third and fourth years of college. These awards are based on need as well as academic performance.
The Teranishi Graduate Fellowship in Food Chemistry awards $2500 annually to students who demonstrate exceptional talent in food chemistry studies. This is a one time cash award, and is sponsored by the American Chemical Association.
The Van Slyke Foundation (The American Association of Clinical Chemistry), a division of the American Association of Clinical Chemistry, supports students at every level of education. The organization sponsors a number of valuable travel and research grants, as well as scholarships for promising students pursuing a career in the field of biochemistry
Chemistry Scholarships for Women and Minorities
Many of the above mentioned avenues of funding make provision in their scholarship and grant programs for minority students. There are, however, many dedicated scholarship programs that specifically target women and ethnic minorities who are pursuing a science specific education. These programs are specifically designed to help redress the under-representation of women and minorities in the STEM fields.
Some of the more lucrative minority scholarships applicable to chemistry majors include:
Merck Index Women in Chemistry Scholarships are $5,000 prizes awarded to women entering their first year PhD studies in organic chemistry.
The American Chemical Society sponsors the ACS Scholars Program which is dedicated to providing access and encouragement to Hispanic, African-American and Native American students pursuing a course of studies in chemistry and related sciences. Awards are $5000 for qualifying students.
The Gates Millennium Scholars Program provides grants and scholarships to minority students pursuing studies in one of the STEM fields. The awards are based on need as well as academic achievement.
For the student pursuing a degree in one of the chemical sciences, the opportunities for financial aid are boundless. Whether it be from the government or the private sector, the push is on to encourage and develop young students with a passion for science. Chemistry students, both undergraduate and graduate, can find a vast array of financial resources just ready to be tapped.