Foreign Language Scholarships Feature Big Money
Students pursuing a degree in language studies may be able find many lucrative scholarship opportunities to help them pay for college. The Federal government, as well as business and industry, provide substantial financial aid to students studying what have been designated 'critical need languages'. Currently there is a shortage of trained professionals with the ability to speak languages native to the Middle East, Asia and Africa. This has driven a rise in both the recruitment of, and the funding for, students with skills in these languages and dialects.
If you have a gift for foreign languages, and wish to pursue a career involving international trade, national security or foreign relations, you may be eligible for scholarship awards that will help cover the costs of your college tuition. The most common sources of scholarships for foreign language studies are:
Federal and State Governments
The Military
The Private Sector
Federal Scholarships for Foreign Language Students
The Federal government offers a variety of scholarship opportunities for students studying critical need languages. The current shortage of qualified interpreters and translators has led the government to develop an education policy that encourages and supports students with these much needed communication skills.
Some of the most lucrative Federally supported scholarships for foreign language students include:
• The National Security Education Program sponsors the Boren Scholarship which provides college funds to students pursuing degrees in critical need foreign languages. The scholarships are targeted at students studying less commonly taught languages like Arabic, Swahili, Korean, Chinese and Russian. Students must be prepared to study abroad, and must agree to a predetermined time of service working for a National Security agency. Qualifying applicants are eligible for up to $20,000 in scholarship funds.
Boren Fellowships, are designed for graduate students who are pursuing more in depth cultural and language studies. Recipients are eligible for $30,000 in funding so they can study a critical need language abroad. As with the Boren Scholarship, this is a service contract award and applicants must be prepared to work in a National Security capacity for a predetermined time following graduation.
The Critical Language Scholarship Program is sponsored by the U.S. Department of State and the Bureau of Education and Cultural Affairs. This scholarship provides fully funded overseas instruction for undergraduate, Master's and PhD students studying a critical need language. Language study programs include : Arabic, Urdu, Russian, Chinese, Persian, Hindi, Punjabi, Bengali, Korean, and Turkish.
The Gilman Scholarship targets financially disadvantaged students who have qualified for the federal Pell Grant, and provides funding for undergraduate students to engage in a year abroad studying a critical need language and culture.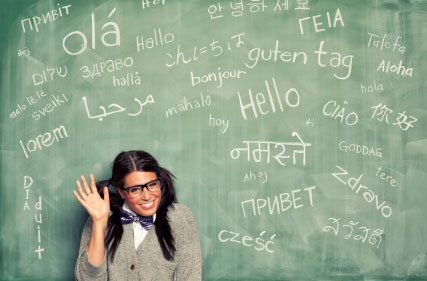 State Sources
State sponsored scholarships for foreign language students are likely to be in shorter supply than their Federal counterparts, and will usually be connected to State and regional teaching scholarships. For those students pursuing studies in the more common foreign languages, such as Spanish, French and German, State funded teaching scholarship programs may be able to supply some much needed college funds. Students pursuing a career in teaching may be eligible for service scholarships and loan forgiveness programs if they agree to take up a teaching position in one for the states designated critical need areas. These programs often cross over into foreign language studies, particularly in areas of the country with large immigrant populations who have a need for bi-lingual teachers, and English as a second language instructors.
To find out what scholarship programs may be available, visit your state's dedicated website as well as your state's Department of Education. Programs will vary from state to state, and nearly all will require a service contract.
Military Sources
Students pursuing their degrees in Foreign studies can also find many lucrative scholarship programs provided by the various branches of the U.S. Military. The need for military interpreters and translators has never been greater, and financial aid opportunities are many and varied. Interested students should be aware, however, that these programs are all service contract scholarship and you will be required to serve a term of enlistment in the Army, Navy or Marines in order to qualify. Some of the more prominent programs offered by the various branches of the military include:
The U.S. Army ROTC sponsors the Project Go initiative, which provides full tuition scholarships for undergraduates pursuing a degree in one of the Army's declared critical need languages. Students must be enrolled in the ROTC, and must meet military requirements for ultimate service as an enlisted officer.
The U.S. Navy sponsors the Olmsted Scholar Program which provides scholarship opportunities to enlisted Navy personnel who are engaged in foreign culture and language studies. These programs are specific to critical need cultures, and applicants must be currently enrolled in the Navy's ROTC program or be a currently serving enlistee.
Private Sources
Corporations and industries are always in need of qualified individuals with the language skills and cultural insight to help them liaise with their overseas business partners. In an ever expanding global market, students with specific language skills are a great boon to those companies with foreign divisions, and those companies looking to expand into foreign markets.
Other sources for scholarships targeting foreign language students include regional and national associations with a mission statement dedicated to cultural awareness, and bridging the gap between nations and cultures. These sources may promote language instruction for the purposes of education, integration or missionary work. Students may find themselves utilizing their degrees teaching in foreign countries, working with charitable foundations or advising and translating for government or private sector officials.
Some of the types of programs you will be looking for include:
Students pursuing a degree in foreign languages and cultural studies will find a large number of lucrative scholarship opportunities designed to motivate and encourage them in their college careers. Many of these programs are dedicated to placing graduates in much need positions working with the Federal government, or working with large multinational corporations. For the foreign language student looking for that much need college funding, the opportunities are many and varied, and more than just financial rewarding.