Land Scholarship Money for Your Business Administration Degree
Students can pursue Business Administration degrees at both the Bachelors and Masters degree levels. A Bachelors degree in Business Administration can help graduates find entry-level positions in businesses and corporations across the country. An MBA, or Masters in Business Administration is a flagship degree program that can provide mid-level entry into an often competitive job market, and can help distinguish a job applicant from his or her fellows.
Business Administration is one of the more common courses of study, and there are ample scholarship opportunities for the motivated college student. Major sources for scholarship funding include:
Federal government
Business schools
Private sources
Federal Scholarships
While both Federal and State governments provide a large number of grants and scholarships to eligible students, they do not make provisions for Business students in particular. The governments emphasis is on students pursuing careers in teaching, medicine and the critical need STEM fields. However, this does not mean there is an entire absence of government funds available for the motivated business student. Both the Pell Grant and the Academic Competitiveness Grant can provide much needed funds to the beginning college student, regardless of their ultimate major.
Beyond these entry level government grants, there are sources of scholarship money that are focused on providing an educational springboard for students who will make up the next generation of local and national leaders. For example, the Harry S. Truman Scholarship Foundation is dedicated to providing financial aid to exceptional students who plan to pursue careers in public service and/or government. Business Administration students fall under the general remit of this scholarship program, and may be eligible for scholarships of up to $30,000 to be put towards their total four year college costs. These opportunities are very limited however, and business administration students seeking financial aid for college may be better served looking to the private sector.
Business School Scholarships
One of the most lucrative, and most reliable, sources for scholarship money for business students is their college itself. Many business schools, and universities with departments dedicated to business studies, offer annual scholarships to qualified students. These may be merit-based or need-based scholarships, and information can be obtained from the financial aid office of your college of choice. Requirements and award amounts will vary from college to college, so it is important to make direct contact with your school to learn what exactly they have to offer.
Some examples universities and the scholarship programs they offer for business administration students include:
Portland State University School of Business Administration offers a number of scholarships for business majors including the Asparagus Club Scholarship for students pursuing a career in food management, the Drew Lippay Scholarship in Human Resource Management and the Merchant Exchange of Portland Scholarship for students pursuing a career in international trade.
Wayne State University's School of Business Administration awards 72 scholarships to attending business students annually. Awards total an excess of $600,000 per year, and are available to students pursuing a Masters in Business Administration at Wayne State University.
Stanford University's Graduate School of Business offers annual scholarship and fellowship awards to business students currently enrolled in graduate level business administration courses. These include the Charles P. Bonini Partnership for Diversity Fellowship Program and the Siebel Scholars Program.
These are the types of programs to be looking for at your university or business school. Every college will have some level of scholarship program for business students, both undergraduate and graduate, and your choice of schools may ultimately be determined by which is offering the most lucrative and varied financial aid incentives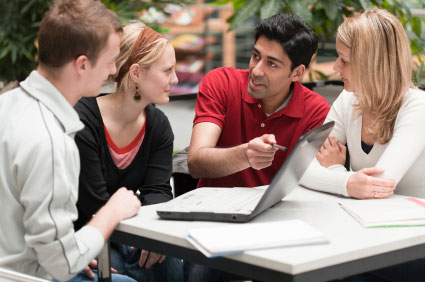 Private Funds for Business Administration Students
Many corporations, foundations and professional associations support and sponsor scholarship programs for college students pursuing a career in business. These can range from corporate funded scholarships at a specific university, to professional associations that seek to encourage diversity and growth in their own specific field of business. In some instances these scholarship programs will target specific minority groups in an effort to address their under-representation in the business community.
The following examples of privately sponsored business administration scholarships will give you an idea of what to look for in your search for college financial aid:
The scholarship opportunities for business administration students are varied in both their sources and their financial awards. From corporate sponsors to individual endowments, the possibilities for a business student looking for financial aid are as wide ranging as the business world itself. With determination, and some well directed research, business students can find the much needed funds they need to make their college goal a reality.