Creative Scholarships
When the time comes to think about college, and the talk turns to scholarships, most of the attention is focused on academic and athletic scholarship programs. They grab the lion's share of the limelight, and continue to have to the highest profile in the world of college financial aid. But there are wide ranging scholarship opportunities for students involved in the creative arts. Whether your passion is music, film, literature or the visual arts there are scholarship programs that target your educational and financial needs. Artists and art students face the same financial burdens as any other college-bound student, but creative scholarships can help alleviate some of that burden and can make a college education much more accessible.
Types of Creative Scholarships
Creative scholarships can be found for nearly every artistic and creative endeavor. The most common creative scholarships support students studying music, dance and literature. But there are just as many niche scholarships for lesser known, or lesser traveled, creative interests. There are scholarships for students of interior design. There are programs devoted to students studying fashion design and marketing. Sonoma State University even offers a scholarship for student pursuing a career in wine production, while the Corning Museum of Glass sponsors a scholarship for developing glass artists. There are scholarship programs devoted to jewelry making, woodwork and topiary design. The breadth and availability of creative scholarships is nearly unlimited. For every student with a creative passion, there is a foundation or personal endowment that sponsors a scholarship to match.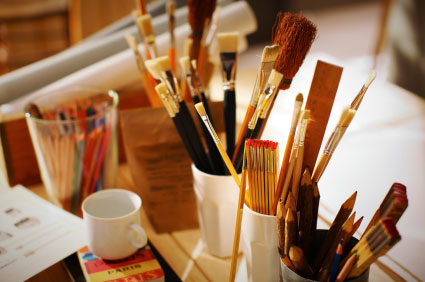 Where to Find Creative Scholarships
Finding creative scholarships is not as difficult as it may seem. Two prime resources for scholarship information are your high school guidance counselor, and your college financial aid adviser. They regularly receive up to date information on scholarship programs that are active across the country, and are happy to pass that information on to you. Your teachers and instructors are also a good source for scholarship information. For example, if you are interested in studying art, consult your high school art teacher about scholarship opportunities he or she may have first hand experience with. Music students will want to speak with their schools music director, or any private music tutors they may have, about possible scholarships.
One of the best tools to employ in your search for creative scholarships is the internet. A general web search for "creative scholarships" will bring a large number of results for you to sift through. Narrow those results by adding a modifier to your search criteria, such as "music scholarship" or "scholarships for film editing". This will help reduce the number of results you get from your search engine, and confine them to scholarship programs that are most closely related to your chosen interest. For example, an internet search of "scholarships for watercolor painting" results in a number of hits including the Fullerton College Foundation's Milford Zornes Watercolor Painting Scholarship. With a little time and effort, the internet will allow you to find a whole host of applicable scholarship opportunities, regardless of your creative field of interest.
What Makes Creative Scholarships So Different
The major difference between creative scholarships and other merit-based awards is in the application process. All scholarships require students to submit their student history, and a record of their academic achievements. When applying for any creative scholarship you will need to be prepared to submit a sample of your work. A portfolio, an audio or video recording or some other representative sample of your artwork will be required for any creative scholarship award for which you wish to be considered. Give your portfolio submission special attention, and make your presentation as professional looking as possible. A couple of snapshots, or a recording of you playing guitar in your bedroom is not enough to win a scholarship. Work hard on your portfolio, and be prepared to submit a slick and well ordered sample of your creative abilities.
When applying for a creative scholarship, don't make the mistake in believing that your grades will have no bearing on the award process. A student's grades are always taken into consideration when awarding any scholarship. While creative scholarship place an emphasis on your artistic abilities, your student history and GPA will always be a consideration.
Students pursuing and education and a career in the arts often feel marginalized when it comes to scholarship opportunities. High profile academic and athletic scholarship awards tend to get the bulk of the attention. But for the diligent student with an interest and an aptitude for the creative arts, the opportunities are there. Apply yourself to the search for scholarship funding with the same level of determination that you give your art, and you will soon find a wide range of scholarship opportunities from which to choose.