Dental School Scholarships: Government and Private Sources
Dentists, dental assistants and dental hygienists are always in great demand. These are solid career paths that offer lucrative employment possibilities, but they come with sizable college costs attached. Luckily, there are a great number of scholarship opportunities for students pursuing a career in dentistry. Federal and state governments, universities and professional associations all sponsor scholarship programs aimed at dentistry students. These programs can go a long way toward helping you cover the sizable costs of your college education, and put you firmly on the path to a rewarding career in dentistry.
Federal and State Government Scholarship Sources for Dental Students
Dentists are a key component of the healthcare system. The benefits of dental health have now been recognized as vital to a persons general good health and well being. Dentists, and related professionals, are always in high demand, and Federal and state governments provide ample scholarship incentives for students interested in the profession. Some examples of key government scholarship programs that benefit dentistry students include:
The National Health Service Corps Scholarship is open to students pursuing degrees in all of the primary care health fields, including General and Pediatric Dentistry. Eligible candidates receive full tuition compensation, plus cash for books and supplies. In return dental students must commit to a term of service with a designated medical facility in an under-served community. The NHSC Scholarship requires recipients to take up their agreed to service within 9 months of graduation.
The Indian Health Services Scholarship Program is open to eligible Native American students pursuing a career in the health care industry. Two scholarships are available to dentistry students. The Health Professions PreGraduate Scholarship offers financial aid for undergraduate students in degree programs leading directly to graduate studies in dentistry. The Health Professions Scholarship gives aid to students enrolled in an accredited medical dentistry program, and is a scholarship for service program requiring recipients to agree to a predetermined time of of service as dentists in a Native American healthcare facility.
The U.S. Armed forces offer scholarship opportunities for students pursuing a career in every area of healthcare. The U.S. Army, The U.S. Navy and the U.S. Air Force all provide scholarship programs for students pursuing a degree in dentistry. These are scholarship for service programs, and recipients will be required to enroll in a branch of the military for a predetermined time of service in order to qualify for financial aid. Scholarships range from partial to full tuition awards.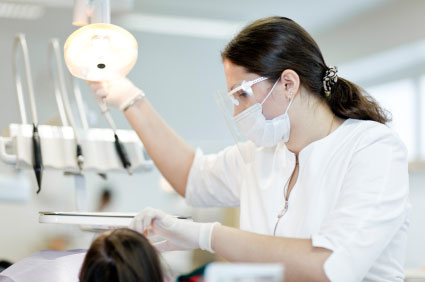 Dental Scholarships for Minorities and Women
Dentistry, like many fields of medicine, has long been under-populated by both minorities and women. In an effort to address this long standing iniquity, many scholarship programs have been developed to encourage and support minority students pursuing a career in dentistry. Source for these much needed scholarships include professional association, minority support organizations and the U.S. Government. The following examples of scholarships programs dedicated to the needs of minority dentistry students will give you an idea of what is available to women and minorities interested in dentistry.
The National Dental Association sponsors the Dr. Bessie Elizabeth Delaney Award. This scholarship is open to female students pursuing a postgraduate dental degree. Awards can be as much as $10,000 per recipient.
The New Jersey Higher Education Student Assistance Authority offers the annual Martin Luther King, Jr. Physician and Dentist Scholarship. Eligible students must be enrolled in an accredited New Jersey state dental school, must demonstrate the requisite amount of financial need, and must be an eligible ethnic minority.
The American Dental Association sponsors an annual scholarship for minority dental students. The program is open to African-American, Latino-American and other ethnic minorities. The average award amount stands at $2000, with 15 to 25 scholarships being awarded annually.
Private Sources for Dental Students
Professional dental associations, as well as independent corporations, often offer lucrative scholarships for students pursuing a career in dentistry. These may be target specific, as with some of the minority scholarships that are regularly offered, while others may be general competition scholarships open to all students pursuing a degree in dental healthcare.
Some notable examples of private sector scholarships for dentistry students include the following:
The American Dental Association Foundation provides funding for various types of dentistry students, including doctors of dental medicine, dental hygienists and dental assistant technicians. Applicants must demonstrate the required level of financial need to be eligible.
The American Dental Education Association supports a large number of scholarships, grants and loan repayment programs for dentistry students. Awards range from $1000 to $15,000 depending on program of study.
The National Dental Association, in partnership with Colgate Palmolive, supports scholarship programs for undergraduate and graduate students at all levels of their education. The association also offers funding for dental hygiene and dental assistant students.
For students pursuing a career in dentistry the financial aid options are numerous, and lucrative. Dentistry, as a profession, is always in high demand and students can make that demand work for them in the form of much needed scholarship money for college.