All About Merit Scholarships
Merit scholarships are, perhaps, the most highly visible and coveted of scholarship opportunities available to the college bound student. Beyond the much needed financial aid they bring, merit scholarships attach a certain level of prestige and recognition to any college career. These highly competitive scholarships are awarded on the basis of achievement rather than need, and students must demonstrate an exceptional level performance in academics, athletics or other fields personal performance.
It is important to remember that no two merit-based scholarships are entirely alike. Every scholarship program will have different criteria depending on the sponsoring institution and the field of expertise being considered. Some scholarship sponsors will take into consideration the student's financial need, while others will look only at the student's record of achievement. Some merit scholarships are decided by university boards, while others are offered by public and private organizations looking to encourage and reward exceptional students in a particular field of study. Whatever your field of study, whatever you extracurricular activities, being awarded a merit-based scholarship depends on you and your record of achievement.
Merit-based scholarships can be broken down into three basic types. Let's call them the three 'A's'.
Academic Merit Scholarships
The first type of merit-based scholarship to consider is the Academic Merit Scholarship. These may be directly sponsored by universities and colleges, or may be sponsored by private organizations or business affiliations. Some may be subject specific, such as a mathematics or engineering scholarship, while others may be general in intent and criteria. There are a lot of different academic scholarship opportunities out there, and your high school college adviser can help point you in the direction of those that apply most specifically to your goals and achievements. An internet search will also provide a good number of leads for scholarships devoted to specific fields of study, as well as awards for students with specific backgrounds or career goals.
Academic scholarships are awarded on the basis of your high school GPA, your ACT and SAT scores, as well as your overall scholastic performance. Many academic scholarships will also consider your class ranking, any honorary titles or awards you have won and any community service you have performed. Typically, thee scholarships are awarded to high school graduates heading straight on to college, though there are also academic scholarship programs aimed at graduate students who have performed exceptionally well in their initial college career.
Academic scholarships can run the gamut from full tuition awards, to smaller monetary awards meant to merely supplement your college funds. In many cases a student will need to be nominated by their school or teacher in order to be considered eligible. Some academic scholarships, particularly those sponsored by independent organizations or businesses, are open to all applicants who meet the initial criteria for consideration. Here are a couple of examples of the type of Academic scholarships that may be open to you:
Bridgewater College sponsors the President's Merit Scholarship, designed to benefit students demonstrating an exceptional scholastic performance in high school. Awards range from $14,000 to full tuition costs.
The Academy of Television Arts & Sciences sponsors the Fred Rogers Memorial Scholarship, rewarding exceptional students who are pursuing a career in children's education and educational television. Awards are given in the amount of $10,000 annually.
Academic scholarships can have a long term benefit far beyond the original grant of funds for college. After graduation, as you move into the workforce, an academic scholarship can help add to an already impressive resume. Having won an academic scholarship is proof of your commitment to excellence and to hard work - two qualities prospective employers look for in their employees.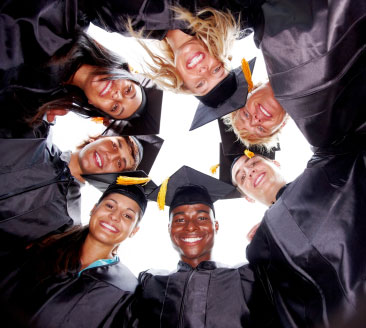 Athletic Merit Scholarships
Sports are a large part of college life, and universities regularly compete to bring top athletes to their campuses. Subsequently, athletic scholarships are sponsored by colleges and universities across the country in order to attract the best and brightest student athletes. These scholarships reward excellence in all manner of athletics and can cover much, if not all, of a student's tuition costs. Thousands of students every year attend college on athletic scholarships for sports as diverse as soccer, golf, tennis and swimming. Not to mention the high profile football, baseball and gymnastics scholarships.
High school students looking to turn their athletic skills into a scholarship opportunity, need to begin thinking about their options well before graduation day. If you are thinking about applying for an athletic scholarship, the time to act is before your junior year in high school. Start investigating colleges that offer programs that match your sport of choice, and contact them directly. Also consider the many athletic scholarships offered by businesses and sports associations. These can be a further source of much needed funds for your college education.
Some examples of the type of athletic scholarships you will be looking at include:
Alfred State College annually awards the ASC Athletic Talent Grant to qualifying students in the fields of baseball, basketball,football, swimming and lacrosse. Awards are decided on the basis of athletic performance as well as academic achievement.
Oregon State University provides scholarships in a number of intramural sports for students that demonstrate a high level of athletic skill, as well as an impressive academic history.
The Women's Western Golf Association sponsors annual scholarships for undergraduate women golfers. The WWGA is not affiliated with any specific university and applications are open to qualifying students from around the country.
Most athletic scholarships will require that you be nominated by a high school coach or other official. It is important to put your college plan together early, in order to secure the best chance of winning an athletic scholarship to the college of your choice. Competition for these scholarships is fierce, and you will need to have a solid academic record as well as a proficiency in sport to qualify. Qualifying is often a long process, including interviews with prospective colleges and reviews by college scouts. All in addition to the usual ACT and SAT tests and admissions applications. The process can seem grueling, but the payoff can be huge. The right athletic scholarship can put you on the road to the college education of our dreams.
Artistic Merit Scholarships
As with academic and athletic scholarships, artistic merit scholarships require that you demonstrate a high level of expertise in your chosen field. Artistic scholarships can include fashion design, music, dance, visual arts and creative writing. Many of these scholarships will be sponsored by specific universities, while others may be funded by private and public associations. When searching for an artistic merit scholarship, be sure to focus on your particular field of interest and follow the leads you find to the schools offering the most beneficial financial aid packages for your chosen art form.
Applying for art scholarships will require that you present a portfolio of your work, as well as the standard test scores and school transcripts. Your portfolio may consist of artwork, recordings of musical performances and dance recitals or published and unpublished prose and poetry. Be prepared for the scrutiny of the scholarship boards, and don't let any criticism deter you from following your college dreams. Notable artistic merit scholarships include:
The Screen Actors Guild John L. Dales Scholarship provides scholarship opportunities to qualifying member students who are furthering their education in the dramatic arts.
The Memphis College of Art and Design offers annual scholarships ranging from $1000 to full cost of tuition for qualifying students. Students must demonstrate a high level of academic achievement as well as an outstanding proficiency in their artistic endeavors.
Ultimately all merit scholarships are similar, it is merely the topical content that changes. Whether you are a bookworm or a track and field star, a dancer or a poet, there is a scholarship out there for you. But remember, all merit scholarships are highly competitive, and the sooner you put your college plan into action the better your chances will be of securing the funding you need for college.