Quick Strategy to Find Scholarships for Physicians Assistants
As the population of the United States ages and needs increasing amounts of medical care, medical professionals like physician assistants (PAs) (http://www.bls.gov/oco/ocos081.htm) will be in even greater demand than now. PAs can already find remunerative scholarships and loan repayment incentives, not only for the medical expertise they acquire during training but also because they are more affordable primary caregivers. PAs are well paid, but of course their earnings top out at less than those of a physician.
Find out how you can reap the benefits of studying to become a PA with lucrative scholarships and similar funding options that need not be paid back.
Federal and State Scholarships for PA Students
There's a rush on to pay for educating student PAs from government coffers, because many states are already experiencing dire shortages of healthcare workers. Expansion of the Medicaid government health care rolls is bringing many disadvantaged Americans into participating facilities.  All those people require low-cost care, to preserve state budgets, so hospital administrators are searching for creative ways to provide more treatment with less money.
And that's where PAs enter the picture, because they work under the direction of physicians in delivering primary care.  Their function is to multiply the treatment one doctor can give a number of patients, and that is a very valuable role. In areas with a severe dearth of doctors, PAs are expected to work independently during much of the day.  Surgical PAs may even assist during operations, which tells you how much responsibility they are given.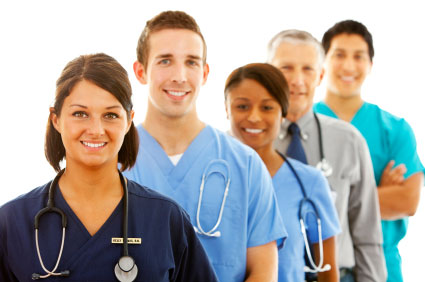 How can a prospective PA pay for school?  As always, begin by seeking scholarships like these:
The National Health Service Corps (NHSC) () Scholarships are one of the most popular and competitive federal programs. After graduation, PAs work for at least two years at facilities designated by NHSC.  Examples of such places are Southeast Community Health Systems (Louisiana) Ventura County Healthcare Agency (California), and Mariposa Community Health Center (Arizona). In return, PA students receive a scholarship paying tuition, fees, costs of attendance and a stipend on which to live. Or they can choose a $50,000 lump sum to repay their student loans, with an option to earn more repayment money by extending their time of service. That is a generous offer, and if you use it as designed you can obtain a PA degree at virtually no cost to yourself, plus get a head start on your professional resume.
The federally funded Scholarships for Disadvantaged Students are available to full-time students who can demonstrate financial need and are pursuing a degree in a medical discipline, including those studying for a career as a PA. To be eligible, you must attend a school that participates in the program. You can find a list of participating schools here.
The armed forces also offer scholarships to PA students.  One example is the Navy's medical training program, which will pay for four years of your education and provide a stipend currently worth $2,060 per month, paid to you for your support.
PA Scholarships from Colleges and Universities: An Obvious Choice
Certainly one of your primary sources for PA scholarships should be those funds made available through your university. Besides general undergraduate scholarships, you should target any scholarships or fellowships being offered to graduate level PA students. Here is a good example:
The financial aid office of the University of Wisconsin (Madison) offers five separate types of PA scholarships each year.  Award amounts vary.
Physicians Assistant Scholarships from Private Sources
Many private and professional sources may also offer scholarships and awards for PA students. Pay particular attention to state PA associations, because most have very active student members who often have access to some form of scholarship aid.
Health care scholarships from private and professional organizations are plentiful, so you'll find a great many to choose from. There are many specialized PA organizations that also offer helpful scholarships for students and practicing PAs.