Radiology Scholarships: Technician to Medical Physician
Radiology careers can take a number of different forms: medical radiation technologist, ultrasound technician, MRI technician, and so on. You could opt for a popular fast track to Medical Assistant with Limited X-Ray or Radiology Technician, or specialize in Radiology Nursing, or choose an academic career as Chief Radiologist in a top-notch medical university.
Each requires a different educational track, and along with those various types of degree programs comes a wide range of tuition costs and demands on your time. Fortunately, you can find many scholarships to help you overcome financial obstacles that might otherwise keep you from your chosen radiology field. Given the current intense demand for all types of healthcare professionals, scholarships are quite plentiful, if you know where to look. What kind of scholarship funding can help you achieve those goals?
Scholarships from Colleges and Universities for Radiology Studies
In this particular field of health science, your quest for scholarships should begin by researching all possible awards your school has to offer. From community college to major medical university, you will find good scholarship funding for all types of radiology studies. Grateful patients often endow such scholarships when they've received successful radiological care, and wish to encourage entry into that profession.
Here are some good examples of scholarship aid made available through a school: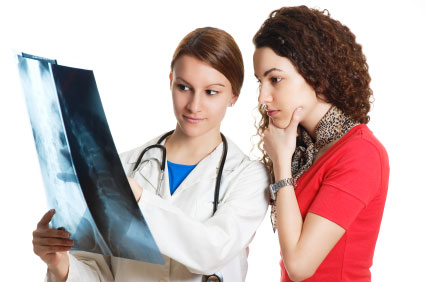 Professional and Private Organizations Offer Radiology Scholarships
Another popular, and often overlooked, source for financial assistance in the field of radiology are the many professional radiology associations in the U.S. These organizations are dedicated to the support and encouragement of next generation radiology, and they're willing to commit financial resources to further their efforts.
The Society of Interventional Radiology (SIR) extends quite a number of lucrative scholarships and grants for medical students at all levels, most of them engaged in research.
For instance, the Student Research Grant is given to undergraduates who intend to conduct research in Interventional Radiology. The SIR Foundation Allied Scientist Training Grant goes to graduate students who are training in research programs that support Interventional Radiology.
If you're studying oral and maxillofacial radiology at the graduate level, you could qualify for the Radiology Centennial Scholarship offered through the American Academy of Oral and Maxillofacial Radiology (AAOMR). Awards are $5,000, given to outstanding student members.
Students seeking a certification in radiology nursing can apply for the CRN Exam Scholarship Award from the Association of Radiologic and Imaging Nursing (ARIN). That will pay your registration fee for the certification exam.
Government Radiology Scholarships
Never forget that the federal government encourages students to enter any medical field, and provides financial aid to further that goal. The armed forces have very generous scholarships for radiology students. For example, the Army Reserve will pay all your graduate tuition plus a $20,000 bonus for signing-up, in exchange for one year of service per year of education. The National Health Service Corps Scholarship Program is another scholarship-for-service program, luring health care students to work in underserved areas.
*Tip: Don't overlook the incentives flowing from many hospitals these days as recruitment efforts are stepped-up. Focus your attention on finding radiology nursing bonuses and innovative scholarship-for-service opportunities.