How To Find Scholarships for Film School
Now that promotional videos have become such an important tool in business marketing and advertising, film professionals-- meaning digital video artists, producers, directors, screenwriters, and editors-- are in great demand. You don't need to work in Hollywood to find employment in the world of film, because many business hubs like Philadelphia, Austin and Portland have thriving video industries in which you can build a career. The first step is acquiring the training you need to become a serious professional candidate.
But financing your education during film school can be a costly endeavor. You may be able to piece together sources of financial aid to cover your training, depending upon the type of program in which you enroll, and that will entail seeking out all possible scholarship offers for which you can submit applications. Your challenge will be to identify your short- and long-range educational and career goals, and match them to the scholarships for which you're most qualified.
Film schools vary in type and length of program, meaning your expenses will, in general, fit the duration of the course. You'll find options ranging from schools that offer one-year certificates, giving you some background in general filmmaking and digital video production, to complete degree programs, including graduate studies.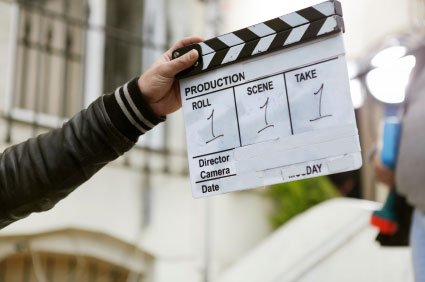 If you're interesting in pursuing a career in video, you can search for film and media scholarships related to the following occupations, among others:
Storyboarding
Screenwriting
Production
Your best sources for film school scholarships will be private organizations, as well as colleges and universities.
Private Sources for Film Scholarships
There are various annual scholarships awarded to film students to encourage new talent. Be advised the review boards are very familiar with beginners' films. It would be wise to develop your own individual voice as professionally as you know how in order to stand out. It's easy for a highly commercialized industry like video to become stale and formulaic, and if you can break out of the usual mold while producing work of good quality, that will serve you well in applying for scholarships. Here are some useful examples of funding currently given to students across the spectrum of film specialties, including screenwriting, cinematography, editing, and production:
$2,000 in scholarship money is awarded each year to an outstanding film student by the Monterey County Film Commission. The student must live and attend school in Monterey County, California.
X-Factor Filmmakers, an organization devoted to supporting women in film, plans to offer scholarships and grants to women studying film in college. The industry is still populated largely by men, and X-Factor sees financial support as the way to enable women to compete on equal footing in the world of cinematic entertainment.
Keep up with their ongoing effort on this page.
Those studying film scoring and music for the movies and television should visit the ASCAP Foundation to apply for the Steve Kaplan TV & Film Studies Scholarship. This award was established by Mr. Kaplan's family to help aspiring film composers defray the cost of school.
Film giant Kodak sponsors the KODAK Scholarship Program. Outstanding film students in film, film production, or cinematography must be nominated by a faculty member to apply for this prize, which combines tuition money and a filmmaking grant.
Film Scholarships from Colleges, Film Schools and Universities
You can obtain a degree in film from a community college, an art school, a digital media school, or a traditional college or university. Many of the traditional institutions provide some scholarship aid to students who demonstrate superior ability in academic film studies. Here are a few examples:
Azusa Pacific University invites applicants for its Cinematic Arts Production Scholarship Competition to submit a short original film in the chance of winning scholarships of up to $5,000. Eligible students must be freshmen majoring in Cinematic Arts.
The Radio, Television, and Film Departmentat the University of Texas at Austin maintains a small number of endowed scholarships available only to qualified students.
Wayne State University's Dennis Turner Scholarship in Film is designed to provide financial assistance to an outstanding, financially needy student, usually a graduate, who is majoring in Film and Media Studies. The Department of English bestows the award.
Scholarships
Application
Career
Creative
Minority
More
Fellowships
Regional