Arkansas Students: Find Your Free Financial Aid
If you're a prospective college student living in the state of Arkansas, your state government is an excellent source of financial aid. In most cases, you can expect a requirement to attend an in-state college or university, which could include community college, technical college, or four-year schools. Arkansas scholarships are funded partly with money from the state lottery, which is a reliable source of ongoing support.
You can consult the Arkansas Department of Higher Education (ADHE) to get a general idea about the Arkansas philosophy of financial aid, which is based on customer service. ADHE's mission is to coordinate delivery of higher education services in the state, and you are one potential consumer of that product.
You'll find programs aimed at financially disadvantaged students as well as those with academic talent, even a combination of both. There's a high degree of transparency in the organization, with contact information provided for personnel in the Financial Aid Division, so you can make direct contact with the people who will help you through college.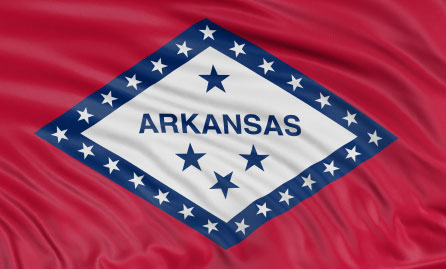 Scholarships and Grants
Here are a few examples of Arkansas' numerous offerings:
The Arkansas Higher Education Opportunities Grant (GO! Opportunities Grant) is a need-based award designed to help students from lower-income families earn a college degree in the face of financial obstacles. Eligible students may be enrolled full-time or part-time, earning credit toward a baccalaureate degree.
You must complete the Free Application for Federal Student Aid (FAFSA) as well as an Arkansas Universal Scholarship Application, and maintain a GPA of 2.0. The most you can receive each year is $1,000, for a maximum of four years.
The Governor's Scholars Program encourages academic excellence, going to the student with the highest score in each county (a total of 75 scholarships per year). Here is how your score is determined: 45% comes from your ACT or SAT score, 35% is your academic GPA in high school, 10% comes from your class rank, and 10% from your leadership skills.
In return for that solid performance, the program will give you $4,000 a year. The Governor's Distinguished Scholarships set even higher academic standards, but provide up to $10,000 each year.
Scholarships and Grants for Non-Traditional Students
The State of Arkansas makes an effort to include all kinds of students in its financial aid programs, meaning non-traditional students will not be left out of the funding giveaways. It is often difficult for students who have not followed the typical pathway to college to find financial assistance, so Arkansas' approach stands out for its generosity.
The Second Effort Scholarship is an innovative scholarship program that rewards students who drop out of high school, but then complete the Arkansas High School Diploma (GED) Program and wish to attend college. Students who score in the top ten each year are eligible to win these $1,000 college scholarships.
The Workforce Improvement Grant goes to students at least 24 years old who are interested in starting a college education for the first time or returning to complete an interrupted degree program. Awards are given based on financial need remaining after any Pell Grant award, and are worth up to $2,000 annually for a full-time student.
Career-Specific Arkansas Scholarships and Grants
Teachers and nurses can always find scholarship aid, because there is a constant national demand for new employees in both professions. Underwriting education for those students ensures a steady stream of graduates in those fields. Here are examples of financial help provided by the state of Arkansas:
The Teacher Opportunity Program (TOP) will reimburse up to $3,000 each year in expenses for teachers who take up to six college credit hours in an effort to further their education. Priority is given to teachers taking courses in subjects designated as shortage areas by the state.
The Arkansas Health Education Grant (ARHEG) is available for residents of Arkansas who seek graduate or professional training that is not offered in Arkansas. That currently includes out-of-state programs in dentistry, optometry, veterinary medicine, podiatry, chiropractic medicine, or osteopathy (alternative medicine).
Arkansas has arrangements with certain out-of-state schools to hold places for Arkansas students and pay the difference between their out-of-state tuition and the amount charged to state residents, which gives you as an Arkansas student the benefits enjoyed by residents of the state where you'll attend school.
For additional information about scholarship and grant programs available to Arkansas students, visit the Arkansas Department of Higher Education.
Scholarships
Application
Career
Creative
Minority
More
Fellowships
Regional