College Scholarship Programs from the State of Kansas
Every state puts together an excellent array of scholarships and grants available to thousands of state students.
However, to access this abundance of resources, every one of your state gift aid programs will also require that you file a FAFSA, which is not just useful for your federal student loans. It's an imperative for many state scholarship and grant programs, as well.
Unlike some states, you won't just be filling out the FAFSA if you're going to school in Kansas. You'll also have to fill out an online State of Kansas Student Aid Application, or print and mail in the form.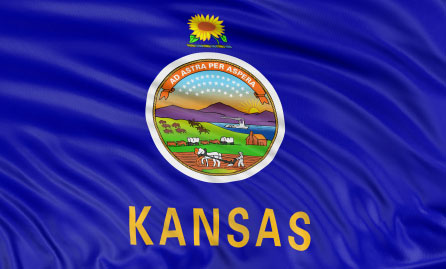 General Enrollment Scholarships
Check out the following general scholarship and grant programs available to you as a Kansas resident, many of which can be applied for at Kansas Board of Regents website.
In many cases, you may have to qualify for these scholarships based on financial requirements, academic requirements and even field of study requirements.
However, don't fail to apply merely because you don't think you qualify for aid. The FAFSA and SKSAP are both free, and many people are mistaken about their belief that they don't qualify.
Kansas Comprehensive Grants program is a wide-ranging free aid program from the state that seeks to provide between $200 and $3,000 annually to as many Kansas students as possible. Eligible candidates must be attending a private or public college in the state and have demonstrated financial need according to the FAFSA.
The State Scholars program doles out $1,000 awards annually to a select few academically-talented Kansas students. Those eligible are classified as State Scholars during their final year of high school. Awards are renewable.
The Vocational Scholarship provides much-needed assistance to students attending technical or vocational schools or community colleges in the state. Eligible candidates must take the state vocational exam prior to applying. Awards are $500.
Minority students enrolled in the state may qualify for the Kansas Ethnic Minority Scholarship. Awards of up to $1,850 are possible for those students with the most academic promise combined with financial need. Recipients must attend a Kansas college or university and awards may be renewed for up to 4 years.
Career-Based Kansas Scholarship Programs
Kansas does what many other state governments do—it provides educational incentive to students seeking degrees in nursing or as teachers. Both of these types of professionals are in short supply and are in particularly high demand in disadvantaged areas.
The Kansas Teacher Service Scholarship is a service obligation program. This means that when you agree to accept scholarship money to attend school as a student teacher you also agree to meet the program's service requirement, which is one year of service for one year of scholarship money, along with other details in the agreement. Undergraduate student teachers as well as Master's degree seekers are eligible to apply.
The Kansas Nursing Service Scholarship also provides free gift aid to eligible nursing students enrolled in an LPN or RN program with the intention to practice nursing within the state. Students must be willing to repay each year of scholarship with a matching year of service in a designated facility within the state.
In addition to the above funding programs you should check out the handful of scholarships and fellowships specially designed for graduate students, particularly those pursuing a health science degree—medicine, dentistry, etc.
For additional information and applications, or current funding levels for Kansas state scholarships and grants, visit the Kansas Board of Regents (KBOR) website .
Scholarships
Application
Career
Creative
Minority
More
Fellowships
Regional