Free College Money For NC Students: State-Funded Scholarships and Grants
The state government of North Carolina hands out millions of dollars annually to its state residents in the form of valuable college scholarships and grants. North Carolina has established an agency dedicated to promoting higher education called the College Foundation of North Carolina (CFNC), the state's informational clearinghouse for everything college related. That site has collected a great deal of background material describing how to plan and pay for your education in a North Carolina college, and you should familiarize yourself with it.
The state wants to raise the number of residents that take advantage of the opportunities it provides to attend college, believing that a well-educated work force will strengthen the state's economy. CFNC has been operating since 1955, and one result of its efforts can be seen in the North Carolina Research Triangle area, where high-tech businesses and state universities interact in exciting research and development work.
You'll discover a range of financial aid programs featured by CFNC, and this page is intended as a preview of the following types of assistance:
Grants and scholarships for academic merit and financial need
Career-specific programs that offer loan repayment, loan forgiveness or direct scholarship money.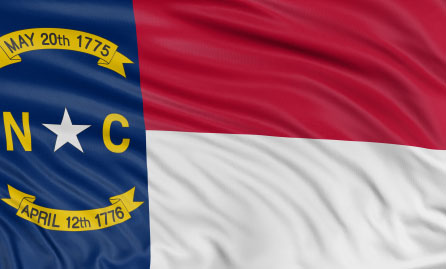 General North Carolina Scholarships and Grants
North Carolina's state lottery system, which came into being in 2005, generates a considerable amount of educational funding, a percentage of which is reserved by law for state college scholarships. The North Carolina Education Lottery Scholarship (ELS) is based on financial need. Recipients must earn six credit hours per semester in an undergraduate program, and may qualify for up to $3,400 per year to defray their college tuition.
The Education Access Rewards North Carolina Scholars Fund (EARN) is an innovative financial aid program for students enrolled in approved schools, including some community colleges, who maintain satisfactory academic records. EARN provides you with cash (the exact amount is set each fiscal year) you can use before taking on any student loan debt, which is what your goal should be in financial planning. The state is not always able to allocate funding for EARN, so make sure you check the CFNC site map for current information on its status.
The Golden LEAF Scholars Program awards $3,000 per year to high school seniors, for four years of college, or to community college transfer students, for three years.
The University of North Carolina Need Based Grant and the NC Community College Grant can be obtained directly from state universities and community colleges. They are given to students who can demonstrate significant financial need, and the amounts vary depending on either family income or legislative appropriations.
Career-Specific Scholarships and Grants
As is usually the case, students seeking careers in teaching or nursing can choose among abundant financial options. Like other states, North Carolina wants to make sure it has an ample supply of graduates entering both of those critical fields. Here are just a few examples of the generous incentives North Carolina extends to future members of those professions.
Aspiring teachers can find programs like these:
The Millennium Teacher Scholarship Loan Program, which is worth $6,500 a year for four years, is a need-based loan forgiveness program. Each year of scholarship aid can be repaid with one year of teaching in a North Carolina public school.
The NC Principal Fellows Program (PFP) is designed to train candidates to hold administrative jobs in North Carolina's public schools. As an incentive, PFP provides one paid year of master's level education plus a year's internship in a public school as further education.
Prospective nurses may wish to consider these options:
For more grants and scholarships for North Carolina students, as well as information on current funding, visit the College Foundation of North Carolina (CFNC) website.
Scholarships
Application
Career
Creative
Minority
More
Fellowships
Regional