College Scholarship and Grant Money for Oklahoma Students
Every state in the union makes some provision of financial aid for struggling students trying to find the money to go to college. Oklahoma students will find a large selection of scholarships and grants designed to help them realize their goal of a higher education. The government of Oklahoma recognizes that an educated populace translates into a more self-sustaining, thriving economy. In an effort to encourage and support it's resident students in their pursuit of a post-secondary education, Oklahoma offers unparalleled grant and scholarship opportunities.
The most common awards sponsored by the state of Oklahoma include:
General scholarships and grants
Career or study-specific programs
Aid for the dependents of veterans and public service workers
Oklahoma's General Scholarships and Grants
The state government of Oklahoma offers a number of lucrative scholarship and grant programs designed to enable resident students to afford a college education. These programs are need-based, as well as merit-based, and are open to all residents of Oklahoma attending an accredited college or university within the state. Some of the most accessible, and financially rewarding, of these programs include: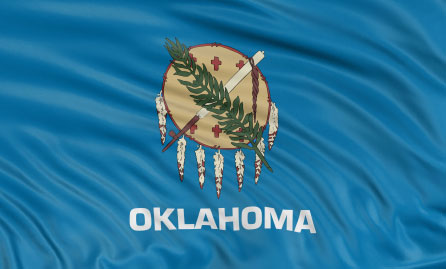 Career-Specific Scholarships and Grants
A few specific fields of study typically draw recruitment incentives in the form of college financial aid. Grants and scholarship are often provided for students pursuing a degree in a designated critical need field of study. Many of these will be contract scholarships, or loan forgiveness programs, designed to increase the number of qualified professionals in a segment of the states workforce that is currently experiencing a critical shortage. These forms of financial aid typically target education students, nursing students and students pursuing a course of studies in social work.
Some of the most notable programs available to Oklahoma's students include:
The Future Teachers Scholarship is designed to offer incentive to student teachers working towards a degree in a "critical need" subject area as designated by the state. Critical need subject include Science, Mathematics and Special Education. The program offers qualified teaching students up to $1,500 per academic year if they agree to teach in an Oklahoma school for a predetermined period of time following graduation.
The Teacher Shortage Employment Incentive Program is a loan repayment program designed to offer financial incentive to student teachers pursuing a career teaching Mathematics and/or Science. Qualifying applicants must agree to teach their chosen subject for at least five years in one of Oklahoma's school districts.
The Chiropractic Education Assistance Scholarship provides financial aid for students pursuing a chiropractic degree at an accredited out of state school. The annual maximum award is $6,000 , and is subject to adjustment according to current state funds.
Scholarships for Oklahoma Dependents
Like many other states across the country, Oklahoma recognizes the hardships suffered by students who have lost parents to war, public service and terror attacks. While nothing can truly make up for the losses that have been suffered, the state offers financial aid support to make college more accessible to the children of the fallen. Some examples of Oklahoma's scholarship programs for dependents include:
The Heartland Scholarship Fund was established to help the dependents of those killed in the Oklahoma City Bombing of 1995. It is a renewable scholarship award, and can be used by qualifying undergraduates at any university in the country.
The Independent Living Act or Foster Care Tuition Waiver is available college-bound students who are Oklahoma residents and have been in the custody of the Oklahoma Department of Human Services for at least nine months.
These scholarship and grant opportunities are only the tip of the iceberg when it comes to what is available to resident college-bound students in Oklahoma. For more detailed information, and to learn about other programs which may benefit you, visit the Oklahoma Higher Education website, as well as the Oklahoma State Regents for Higher Education website. There you can find more information on programs that can make college more accessible and affordable to deserving Oklahoma residents.
Scholarships
Application
Career
Creative
Minority
More
Fellowships
Regional