Grants and Scholarships in Rhode Island
Rhode Island State Grant Program
This program provides funds for students that do not have to be repaid like student loans. In order to be eligible for this program, the candidate must:
be a citizen of the United States
have established residency in Rhode Island on or before January 1st prior to the academic year in which the applicant enrolls in school
be enrolled or accepted into a program that leads to a degree or certificate
attend school on at least a half-time basis (persuing at least 6 credits per semester)
not owe back any money on a federal Pell Grant (generally due to unsatisfactory academic progress)
not be in default of a federal Title IV loan (an exception to this rule is granted for individuals who have made payment arrangements for these loans)
be making satisfactory progress academically as outlined by the policies of the school in which the candidate is enrolled (only applicable to students already enrolled in school)
not have previously earned a bachelor's degree
meet all of the requirements regarding drug related convictions and signing up for Selective Service as outlined for those receiving federal Title IV loans
To apply for this program, fill out a FAFSA form by March 1st prior to the academic year for which the applicant is applying for aid. The award amount is $250-$900 depending on a student's individual need.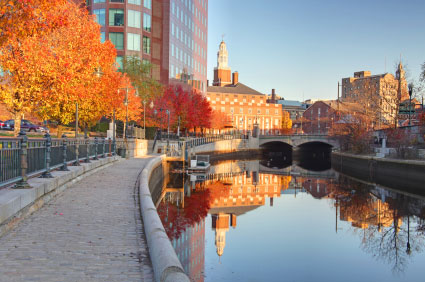 CollegeBound Fund Academic Promise Scholarship
The eligibility for this program is very simple:
The candidate must be a graduating high school senior who plans to attend college on a full time basis (at least 12-15 credits per semester)
Candidates must demonstrate both academic promise and financial need using the formula: Selection Index = ((5350 - EFC)/10) + SAT Score or Adjusted ACT Score)
To apply, a student must fill out a FAFSA and take the SAT or ACT no later than January of their senior year of high school, listing Rhode Island as their state of residence.
This program will award up to $2,500 a year depending on both student financial need and availability of scholarship funds. If enrolled in an approved 5-year program, a student may qualify for one additional year of support. The total amount given over 4-5 years could be up to $10,000 total.
In order to remain eligible, a student must maintain a GPA of 2.5 or great in the first year of college, 2.62, the second year, and 2.75 in the third year.
Funds from this scholarship may be used to pay for tuition, fees, books, supplies, equipment required for enrollment, room and board.
Patty & Melvin Alperin First Generation Scholarship
This is a private scholarship with the following eligibility requirements:
Rhode Island high school senior
Parents did not graduate from college
Accepted or enrolled in an accredited two- or four-year college
Financial need
Apply online at: http://www.rifoundation.org/Scholarships/ApplyOnline/tabid/504/Default.aspx

This scholarship is worth approximately $1000 and is renewable
Frederick J. Benson Scholarship
This is a private scholarship the following eligibility requirements:
The applicant must be a Block Island resident meaning that he or she completed eight years in a Block Island school or three years of high school on Block Island)
The applicant must have completed one year of college
Apply online at: http://www.rifoundation.org/Scholarships/ApplyOnline/tabid/504/Default.aspx

The amount awarded for this scholarship is $500-$2000 and is renewable
Cataract Fire Company #2 Scholarship
This private scholarship can be awarded to a student who is:
A high school senior
A resident of Warwick
Entering his or her first year of study at any post-secondary institution including vocational/technical schools
Apply online at: http://www.rifoundation.org/Scholarships/ApplyOnline/tabid/504/Default.aspx
This is a one-time award of $1500-$2000 and is not based solely on academic excellence
J. D. Edsal Advertising Scholarship
This private scholarship includes the following eligibility requirements:
Students must be studying advertising at the undergraduate level (sophomore or higher)
Must be residents of Rhode Island
Must be pursuing a career in the advertising industry
Apply online at: http://www.rifoundation.org/Scholarships/ApplyOnline/tabid/504/Default.aspx

The amount awarded is between $500-$1000 and is renewable
Scholarships
Application
Career
Creative
Minority
More
Fellowships
Regional