Can You Get a Cheerleading Scholarship to Cheer in College?
At the collegiate level cheerleading squads ARE a sporting event unto themselves. Squads provide support for championship teams, they provide entertainment for throngs of fans, and at the same time they are key in crowd control and sporting event management. But what about cheering scholarship opportunities?
Unfortunately cheerleading, as of yet, is not recognized as one of the NCAA, NAIA or the NJCAA athletic teams. So you can't currently expect any massive amount of scholarship cash flowing from those sources. But cheering is a highly demanding sport, nevertheless, and believe it or not, there are some very good sources for cheerleading scholarship money.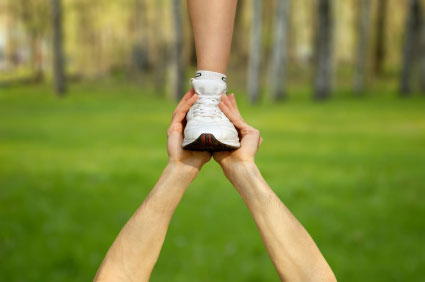 Scholarships for College Athlete/Cheerleaders
Without cheerleaders few sports would be the same. Today's modern cheer squad is often a mix of men and women, all of whom are top caliber athletes.
Be warned that getting a spot on a top cheer squad can be as daunting and competitive as trying to land a spot on a top football team. Cheer squads for the leading college sports teams often participate in competitive activities well beyond those associated with cheerleading a football or basketball game.
One of the very best sources for cheerleading scholarship money is through your own college or university. Schools with funding to offer cheer scholarships may only have modest awards, but these small financial boons may help team members pay for uniforms and may help with offsetting costs associated with team travel.
The college or university of you choose should definitely be looked into for scholarship opportunities; and the State where the college is located may have additional scholarship funds available. One good resource to get you started on State scholarships is Top Cheers.
Here are a few individual, college-based scholarships currently available:
Waldorf College in Iowa makes no pretense about how rigorous the team tryouts are or that they consider this activity as demanding as any sport. The schools' scholarships are renowned among cheer squads. Any cheerleader lucky enough to earn a spot on the Waldorf squad qualifies for a modest scholarship.
Fort Hays State University not only offers some cheerleaders $1,000 housing discount, but also picks up the tab for all team uniforms and annual summer cheerleading camp tuitions. This assumption of fees is akin to scholarship money.
In-state cheerleaders on the Oklahoma Panhandle State University team earn the chance for some of the $1,000 in scholarship money allotted the team each semester. Out of state cheerleaders with solid academic records also qualify for some scholarship discounts—applied to tuition.
The University of Sioux Falls in South Dakota expects a lot from its cheer squads. In fact the school maintains two teams - one for football and one for basketball; and both maintain a rigorous schedule. Some athletes actually participate on both, and the more involved and engaged the more potential to earn scholarship money.
Scholarships From Professional Associations
Though college-level chearleading may not currently receive the same widespread accolades as the teams they're supporting, competitions and exhibitions for this highly athletic sport draw big businesses.
The National Council for Spirit Safety and Education (NCSSE) heads up the Leadership through Sportsmanship Award, and though not a scholarship, per se, this program award is highly coveted and can only help your chances for funding sources. Based on an all-star team's spirit and decorum, this prize is also based on teams' positive interactions with other teams, on and off the mat.
The American Association of Cheerleading Coaches and Administrators (AACCA) is another organization that helps to ensure the safety of its athletes; and it offers financial support to eligible students as well.
Scholarships From Special Groups
Whether you're a student active in your church or having an exceptional senior year in college, cheerleaders may also find financial assistance through special groups such as the following:

Christian Cheerleaders of America is an organization that offers support for athletes of faith. In addition to offering camps, workshops and competitions they may also prove to be a valuable resource when seeking out faith-based scholarships. And if you are a Christian attending a Christian College in Texas you may be eligible for the Blair G. Loving Memorial Athletic Scholarship.

The Davis Law Group Scholar Athlete Program is a peer-nominated scholarship awarded to eligible senior students. Awarded to both men and women athletes, these awards come in both partial and full scholarship amounts, ranging from $100 to $1,000 awards. Students must maintain a 3.0 GPA and show themselves to be outstanding contributors to their sport and teams.
And to all you graduating high school students on your way to college don't forget that you have options as well! Speak with your coach and guidance counselors to see what scholarship options may be available to you.
While cheerleading as a sport may not currently grant access to as many lucrative scholarships and deals as the other athletes get, there are a number of opportunities out there for college-level cheerleaders. It just takes a bit of research and tenacity to seek them out and secure them.
Review more Information on These Specific Types of Athletic Scholarships: