Scholarship Information on Women's Field Hockey
Women's collegiate Field Hockey athletes are fast, agile and aggressive. Many come directly from elite high school teams and many others could be picking up sticks for the first time on smaller teams. Unfortunately the number of athletic scholarships available for field hockey athletes is limited. Are there other sources for netting some scholarship money so you CAN play competitive college field hockey?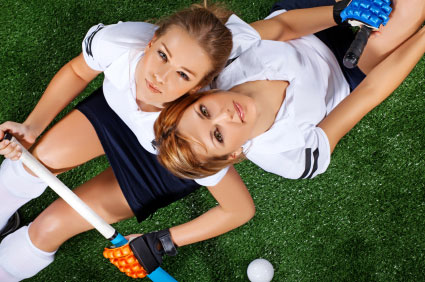 NCAA Field Hockey Scholarship Prizes
Field Hockey is a championship NCAA women's sport. Divisions I, II, and III all sponsor teams. The biggest contingent of varsity field hockey belongs to D-III schools. For some athletes this news means you'll get no field hockey scholarship if you enroll at a D-III college. That's true—no formal athletic scholarships are allowed, according to NCAA rules. But that doesn't mean you're up the creek without scholarship money.
The truth about D-III schools is this: some have extremely competitive field hockey teams. They attract and recruit some of the best high school players in the country. These schools use other benefits with which to appeal to star field hockey players: they are small in size but offer diverse student bodies and stellar academic programs; they compete with many other schools that field equally competitive teams; they have rich coffers of academic scholarship money and need-based scholarship and grants.
The number of available scholarships in collegiate field hockey may be more illustrative:
The 78 NCAA D-I field hockey teams are limited to 12 full scholarships each.
The 25 NCAA D-II teams are limited to 6.3 scholarships.
Given those numbers approximately 936 scholarships are available in D-I Field Hockey and 157.5 in D-II. These are NCAA imposed maximum scholarships, meaning that each team may not actually have 12 or 6.3 scholarships to fund. It may also be the case that coaches divide their full 12 scholarships into a larger number of partial scholarships. This tactic allows coaches more cash-flexibility in making athletic awards. Wouldn't you prefer a partial field hockey scholarship to no scholarship?
If you're a gung-ho field hockey player and eager to play for a D-I or D-II team, do your research early in your high school career. If you're going to be competitive you will be responsible for making aggressive moves to "sell" yourself to your target recruiters and coaches.
Review more Information on These Specific Types of Athletic Scholarships: