Hundreds of Scholarships Available for Track and Field Students
At the championship collegiate sports level, Track and Field sports are divided into 3 separate scholarship sports:
Indoor Track
Outdoor Track
Cross Country
Each of these is sponsored through the NCAA, NAIA, and the NJCAA. Divisions I and II in any of these athletic associations are ripe for scholarship money.
NCAA Track Scholarships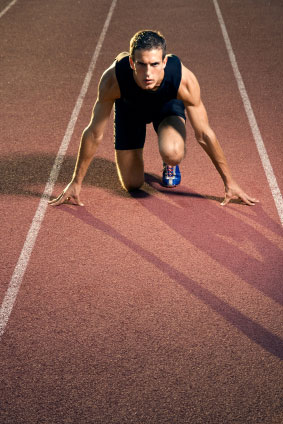 The Men's and Women's Div I NCAA scholarships for Indoor/Outdoor Track and Cross Country are reserved for the most elite athletes in the country.
However there are many scholarships at any level of competition.
Even exclusively in the NCAA, between Cross Country and Track and Field, both indoor and outdoor, men and women have the opportunity to run, jump, throw, and vault on hundreds of college and university campuses across the U.S.
Official Track and Field scholarships are awarded only to Divs I and II. The maximum number of scholarships are awarded to each school, and then divided up at the discretion of the team coaches. Because no Track and Field sports are "headcount" sports, the maximum scholarships may actually be split into many partial scholarships.
Scholarships for Track and Field from NAIA and the NJCAA
Cross Country and Track and Field scholarships for the NAIA and the NJCAA add up to an additional few hundred opportunities for scholarship money.
NJCAA schools, particularly in D-I settings, are full to the brim with top-caliber athletes.
If you're interested in NJCAA competition, you'll want to prepare yourself by beginning to put yourself out there to coaches midway through your high school career. Many NJCAA coaches don't have the budgets or the time to come to you, and they won't handpicking students from across the country or even the immediate region. Instead they'll have their attention focused on the students who reach them with a video and begin developing a relationship.
Scholarships at the NAIA and the NJCAA can also be divided into partial awards or kept whole.
Some schools have walk-on tryouts, so don't dismiss that option either.
Alternative Scholarship Options for Cross-Country and Track Student Athletes
Consider checking into these popular sources for scholarship money:
Local and regional runners clubs
Local and regional triathlon clubs
Local athletic outfitters
Approaching and Considering D-III Schools
It's important to realize that although D-III schools cannot award scholarships to their student athletes, these schools still care deeply about their athletic programs.
What this means is many D-III schools will work closely with student athletes who also have excellent academic merit, and more money is available through these programs than one might expect.
Consider approaching these schools, and communicating to the financial aid office and coaches that you are a talented athlete who also has an outstanding academic record. They will often be eager to find a way to bring you into their program.
Review more Information on These Specific Types of Athletic Scholarships: