College Soccer Scholarships at NCAA, NAIA and NJCAA Schools
College soccer is huge. Hundreds of colleges in the U.S. offer competitive soccer programs. In addition, even those not associated with one of the athletic associations may offer club teams.
Considering that nearly every American high school has a soccer team, it's not difficult to imagine how many students want just one chance at a college soccer scholarship.
Fortunately, there's plenty of support from the NCAA, the NAIA, and the NJCAA, all of which offer championship soccer and scholarships. In the NCAA alone, men's soccer teams number well over 750 across all 3 divisions and women's teams over 950.
How many men's scholarship soccer teams are there in the NCAA? Eliminate the close to 400 D-III men's teams, which don't offer scholarships, and you're left with 370+ scholarship soccer teams in the D-I and D-II divisions.
How many women's scholarship soccer teams are there in the NCAA? Take away the 419 D-III schools—which are non-scholarship—and you're left to explore your options at 532 scholarship schools.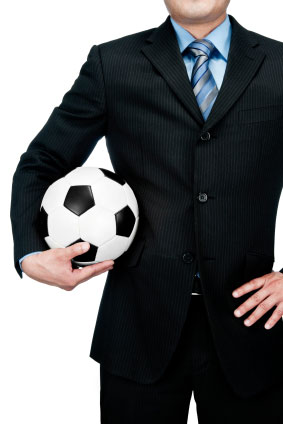 The NCAA imposes limits on the number of full scholarships any D-I and D-II school may offer, for both men and women. Keep in mind that not every school necessarily hits their limit, so they may not even have all these funds to extend. NCAA Soccer scholarship limits are as follows:
NCAA D-I men's soccer teams may offer 9.9 scholarships each
D-II men's soccer teams are limited to 9 each
Women's D-I soccer teams may offer 12 scholarships each and
Women's D-II teams, 9.9 each.
The ".9" limit indicates that the scholarships don't have to be fully dedicated to specific players. Instead, the coaches can split up the funds at their discretion.
The NCAA provides potentially hundreds of soccer scholarships, but the nation is full of excellent soccer players, making even these hundreds very competitive.
NAIA and NJCAA Soccer Scholarships
For soccer players eager to snag a bit of the scholarship pie, the NAIA and the NJCAA also provide a few hundred scholarship to various schools across the country.
The NJCAA is limited to 18 soccer scholarships per team;
The NAIA is limited to 12 per team.
Both of these athletic associations may offer either full-ride or partial scholarships, depending upon association rules, the discretion of the coaches, positions needing to be filled, and the current team roster.
Because soccer scholarships are so competitive, your best strategy is to pursue a scholarship opportunity midway into your high school career. Don't rely on coaches to sell your skills and don't rely on college coaches from faraway schools to necessarily know who you are.
In the current state of recruiting, much of the scholarship responsibility rests on the student athlete. It's important to come up with a profile and a video, and to find the initiative to pursue coaches on your own time.
Pursuing a Soccer Scholarship: Making a Timeline for Success
The most successful college athletes are often planning their careers at the beginning of high school, and training themselves for a college athletic plan.
They begin networking at soccer camps, visiting possible schools, and narrowing down their possibilities across the state and across the country. You need to ask yourself:
Can I go to an out-of-state school? Do I want to?
What other priorities do I have when choosing a school?
What other factors will I base my school decision on, other than the scholarship size?
Do I want a big school, medium school, or small school?
Do I want to stay close to home?
After deciding which schools are your most hopeful prospects, you can go to games, visit practices, and find out where these coaches might be teaching or visiting summer camps. It's all about becoming known around the coaches of the teams you hope to join. Wallflowers rarely win here!
Review more Information on These Specific Types of Athletic Scholarships: