Are You a Top-Notch High School Wrestler? Learn About Scholarships
The college wrestling arena is incredibly competitive. Here is a realm in which NCAA, NAIA, and NJCAA or JUCO wrestlers compete in fierce mat battles. If you think D-III or the NJCAA teams are non-competitive, think again. Club wrestling teams CAN come from behind; they can pack their teams so deeply with excellent competitors that they literally come out of nowhere to go head to head with DI and D-II teams, effectively exercising their competitive chops. With that, let's dig into the scholarship chances for good wrestlers. It can often be a no-holds-barred.
NCAA men's wrestling offers three divisions: D-I, D-II, and D-III. Division III schools are restricted from offering athletic scholarships, but minus the D-IIIs and good wrestlers may still seek scholarship money from the remaining 130 or so.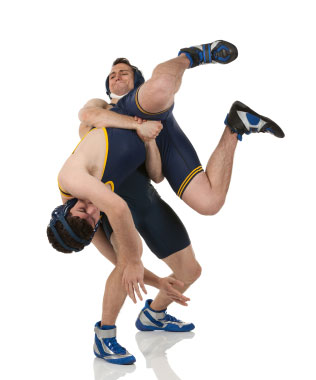 Scholarship limits for NCAA Wrestling:
D-I wrestling teams (87 of them) are limited to 9.9 full scholarships each
D-II wrestling teams (45) are limited to 9 each.
Wrestling is not a headcount sport so coaches are permitted to divvie up the scholarships however they deem fit. They don't have to keep full scholarships intact if it gives them more bargaining room with athletes. On the flip side of the coin funding could be low and prohibit teams from even coming close to offering their quota of wrestling scholarships.
NAIA and NJCAA Wrestling Scholarships
Many students forget about or dismiss these following two athletic associations, the NAIA and the NJCAA. However, for many very good to excellent wrestlers the ground is fertile for scholarship money. Full and partial scholarships are common.
NAIA wrestling teams are permitted 8 scholarships per team
NJCAA wrestling teams are permitted 16.
Like the NCAA, you may have coaches that make a full-ride offer to a few while he divides up others to extend partial scholarships to many more.
Elite athletes end up recruited to these teams as well. In fact there are great opportunities to rub elbows with some excellent wrestlers at the NAIA and the NJCAA level. The JUCO colleges can be a real surprise, competitively.
It's important that your quest for collegiate wrestling money begin early in your high school career. Have a candid conversation with your high school coach or a professional athletic recruiter so you know what your chances are for landing a D-I or D-II scholarship, NAIA or NJCAA scholarship. Armed with that information you are then prepared to pursue the coaches and schools for whom you'd like to wrestle. Don't wait for coaches to come to you – many very strong competitors lose their chance waiting for scholarship opps to come to them. Don't be one of them.
Review more Information on These Specific Types of Athletic Scholarships: