Hundreds of Scholarships for Women's College Volleyball
Millions of American athletes have received financial assistance through collegiate volleyball. Most of these scholarships have been awarded to women, because the NCAA sponsors few men's volleyball teams.
Scholarship-level women's volleyball, however, is widespread, and sponsored by both the NAIA and NJCAA.
NCAA Volleyball Scholarships
Men's Volleyball
For men, the opportunities are slimmer, but a volleyball scholarship is not entirely out of the question.
Championship men's volleyball is limited to 35 teams for both D-I and D-II, and each team is allowed 4.5 scholarships maximum, which leaves the scholarship opportunities minimal, at best.
There are, however, some premier schools that offer men's volleyball sponsorships:
The University of California, Los Angeles is home to one of the top D-I men's volleyball teams, and through the generous and driven Athletic Fund and Athletic Endowment programs, they are able to sign top players and offer competitive scholarships.
Penn State also has a highly-ranked men's volleyball team.
University of Hawaii at Manoa also offers a top men's volleyball program.
Brigham Young University's men's volleyball program has consistently won support from alumni and fans as well
Women's Volleyball
Legions of female athletes compete in collegiate volleyball every year, and many of them are awarded scholarships. Women's volleyball covers 420 teams in D-III, 275 teams in D-II, and 316 teams in D-I.
D-I women's volleyball is the most scholarship rich, with 12 full-ride scholarships awarded per team.
D-II teams are permitted 8 scholarships each, but they can be split up and used at the coach's discretion. These 8 scholarships are often split into many more partial scholarships.
Fortunately, women have a plethora of opportunities to begin finding volleyball scholarships!
NAIA and NJCAA Scholarships Expand Your Opportunities
Both the NAIA and the NJCAA offer equally rich pools for women's volleyball scholarships.
In fact, these competitive arenas offer top-notch competition while also presenting fewer barriers to entry because of their less mainstream status.
The NJCAA sponsors women's volleyball at the D-I, D-II levels, with both full-ride and partial scholarships being very common. The NAIA offers excellent opportunities as well, with over 240 teams that have been allotted 8 scholarships apiece.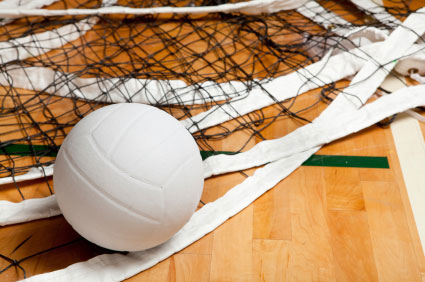 Getting a Volleyball Scholarship
Start by having a candid conversation with your high school coach, or seek the advice of a professional athletic recruiter. You want to find out which schools you're truly qualified to play for.
After that, seeking a volleyball scholarship starts with finding the schools of your choice that offer programs, which can be done by searching the NCAA Sports Listings for viable opportunities. (The NJCAA and NAIA have similar listings, but the NCAA is being taken as an example.)
From there, recruiting usually begins by filling out a Prospective Student-Athlete form on the website of the colleges or universities you have chosen. This form is the beginning of the process by which candidates are screened by athletic statistics and academic standing.
After this, however, you'll want to begin getting actively involved in the recruitment process. Call coaches on the phone and let them know you are hungry for one of spots on their team. Getting your name out there, along with your video and your stats, will make you more memorable at recruitment time.
Much like a job application or interview, don't be shy about introducing yourself and letting it be known that you're interested.
Making a Recruiting Tape
You'll want to introduce yourself first, giving your name, age, and grade level. Also, include some basic information, like your intended major, GPA, SAT scores, and scholastic goals. If you can, mention some extra-curricular activities to show that you're well rounded. (Also, wear your club jersey or include your jersey number, in case the coach watches a game and wants to know which player you are.)
You'll want to show a variety of skills in your video, demonstrating that you're a versatile and adaptable player.
Demonstrate overhead and forearm passing in multiple directions, from multiple positions.
Show defense skills from multiple positions, also.
Cover floorwork well, to show that a player can fit right into a high-level team.
Don't spend too much time on serving. Coaches generally consider serving an easy skill to teach.
Instead, focus on what makes your game exceptional, showcasing your strengths.
If you have in-game footage, especially of game-winning points or tricky plays, these are excellent clips to include. Coaches love to know when a player has the nerves and energy to pull through in an actual game.
Review more Information on These Specific Types of Athletic Scholarships: