Low Down on Men's and Women's Ice Hockey Scholarships
Athletic scholarships are highly coveted, and extremely competitive. For those students searching for Ice hockey scholarships, the opportunities can be even more limited. But if you know where to look, and can demonstrate a high level of performance on the ice rink, you may be able to win a sizable scholarship award to help meet your tuition costs at the college of your choice.
Ice Hockey has long been a male dominated sport at most colleges and universities, but that is beginning to change. Female players will now find a number of lucrative scholarship opportunities that will reward their athletic prowess with much need funds for college. Both the NCAA and the NJCAA sponsor member teams in ice hockey for men and women at the college and junior college levels.
NCAA Ice Hockey Scholarship Opportunities
The NCAA sponsors men's ice hockey at 137 colleges and universities across the country. Scholarships are restricted to schools and teams designated as Division-I or Division-II entities. Division-III colleges are prohibited from offering athletics scholarships, and this reduces the number of schools offering dedicated ice hockey scholarships to 71. While general academic scholarship programs will be available at Division-II colleges, and these merit-based awards can put you on the campus of your choice and close to the team you wish to play for, they will be wholly dependent on your past scholastic achievements and not on your athletic abilities.
Athletic scholarships are closely regulated by the NCAA, and colleges are given a set limit as to how many full tuition scholarships they may provide. Division-I schools are limited to offering 18 full tuition ice hockey scholarships, while Division-II are limited to 13. Often, coaches and college administration will divide theses full tuition scholarships into a larger number of partial awards. This allows the college to offer scholarship opportunities to a wider group of players.
Women's ice hockey is supported by the NCAA at 36 colleges and universities, mostly at Division-I schools. Once again, scholarships are closely regulated by the NCAA, and each school is limited to 18 full tuition scholarships to offer to it's female students. As with Division-I men's hockey scholarships, schools have the option to divide these into more numerous partial-tuition awards.
Division-III schools are prohibited from offering ice hockey scholarships, either to male or female players. This does not mean that Division-III schools lack fine hockey teams with excellent players. Many fine athletes are not interested in committing to the immense sacrifices necessary to play for a Division-I or Division-II hockey team, and are more concerned with their academic studies. For these students, general academic scholarships provide ample award opportunities that place them in fine colleges with excellent ice hockey teams.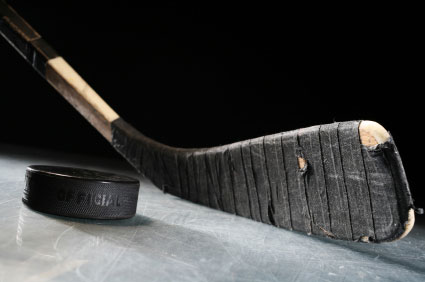 How to Leverage Ice Hockey Scholarship Dollars at D-III Schools
Scholarship opportunities are available at Division-III schools, but only on the basis of financial need and academic merit. While these colleges have both men's and women's ice hockey teams, the do not actively recruit students for their athletic abilities. However, Division-III schools have a great deal of flexibility when it comes to awarding scholarships, and athletes with solid academic histories can use their sporting prowess to make their scholarship and admissions applications much more attractive to a college. IF you choose to pursue your education at a Division-III college, add your ice hockey credentials to your scholarship applications and admissions forms to demonstrate your added benefit to the school in question. Universities are looking for the best, brightest and most well-rounded students, and an excellence in athletics makes you even more attractive to admissions boards and scholarship judges.
NJCAA Men's Ice Hockey Scholarships
Ice hockey at the junior college level is only found in the Division-I schools, and is only represented by men's teams. Division-I NJCAA scholarships are highly competitive, and students wishing to pursue an award will need to be proactive in their search. Contact the schools you are interested in attending directly. NJCAA schools do not have the resources to actively recruit students, and you will need to pursue them to win the scholarship awards you are after. There are many lucrative scholarship opportunities at the junior college level, but students must be motivated to find them. Rely on your high school coached and guidance counselors to put you in touch with the junior colleges that are currently offering scholarship programs for exceptional ice hockey players.
Any athletic scholarship requires determination, commitment and impressive playing abilities. These scholarships are highly competitive, and your success in winning the award you need to pay for college will be determined by your own motivation and hard work.
Review more Information on These Specific Types of Athletic Scholarships: