Strategies for Winning a Tennis Scholarship
Tennis is a championship collegiate sport and offered on hundreds of college and university campuses across the country. It is also one of the most competitive, making tennis scholarships very hot commodities. If you're swinging for a tennis scholarship you're going to have bring some serious game and stay motivated and committed throughout your college career.
Across the 3 college athletic associations—NCAA, NAIA, and the NCAA—tennis is available to women and men and across all divisions.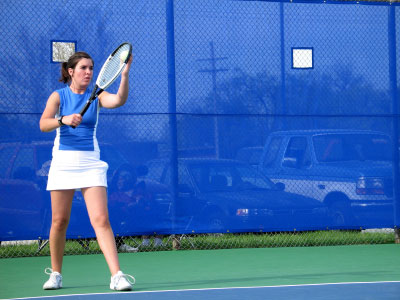 NCAA Tennis Scholarships
The NCAA tennis scholarships go to elite athletes looking for court time at the D-I and D-II schools. D-III tennis is usually very competitive regardless of the fact that at this level of collegiate competition scholarship money expressly given to athletes is forbidden. But don't think that elite tennis players aren't wooed for even these smaller schools. AND they can get scholarship money—not athletic cash, per se, but colleges are able to extend need-based grants and academic scholarships where applicable.
Men's tennis D-I and D-II teams are limited to 4.5 full scholarships per team.
Women's tennis D-I and D-II teams are limited to 8 and 6 scholarships, respectively.
How do these limits work? Coaches are free to divvie up these awards into partial scholarships in some cases if they can use this tactic to attract a team lineup with more competitive depth and teeth. The exceptions to this rule are the head-count sports. Women's D-I tennis, for example, is a headcount sport—all scholarships must be intact. So 8 full-scholarships are given, no partials. However, in some cases it is important to note that all schools may not have 8 scholarships to give; this is simply a maximum or limit set by the NCAA.
Scholarships from the NAIA and the NJCAA
Many people forget that college athletic scholarships exist outside the realm of the NCAA. The NAIA, for instance, has hundreds of smaller colleges and universities among its ranks, many of them giving out quite valuable scholarships. Most are in the form of partial scholarships, but nonetheless a generous amount of athletic cash flows from these schools.
Student athletes pursuing a two-year community college or enrolling a junior college can compete for excellent scholarships for NJCAA affiliated schools. A common error is to underestimate the competition and level of collegiate play at the JUCO schools. Many top athletes play on these teams.
**Tip: if you're an active high school tennis player and eager to play competitively in college you must begin researching the various schools and contacting coaches mid-way through your high school career in order to get yourself in their line of sight and have a chance of being considered. Don't rule out any walk-on try-outs, either.
Review more Information on These Specific Types of Athletic Scholarships: