Softball Players: Search for College Sports Scholarships
Between the NCAA, NAIA and NJCAA talented and motivated high school softball players will find many lucrative scholarship opportunities designed to help them pay for college while participating in their chosen sport. While these scholarships are highly competitive, and college level softball teams can't award scholarships to every player, young women with the skills and determination to succeed in their chosen sport may find they can win a spot on the team and some much needed college funding. If there is one rule concerning any scholarship, it is " You can't win what you haven't applied for."
NCAA Softball Scholarships
Approximately 950 college teams are listed among the ranks of NCAA Softball. About 400 of these are Division III teams, and as such are restricted from extending formal athletic scholarships. That leaves more than 500 Division I and Division II teams that can, and do, offer scholarship awards to women with proven softball skills.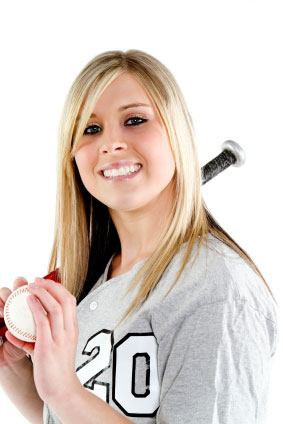 The NCAA regulates the scholarships that can be offered by participating colleges and teams. These regulations put a limit on the number of full tuition scholarships that can be offered by any one college or university. Scholarship Limits in NCAA play:
NCAA Division-I Softball teams may each offer up to 12 full scholarships.
NCAA Division-II teams may each offer up to 7.
Many coaches prefer to split the allowed full tuition scholarships into a larger number of partial tuition scholarships. This strategy gives them the ability to attract more talent to their teams, and to broaden their pool of possible players. Coaches will make these determinations depending on the teams current needs, and strategies will change from year to year. Students applying for softball scholarships at one fo the NCAA schools should also keep in mind that many of these scholarship awards will go to current students, and may not be available for incoming undergraduates.
NAIA and NJCAA Softball Scholarships: Numbers
Students looking outside the NCAA arena will find further scholarship opportunities for talented young softball players. The NAIA, while a smaller athletic association than the NCAA, offers many highly competitive scholarships across all types of college athletics – including softball.. More than 200 NAIA schools offer sponsored scholarships for softball players, each extending up to 12 awards per team. Most, but not all, are partial tuition scholarships.
In addition to the NAIA, and often overlooked in college athletics, is the NJCAA or National Junior College Athletic Association. Long overshadowed by the NCAA and NAIA, NJCAA schools are home to some highly competitive teams and can offer another avenue to much needed athletic scholarships. With 362 schools currently offering 24 scholarships each, the opportunities for successfully winning a softball scholarship are greatly increased.
What Steps You Need To Take to Win a Scholarship for Softball
Students looking to secure a softball scholarship, or any athletic scholarship, need to start early in their high school careers. During your sophomore and junior years you should be thinking about what colleges you want to attend, and begin researching the scholarship opportunities offered by those schools. Discuss your scholarship ambitions with your high school coaches and guidance counselors, and follow their advice concerning possible schools and athletic programs for which you may be suited. In many cases you will need to be nominated by your high school softball coach and will have to submit performance statistics, references and a video of your on field performance to be considered for any scholarship awards.
Consider your chances of winning a Division-I or Division-II softball scholarship realistically, and think about other scholarships you may be eligible for that will put you at the college of your choice, and closer to the team of your choice, if you fail to win an initial softball scholarship bid. In this way you make yourself available to the team and will have the chance to prove yourself on the field. Then, when the next round of scholarships become available you may be in a better position to win some much needed college funds.
Review more Information on These Specific Types of Athletic Scholarships: