NCAA Fencing Scholarships and Alternatives
Fencing is a full-fledged NCAA sport with schools in all divisions offering stiff competition. Divisions I and II for both men and women offer full or partial scholarship opportunities. Division III schools are restricted from offering athletic scholarships.
Total number of NCAA Fencing scholarships: about 210 for women and 150 for men. Schools can award this up however they wish. For example: a Div-I women's fencing team is limited to 5 full scholarships, according to NCAA rules. However, think about that number as a chunk of money. A coach may choose to divvie up a number of those 5 scholarships into a couple of partial scholarships, making it possible to offer athletic money to more members of the team.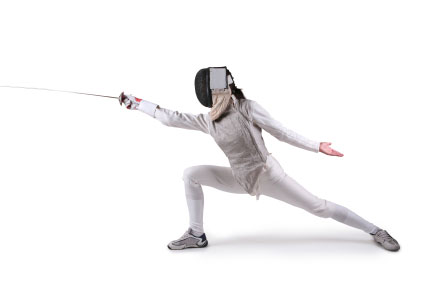 Can You Get on a College Fencing Team?
Exactly how competitive are the college fencing teams? Division I is quite competitive. Columbia University, for example, is regularly at or near the top of the Div I teams—heady sport here.
But for students starting out in fencing, dozens of colleges and universities offer fencing at the club or intramural level. Student fencers from a wide range of skill level are welcome. If you're a beginner you'll learn from good fencers. If you're aiming for some competitive excitement, many clubs provide the option to participate in competition. Work the scholarship angle for academics or your career interest, instead of fencing.
Other Scholarships for Student Fencers
The Eric Wang Memorial Fencing Scholarship is administered by the Fencing Institute of Texas and funded by the Wang family in honor of their son, Eric. Qualified students must be engaged in the sport of fencing, have an outstanding academic record, and be enrolling an undergraduate college or university program.
The Grand Canyon State Fencing Foundation sponsors student scholarships. Candidates must be active participants and advocates for the sport of fencing, demonstrate financial need for the aid, and be enrolling in a college or university degree program.
Besides these scholarships your best strategy is to check out the regional and local fencing clubs—there are quite a few. Many offer modest scholarships for students pursuing college or even summer fencing camp.
Review more Information on These Specific Types of Athletic Scholarships: